2006 Young Riders World Cup Final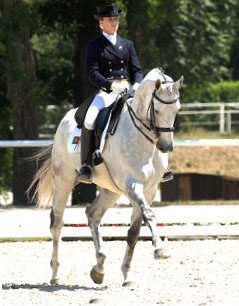 For the first time Portugal has a Young Rider participating at the FEI Young Riders World Cup Final held at the CDI-W Frankfurt, December 15-17, 2006. Maria Moura Caetano and her horse White Cedar have been selected to represent Portugal at this event.
"Her selection as Portuguese representative is based on the results she obtained during the year," said the Portuguese Society for the Promotion of Dressage.
Leslie Goethals and Berkel I Dancer were supposed to be the Belgian representatives at the World Cup Finals. However, they withdrew from the competition but not in time for replacement Julie de Deken and Fazzino to register for the show. Unfortunately, Belgium will, therefore, not be represented at the event.
The other participants are
AUT - Jungwirth, Markus - Smart Cookie
CAN - Duncan, Alexandra - Elektra
CZE - Pulpánová, Libuse - DAF Ondrás
DEN - Mortensen, Annemette Mitchell - Imhoff
FRA - Gosselin, Claire - Lizell de Lauture
GBR - Somerset, Georgina - Paris 52
GER - Linde, Carolin- Feinsinn NRW
ITA - Truppa, Valentina - Chablis
NED - Brink, Lorraine van de - Murdock 9
NOR - Olsen, Sofie - Maneur
NZL - Goldsbury, Amanda - Julius
POL - Jaworska, Gabriela - Raimond van t Hooghof
SWE - Ramel, Juliette - Melvin C
USA - Noyes, Laura - Syncro
Back to the 2006 CDI-W Frankfurt Index