2006 Oldenburg Stallion Licensing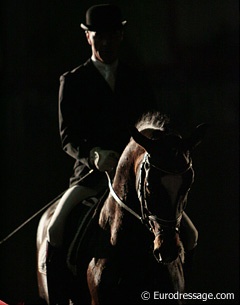 The Oldenburg Society used a new format to organize its licensing this year. On day one, the selection committee judged the horses on hard surface and working on the lunge line.
On day two, it was free jumping and walk. On Saturday morning, the young stallions were once more presented in-hand in walk and trot before receiving the verdict licensed/not licensed. The auction of the stallions started at 14h, and the Althengst Parade was supposed to start at 17h but got postponed until 18h.
The parade featured an action filled program with a large number of stallions and it took until 23h to finish. It was too much for the human mind. After having watched over 50 young stallions in the morning and 37 of them being auctioned, it was too much to sit out the entire Stallion Parade. Many people left after the break in the parade, even though so many more superb older stallions were being presented.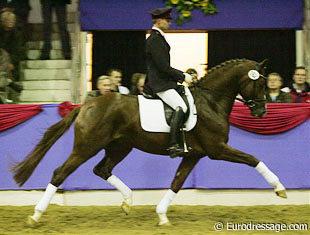 The absolute highlight horse in the stallion parade was the Neustadt/Dosse based 3-year old chestnut stallion Quaterback. After his undisputed victory at the 2006 Bundeschampionate, Quaterback was the talk of the town in the breeding and dressage world, but it took until his presentation at the Althengst parade to convince everyone of his extraterrestrial potential. You could think that a canter could not get any better than Florencio's, but you're wrong. Quaterback has more in store. He is uphill, superbly engaged, elastic, stunning, unbelievable, he is a dream come true.
Rider Christian Flamm just had to sit back and relax in the saddle of this super star. He's a stunner, he can walk, trot and canter. When Flamm collects Quaterback's trot, he goes into the most natural passage. What's the source of all this success? Poetin's dam Poesie. Quaterback is by Quaterman (by Quando Quando) out of Brandenburger x Brentano II. His grand dam is Poesie, who produced world champions Poetin and Samba Hit I, II, and III.
Quaterback is just amazing, but just like with all revelations, one gets to see the negative sides only later on. At the moment every body is just awestruck by this horse.
Flamm also rode the Oldenburg bred D'Amour (by Dream of Heidelberg) in the parade. This 7-year old stallion was twice placed in the Bundeschampionate finals and is now already competing at Grand Prix level. D'Amour became the VTV-Dressage Stallion of the Year for being one of the most talented FEI level Oldenburg bred dressage stallions.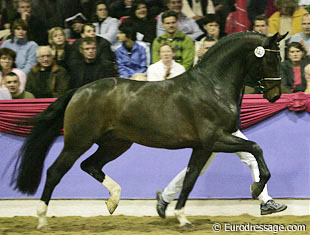 The Westfalian licensing champion of 2005, Fidertanz, was proclaimed Hauptpraemium Sieger during the stallion parade. Out of a group of 7 stallions, Fidertanz was selected as best stallion. Owned by Wahlers and Böckmann, Fidertanz scored well in his performance test and the Oldenburg Verband was especially impressed with his first crop of foals. Reason enough to make him the Hauptpraemium winner.
Leaving an outstanding impression was the Trakehner stallion Hofrat (by Gribaldi x Guter Planet). Under Friederike Bunger Peters, Hofrat moved even better than last year at the parade. This long legged, noble black stallion is a superb dressage horse but could sometimes flex his hocks more in the canter work. Hofrat is sire to the Hanoverian licensing champion Blue Hors Hotline.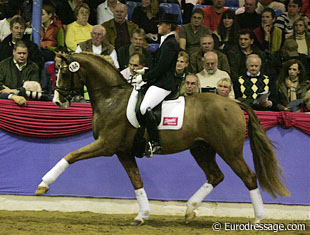 The Oldenburg licensing champion of 2005 was now presented under saddle. Kaiser Karl (Kaiser Franz x Lefevre) was the reserve Bundeschampion under Kira Wulferding this year. At the parade, Kaiser Karl showed his lovely gaits but the horse does not open his frame in the extensions and has only one head position (uphill and round). He barely stretched his neck and his back usage is still not optimal (he showed this in-hand as well last year at the licensing).
The reserve World Young Horse Champion is Donnerball (Donnerhall x Alabaster). As a five year old, Donnerball was already doing piaffe and passage at the Althengstparade. This year, the liver chestnut showed improvement by being more muscled and more powerful, but the horse's sparkle was gone. He did not show much enthusiasm in his work and the piaffe Holga Finken tried to ride was no improvement to the half steps last year.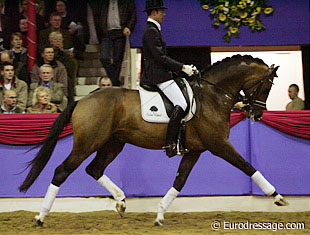 Dutch blood for the Oldenburg breed: Hans Peter Minderhoud rode Johnson (Jazz x Flemmingh), who was first licensed in Vechta and then became licensing champion in Holland for the KWPN society.
Lovely, huge dressage horse Meraldik, by Munchhausen out of Herka xx (by Caramel xx). Under Nadine Plaster, Meraldik showed elegant paces. The Munchhausen influence is very obvious in this horse, but Meraldik is more engaged than the Trakehner sire. He does squeeze his tail tightly to his body though.
The Hanoverian branded and Oldenburg + Danish Warmblood approved stallion Rosentanz (by Rohdiamant x Sao Paulo). This fantastic stallion was qualified for the Hauptpremium but didn't get placed because of more "popular" stallions. Also, Rosentanz has produced a larger crop of foals in Denmark than in Germany, but they are of outstanding quality. Conformationwise, Rosentanz was by far the best of the seven selected Hauptpremium stallions.
Tanja Lammers and Royal Diamond (Rubinstein x Inschallah AA). This grey stallion, who is fading to white now, looked fresh and fit under Lammers. He showed his text book piaffe and passage and was more engaged in the trot extensions than before. A lovely pair.
The last horse to enter the ring for the 2006 Althengstparade was the reserve World Champion and Bundeschampion Sir Donnerhall (Sandro Hit x Donnerhall). Under Dr. Ulf Möller, Sir Donnerhall once more enjoyed the spotlight. 
Text and Photos copyrighted Astrid Appels/Eurodressage - No reproduction allowed without permission