Canadian Dressage News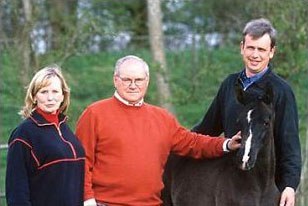 Dressage Canada is pleased to announce that Doug Leatherdale has been chosen as the 2006 Dressage Canada Owner of the Year. Born in Morden, MB, Doug attended United College and the University of Winnipeg before immigrating to the US
, where he acted as CEO and Chairman of The St. Paul Companies Inc., one of the largest American insurance companies, from 1990 to 2001.
The current president of the American Hanoverian Society, Doug has been operating Leatherdale Farms for over 25 years in Long Lake, Minnesota, breeding high quality Hanoverians with his wife, Louise. With careful and selective breeding, Doug has built up a stable full of talented Hanoverians which includes several breeding stallions in Germany such as His Highness, Herzensdieb and Damsey. In 2001, Doug paired up with Canadian Equestrian Team shortlisted dressage rider Diane Creech, when he purchased a mare that Creech had been training.
"I love the way Diane rides, and she has such great ability with young horses in particular," commented Doug.
"I couldn't have met people with more heart for people and horses alike than Doug and Louise, I truly respect, trust and love them," stated Creech, who is currently bringing several of Doug's talented young horses up through the competitive ranks.
With the nine-year-old mare Wiona (x Weltmeyer), Creech has been successfully contesting the advanced division, including a very successful European tour in 2006 that resulted in a third place finish in the Intermediaire I with a score of 68.600% at the CDI3* Pompadour in France. Back in Canada, the duo claimed first place in the Intermediaire I at the CDI3* Blainville. Creech has also had great success with Doug's flashy young gelding Devon L (x De Niro). In 2005, they claimed the Canadian FEI Five-Year-Old Championship title and their 2006 competition season included wins in the FEI Six-Year-Old Division with scores above 80%. In August, the duo traveled to Verden, Germany, representing Canada at the World Breeders Championships for Young Horses.
"Both horses are an absolute dream, and I am so grateful to be able to train and ride them," stated Creech. "Having Doug's and Louise's support has turned my whole life around and has given my riding more meaning and more experiences, to help me grow and become a better rider. They are so deserving of this award."
Doug's commitment to dressage continues with the recent purchase of a Florestan x Donnerhall colt at the recent 2006 Hanoverian Stallion Licensing in Verden, Germany. In addition to his equestrian pursuits, Doug currently serves as director of United HealthCare Group, The International Insurance Society, The Minnesota Orchestral Association and The University of Winnipeg Foundation as well as being a lifetime director of the University of Minnesota Foundation .
Doug will be presented with the 2006 Dressage Canada Owner of the Year award on November 9 during the evening show of the Royal Horse Show in Toronto, ON.
"I am very flattered and highly honoured to be receiving this award," commented Doug. "I am very proud to support dressage in Canada."
Related Links
Florestan x Donnerhall Son, Price Highlight at the 2006 Hanoverian Stallion Licensing
Herzensdieb, 2005 Trakehner Licensing Champion, Sold to the U.S.A.
Leslie Reid's Mark sold to Sue Blinks 
Hohenstein x Donnerhall Licensing Champion sold to the United States