2006 CDI-W Aarhus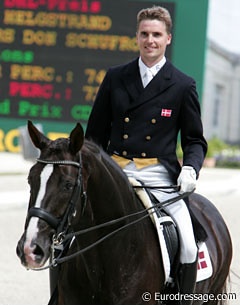 For the third year in a row, and the second in succession riding Blue Hors Don Schufro, Andreas Helgstrand topped the field at his home ground FEI World Cup™ qualifier, CDI-W Aarhus. Despite one misunderstanding at the end, when Don Schufro cantered during a passage half-pass
, it was a superb performance from the 13-year-old stallion at his first show since sustaining an injury after Aachen in the spring.
"He was really good although he is tired today", said Helgstrand. "I only started riding him again after the World Championships and he is not yet 100 per cent in condition." Helgstrand has of course had a wonderful year with two world medals, a string of victories and the Danish Championship under his belt. His aim is to qualify for the FEI World Cup™ Final in Las Vegas and he'll campaign both Don Schufro and his outstanding mare Blue Hors Matine with that trip in mind. "I said I'd have to stop as things can only get worse after such a wonderful year but we'll see what happens," said the modest rider whose next appointment should be at CDI-W Stockholm. His last trip to the Swedish qualifier was in 2004, and he won.
Kyra Kyrklund clinched second place with Max to a new arrangement of music from Cabaret just ahead of last year's runners-up, Holland's Laurens van Lieren and Hexagon's Ollright. In fourth, with less than a point separating these three combinations, Denmark's Princess Nathalie zu Sayn Witttgenstein produced a faultless test on her nine-year-old home bred stallion Digby.
US judge Anne Gribbons, who will be a member of the jury at the Final in Las Vegas next year, was delighted to see such a competitive start to the season. Judging at 'M' she commented: "It was a very high level at the top. Andreas' horse misunderstood at the end, but it was not a movement they needed. His passage music fits perfectly with every step. Kyra's music really works for that horse, it gives you that warm, fuzzy feeling and while Laurens' horse did not show the same level of engagement, the riding was excellent. Nathalie's horse did not put a foot wrong. The choreography was understandably easier for a young horse, but I did not drop below a 7 for the technical marks."
The next FEI World Cup™ qualifier takes place at CDI-W Maastricht next month.
Photo copyrighted: Astrid Appels / Eurodressage 
Back to the 2007 World Cup Index