2006 Pavo Cup Finals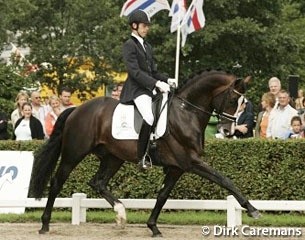 2005 Pavo Cup Champions Hans Peter Minderhoud and Uptown have taken a firm lead in the 2006 Pavo Cup Finals. Minderhoud and the KWPN licensed Uptown (Kennedy x Ubis) won the semi-finals yesterday at the KWPN Paardendagen in Ermelo with 87.5 points.
Two mares complete the top three. Currently in second place is Up Seven (OO Seven x Jazz) ridden by Florentine Rootveld. They scored 85 points and referred Theo Hanzon and Ulla Daula (Osmium x Pion) to a third place with 84 points. Minderhoud also placed fourth with Ucelli T (Olivi x Gribaldi) and fifth with Game Boy (Gribaldi). Emmelie Scholtens and the talented Uphill (by Oscar) tied in fifth place.
The judges Cor Loeffen, Gert van der Hoorn and Hanneke Gerritsen were very satisfied with the quality of the 5-year old semi-finallists. "We've seen a very nice group of horses," Loeffen told the KWPN society. "The top group showed lovely long legged dressage horses with three good basic gaits."
The finals are Thursday August 17, 2006. The final round is in the morning and the top six will be test ridden in the afternoon by guest test riders Stefan van Ingelgem (BEL) and Heather Blitz (USA). They will decide which horses become the new Pavo Cup Champions.
Vivaldo In the Lead in the 2006 Pavo Cup Finals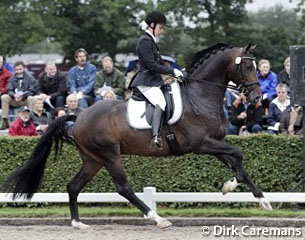 The KWPN licensed stallion Vivaldo was victorious in the semi-finals of the 2006 Pavo Cup Finals, which take place at the KWPN Paardendagen in Ermelo, The Netherlands, this week. Under Mirelle van Kemenade, the 4-year old Vivaldo (by Polansky x Montecristo) scored the highest mark of 85,5 points in the semi-finals.
Judges Frenk Jespers, Ton de Kok and Jan Wolfs ranked Vivaldi (Krack C x Jazz) with Hans Peter Minderhoud in second place with 84,5 points. Minderhoud also landed the third place on Johnson (Jazz x Flemmingh) with 84 points.
Majke van Grasstek and the licensed stallion Santano (Sandro Hit x Silvano N) tied on fourth place with the mare Vodarijke (Metall x Highline). The mare, who was reserve champion at the 2005 KWPN Mare Championships, was presented by Sarah van Fessem. Both Santano and Vodarijke scored 83 points.
"We've seen a very nice group of horses. There wasn't one highlight, but a really good top group. It'll be a neck-to-neck race for the victory," judge Jespers told KWPN.
Source: KWPN
Photos © Dirk Caremans
Related Link: Uptown and Dreamcatcher Win 2005 Pavo Cup Finals