2006 World Championships for Young Dressage Horses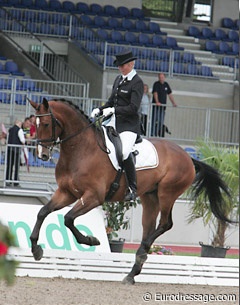 Danish Grand Prix rider Sanne Hennigsen had to qualify her Atterupgaards Molberg for the finals via the consolation finals. In the first round, the mediocre walk pushed the score down to 7.8 overall
, but in the consolation finals the bay gelding by Michellino x Rambo proved to be a very complete dressage horse with great ability to collect and extend.
In the finals Klaus Munkedal's Molberg showed a beautiful trot that was elevated, uphill and engaged, the walk was good but still a bit limited, the canter was fantastic. The gelding could have stretched more during the half trot circle on long reins. Their overall finals score was 8.26 and that placed them sixth.
Tying in sixth place with Atterupsgaard Molberg were Miriam Henschke and the Oldenburg mare Damenwahl (Donnerhall x Rubinstein). Purchased by Anne von Staff-Reitzenstein at the P.S.I auction, Damenwahl showed qualities in the first round that could have put her in a medal winning position if the judges had been more correct in scoring her gaits. The 7.9 for canter and 7.5 for walk were completely absurd. The mare had shown 9 point scoring gaits with outstanding self carriage and engagement.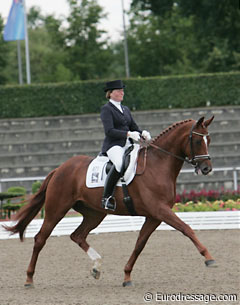 In the finals Damenwahl did not show the same relaxation and throughness as in the first round. She was numb in the mouth and opened it regularly. Her rideability was much better on Friday. Damenwahl made a flying change in the counter canter and did not halt at the end of the test. Though she got 9.1 for trot, 8.2 for canter and 8.5 for walk this time, the 7.0 for submission reduced the overall score to 8.26 and a sixth finals' place.
Photos © Astrid Appels