Oldenburg Breeding News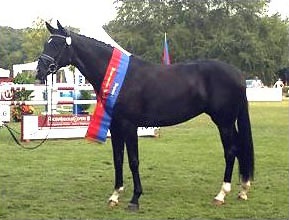 A Sandro Hit daughter, Silberaster, was crowned Oldenburg Champion Mare 2006 at the Schlosspark in Rastede. This three year old black mare bred by Tammo Francksen from Butjadingen and owned by Ludger Bührmann from Bühren led the 20-strong Brillantring
at the Elite Broodmare Show where the best ten mares were ranked while the others remained unranked.
Admitted to the Elite Broodmare Show, which took place for the first time as a part of the 58th Oldenburg State Show, were 46 State Premium candidates, 41 of which actually participated.
Even at her broodmare performance test Vechta, Silberaster, who was sold at a Vechta Foal Auction, impressed everyone with a record overall score of 8.33. Theo Leuchten, the broodmare show commentator, was full of praise for this strong moving black mare. "A very modern type mare with plenty of impulsion, active hindquarters and an excellent overall impression". The deputy chairman of the Rheinische Pferdestammbuch was very enthusiastic about the quality of the mares overall and admonished the knowledgeable spectators in Rastede by telling them, "I hope you don't just ride but breed, too!"
The Oldenburg Mare Committee selected Feldhit II by Welt Hit II-Rubinstein bred by Dieter Schmidt, Hude, and owned by Elisabeth Berger from Switzerland as the Reserve Champion Mare. Feldhit II is closely related to the top priced auction horse, Weltissimo, who is meanwhile successful in Grand Prix dressage under Susan Draper. The 2nd Reserve Champion Mare was another Sandro Hit daughter: Sevillia, bred and owned by Sissy Max-Theurer from Austria. Sevillia's dam, Weinrubina, was sold at one of the Elite Auctions.
With Silberaster, the dressage-maker Sandro Hit presented his first Champion Mare in Oldenburg. With eight other daughters, four of which were in the Brillantring, he sired the largest group in Rastede. The jumper sire Armitage and the dressage-maker King Arthur both made their debut with daughters in the Brillantring.
American breeder Holly Simmensen was especially lucky to have two mares in the Brillantring: one she bred herself that ranked on the 1i position named Leanna (by Rhodes Scholar) and her Don Larino daughter Donna Latina became State Premium Mare.
Brilliant Ring Results of the Oldenburg Elite Broodmare Show on July 20, 2006 in Rastede
Rank, Name, Breeding, Breeder, Owner
1. Silberaster (Sandro Hit - Canaster I) - B: Ludger Buehrmann, Buehren - O: Tammo Francksen, Butjadingen
2. Feldhit II (Welt Hit II - Rubinstein) - B: Berger, SUI - O: Dieter Schmidt, Hude
3. Sevillia (Sandro Hit - Rohdiamant) - B/O: Elisabeth Max-Theurer, AUT
4. Merethe (Florestan I - Donnerhal) - B/O: Georg Sieverding, Emstek
5. Free Dream (De Niro - Lord Liberty) - B/O: Dieter Scherwitzki, Holdorf
6. Gloriette (Fürst Heinrich - Figaro) - B/O: Wilke Wilkens, Oldenburg
7. Gina A (Cordalme - Silvio) - B/O: Bernhard Arkenberg, Damme
8. Doetlinger Deern (Fürst Heinrich - Duntroon) - B/O: Wilhelm Hoffrogge, Doetlingen
9. Leanna ( Rhodes Scholar - Leggiero) - B/O: Holly Simensen, USA - FL
10. Walena (Wolkentanz II - Rabanu) - B/O: Martina Gebhard, Badenweiler
Photo courtesy: Tanja Becker
Related Links
Loxana, Dancing Diamond at 2005 Oldenburg Mare Show in Rastede 
Love Story V, Champion of the 2004 Oldenburg Elite Mare Show in Rastede 
Fabina, Rastede Oldenburg Champion 2003 
1999 Oldenburger Champion Mare Lady Madonna sold to the USA 
Donna Doria, the 2000 Oldenburg Champion Mare at Radstede