American Dressage News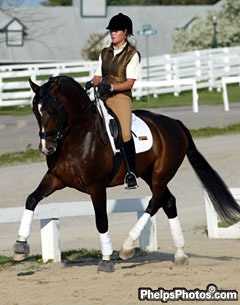 The United States Equestrian Federation has announced the qualifiers for the USEF National Young Adult Dressage Championship, whose winner will be awarded the Brentina Cup (formerly the Passage Cup). The inaugural 2006 Brentina Cup will be awarded at the championship
held June 15-18 in Gladstone, NJ, as part of the USET Festival of Champions.
The qualified horse and rider combinations for this Championship include Elisabeth Austin of Williston, VT, and Olivier, a 10-year-old KWPN Dutch Warmblood stallion, with an average qualifying score of 68.293; Nicki Grandia of Woodinville, WA, and Eloge II, a 15-year-old Swedish Warmblood gelding (68.171); Jennifer Schrader-Williams of Spanaway, WA, and H.S. Wistar, a 10-year-old Hungarian Sport Horse stallion (66.585); Lesley Eden of Oviedo, FL, and Picasso, a 15-year-old Dutch Warmblood gelding (64.878); Bethany Peslar of Wellington, FL, and More Magic, a 14-year-old Westphalian gelding (64.200); Lauren Sprieser of Oak Brook, IL, and Bellinger, a 14-year-old Trakehner gelding (63.842); and Nora Batchelder of Piermont, NH, and Bretone, an 11-year-old Hanoverian stallion (63.232).
Brentina is one of the most successful horses in the history of U.S. dressage, and her performances have helped establish the United States as one of the top countries in dressage. In 2002, Brentina led the U.S. to a Team Silver at the World Equestrian Games, and in 2003 was named the winner of the FEI World Cup Dressage Final. She went on to lead the 2004 U.S. Olympic Dressage team to a Bronze medal and scored an individual third-place finish at the 2005 FEI World Cup Dressage Final (presented by Offield Farms) in Las Vegas. The sponsors of the 2006 Brentina Cup are Mr. and Mrs. Parry Thomas, owners of the 2005 USEF Horse of the Year, Brentina, ridden and shown by Debbie McDonald.
The Brentina Cup is open to riders between the ages of 18 and 26 who are competing at the Intermediare-II level. Designed to assist and encourage today's young riders as they transition to the senior grand prix ranks, the Brentina Cup will shed much-needed light on tomorrow's stars – today.
The Brentina Cup is being held in conjunction with the Collecting Gaits Farm/USEF National Grand Prix Dressage Championship, the Collecting Gaits Farm/USEF National Intermediare I Dressage Championship, and the USEF National Para-Equestrian Championship. The Grand Prix Championship will serve as the dressage selection trials for the 2006 FEI World Equestrian Games in Aachen, Germany this summer.
Photo copyrighted: Mary Phelps/Phelpsphotos.com
Related Link
"Passage Cup", American Version of Piaff Forderpreis, Launched