2006 World Cup Finals
Anky van Grunsven has won her eight World Cup title in her career. Never before has it been so easy for Dutch double Olympic champion to win a World Cup. With more than 6% point advantage to the second placed Isabell Werth
, the invincible Van Grunsven freewheeled to yet another major victory.
Aboard her Hanoverian gelding Salinero (by Salieri x Lungau) van Grunsven scored 87.750% just a bit below the world record score she achieved a month ago at the CDI-W 's Hertogenbosch. Though she is considered to be the world's best dressage ride, this is not undisputed by every one. The journalistic war against Van Grunsven and her partner Sjef Janssen concerning their controversial Roll Kur training method continues to rage in the press, while Anky fuels the debate by making spicy statements on the issue in press conferences. However, any journalist who was present at the World Cup Finals had to but confirm that she put down her best ride so far aboard Salinero.
This time, the 'pressure cooker' Salinero blew off his steam in the warm up and was just the right "temperature" in the ring. There was no tension in the ride, the horse was mellow and looked happy in his work, no twitching passage steps, no passage that is a piaffe going forward, no spookiness and the usual non-halts were now "demi-halts". He stood still for a split second until Anky released the rein to make her salute and only then he starting moving forwards again.
Anky rode her beautiful L'Esprit Chanson kur, a Slings & Kerkhof creation she's been using for almost three years (!!). The piaffe passage tour was lovely, relaxed. The two tempi's were big and regular. Only the first change of the one-tempi's was a bit croupe high, and the zig zag could be perfected a bit more. The biggest improvement was the extended walk which now showed clear overstep and the pirouettes which were finally more round her leg. Finally relaxation in Salinero, what a relief and what great progress. She couldn't have deserved the win more.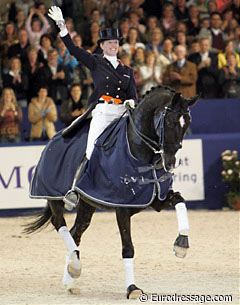 "It was my best ride ever on Salinero. Everything went well today. I can remember anything in the test I wasn't happy with and I can't come up with a thing I would improve. Maybe when I look at the video I'll find something," she joked.
Anky will now give Salinero a long break and slowly work towards the World Equestrian Games. She'll be showing him at the CDI Rotterdam and Gelderland, but not at the CHIO Aachen which is three days before the 2006 Dutch Dressage Championships, where she's riding Krack C and Painted Black.
The third reason for not going to Aachen is that Anky "doesn't feel like going there at the moment." Van Gunsven made a strong statement in the press conference that she is "disappointed about some press people. In Holland we can argue with the press and we have a great atmosphere here, all working together. In Germany there are too many fights going on and it's bad for the sport." Isabell Werth replied that it's not a fight between Holland and Germany, but that it's just a few people "who happen to be German" that are instigating these polemics about "the Goddess of the Rollkur".
Used to her success and stature as a sport celebrity, Van Grunsven stressed the fact that she only rides for herself, even though "I keep all the papers and articles and paste them in a book." With Painted Black as Grand Prix horse and Nelson (by Weltmeyer) as her new small tour horse, Anky has lined up new successors for Salinero. "I will only ride an animal on which I get the feeling that he is worth going into the arena with."
Isabell Werth Back in the Big Time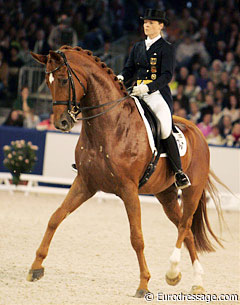 After the retirement of Gigolo five years ago, Isabell Werth has been struggling hard to reclaim the limelight and to be back on the highest eschelons of the dressage sport. At first sight, the Hanoverian gelding Satchmo seemed to be her number one star ride. She rode a world record Grand Prix score with him at the CDI Stuttgart, but his Dr Jekyl and Mr Hyde personality makes him an unreliable ride. Surprisingly it's the huge Hanoverian gelding Warum Nicht FRH (by Weltmeyer x Wenzel) that has proven to be the most loyal and valuable to her.
At the 2006 World Cup Finals, Isabell and Warum Nicht FRH rode to unprecedented high scores and placed second behind Anky van Grunsven with 81.150%. Werth rode Warum Nicht (also known as "Hannes) to Apache OLD's freestyle, which featured Land of Hope and Glory, a popular tune that returned in three kurs in the A-finals. Especially the extensions with great overtrack were beautiful and throughout the piaffe and passage, Werth maintained an exemplary light contact with the bit, even though Hannes came a bit deep in the piaffe at times.
"I'm very happy with my ride today because it was very consistent. Hannes stayed focused throughout the test and was relaxed," she explained. In the award ceremony, Werth thanked the audience for being so supportive and added that "this should be an example for Germany." Her plans for the future are preparing her horses for the qualifiers for the German Dressage Championships. With Satchmo she'll be riding at the CDI Hagen next week and with Hannes, she will do one outdoor show.
Jan Brink and Bjorsells Briar Back to A Bronze Position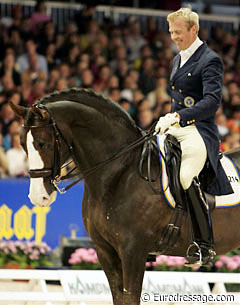 Swedish Jan Brink hadn't planned on riding the 2006 World Cup Finals but when the FEI granted him an entry, he did not decline. Though his goal of the year is competing at the World Equestrian Games, Brink rescheduled his calendar and came to Amsterdam to finish third in the Finals.
Brink finished third with 79.325% in the Kur, in which the regular piaffe and passage are Briar's strong points. A kick to the spur in the piaffe at X and a missed flying change in the canter zig zag were two small hiccups in the test.
"It's fun to ride the kur, it makes you ride more on feeling," Brink explained. "In the Grand Prix I had Briar more in front of my legs and in the kur I made some small mistakes. Maybe I should have made him go more in the warm up."
Hans Ynge Goransson's Bjorsells Briar (by Magini x Kroket) did not show same brilliance in Amsterdam that made him win CDIO Aachen in 2005, but the horse is so confirmed in his work and looks so happy under Jan Brink. "You can't be at the top every time," Brink said, "Hagen and Aachen were my highlights last year and now I'm working toward the World Equestrian Games."
Brink will give Briar a break and aims at keeping his horse happy and motivated in his work and ride three shows before the WEG (Aachen, Lingen, Falsterbo). "Since Aachen, he has been more steady in the Grand Prix. I don't want to push him, but I'll slowly get him ready for that level [of top competition at the World Equestrian Games]."
Edward Gal and Lingh Under Pressure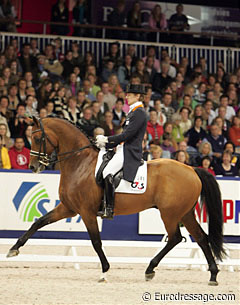 When Edward Gal left the ring after his Grand Prix ride, he was shocked to find a major swelling underneath the girth. "I felt something was wrong, but didn't know why. He was responding strangely to my right leg and that's why I made mistakes in the Grand Prix," Gal explained. The Dutch team vet decided to ice the spot and by Saturday morning, the entire swelling was gone and Gal decided to ride his freestyle after all.
Riding his trance kur, Gal scored 79.075% and climbed up from a sixth place in the Grand Prix to a fourth in the Kur. Gal did not ride at his usual level. His highlight half passes were not as steep as usual, the haunches tilted to the left in the extended trots and there was no extended walk. At the end of the ride, Gal presented Lingh (by Flemmingh) more expressively and the final piaffe and passage were more glamourous than at the start.
Gal stated that the swelling, even though gone, had mentally affected his performance. "I had a bad preparation because of it. I'm glad I rode my kur today, but I felt myself going white when I got in. I was so stressed. When I felt it got better, I started riding more at the end."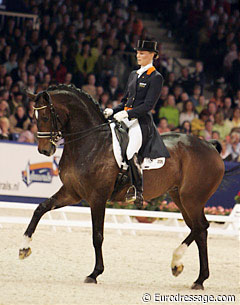 Dutch Imke Schellekens-Bartels placed fifth with her Hanoverian mare Sunrise (by Singular Joter x Werther). Proclaimed as the new rising star in Holland, Schellekens has made a shooting career in two years time aboard Mr Smarius' dark bay mare. Though an extremely talented horse, Sunrise did not look confirmed in the kur on Saturday. She was constantly swooshing her tail and there was some loss of rhythm in the piaffe. The canter zig zag was beautiful.
Imke was extremely pleased with her fifth place at the World Cup Finals. "We still have to practice a lot, but Sunrise is a top horse and in two years we'll go for the win," Imke told the KNHS press officer.
Remarkable Rides at the 2006 World Cup Finals
The 2006 World Cup Finals in Amsterdam were a big Dutch party. With all the Dutch A-team riders there, and only Werth as strongest German competitors, the RAI Center had an orange atmosphere everywhere. The organisation was immaculate, with perfect footing and good service for the riders and horses.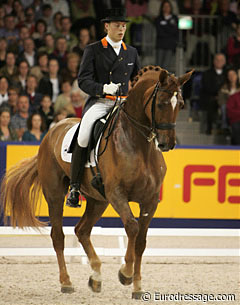 Laurens van Lieren was the only one who had a personal encounter with bad fortune at the Finals. During his kur ride on Hexagon's Olright (by Rubiquil), a plate with glasses fell on the ground during their second trot extension. The horse broke into canter, after already having lost the rhythm in the first extension. There was no extended walk, but Van Lieren showed great one-tempi changes. He still scored 75.300% and placed seventh behind Ann Kathrin Linsenhoff and Wahajama.
Belgian Jeroen Devroe, the second Belgian Grand Prix rider ever to make it to the World Cup Finals, landed a distinguished tenth place aboard his Rhinelander gelding Paganini (by Pavarotti van de Helle). Riding to Irish folk music, Devroe showed nice tempi changes on the circle and a gorgeous passage. It was a lovely ride that earned him a 71.050%. If the Belgian hadn't been the first one to go and a bit more "famous" in the dressage world, he surely would have received more points and ranked even higher.
American Arlene Page, who made her international debut on European soil, had a glitch at the beginning of her freestyle. A communication error with her horse Wild One (by Wanderer) resulted in a piaffelike pirouette what should have been a double canter pirouette. Page, however, got her act together straight away and ended up showing great piaffe passage reprises in which the rhythm was clear and the tempo clocking as regular as a Swiss watch.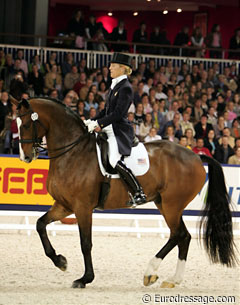 "It's the first time I have represented the U.S.. It has been a huge honour. We all so many people who ride well and train well, and this time the Gods have smiled on me and I got to do it," a humble Page told Eurodressage. "I'm incredibly grateful for the beautiful network in place in the American dressage community. It's a network that allows us to excel, feel confident and have fun along the way. Klaus Balkenhol's stable [American team trainer] is a base that feels like home. My daughter was painting easter eggs with Judith [Balkenhol]."
Arlene Page's 71.000% Grand Prix was a major statement, confirming her quality as a rider on European turf. The 69.650% mark in the freestyle did not even come close to a realistic reflection of what the pair has to offer. "Of course I was disappointed not to go over 70% in the freestyle, you want to shoot yourself, but I got to introduce a horse to the big international sport and I'm taking home a horse that is sound and has learnt a lot."
FEI Dressage Committee chairwoman Mariette Withages said that "this was a fantastic World Cup Finals with sport at the highest level. Today we have proof that we are not rewarding horses that tense. All the horses today were happy athletes," she said.
Text and Photos copyrighted Astrid Appels/Eurodressage - No reproduction allowed without permission
Back to the 2006 World Cup Finals Index