2006 Danish Warmblood Stallion Licensing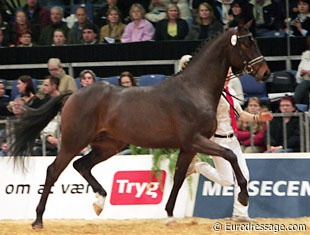 Twenty-six stallions were licensed today at the 2006 Danish Warmblood Stallion Licensing in Herning, Denmark. Thirteen dressage stallions and thirteen show jumpers got permission to go to the Stallion Performance Test if they pass the final veterinarian inspection tomorrow.
The Danish licensing committee, consisting of Poul Graugaard, Ole From Christensen, Ole Christensen, Karina Christiansen and advisors Jan Olof Wannius and Hans Helmuth Sievers, was quite strict in their judgment. Unfortunately, they graded some uninteresting sires, and refused several promising home-bred young colts in favour for popular German bloodlines.
The licensing champion of tomorrow will most likely be Schufro Hit, a Sandro Hit out of Rudonja (by Blue Hors Don Schufro x Inschallah AA). This modern dark bay colt has an outstanding trot with excellent engagement and much suppleness, but his walk is disastrous, coming very close to pacing. Schufro Hit is a beautiful stallion though and is owned by Blue Hors in Randboel, Denmark.
The best jumping stallion is Krake, a bay colt by Krunch de Breve out of Potnia (by Port Royal xx x Radautz x Rustam xx). Krake has incredible scope, super back usage and he curls well over the biggest jumps. He is bred and owned by Niels Hausgard, a famous Danish tv-entertainer who started breeding horses a few decades ago, using mainly anglo arabians. Hausgaard is now one of the top jumper breeders in Denmark.
The licensed dressage stallions are:
#5 - Bogegardens Laurino - Lauries Crusador xx x Weltmeyer
#10 - Skywalker - Blue Hors Future Cup x Donnerhall
#30 - Blue Hors Diamond Dancer - Diamond Hit x Aldatus
#31 - Diaz - Dormello x Landadel
#32 - Uno Don Diego - Dressage Royal x Falkland
#33 - Firenze - Fanal Prydsholm x Loran
#43 - Squaredancer - Loran x Temple Wind xx
#48 - Newman - Nobleman x Donnavan
#54 - Schufro Hit - Sandro Hit x Don Schufro
#55 - Showtime - Show Star x Fleurop
#63 - Amarone - Arpeggio x Potsdam
#64 - Doncan Gravvaenge - Don Schufro x Sorel
#67 - Versace - Flemmingh x Goodtimes
The acceptance of, for instance, Firenze and Showtime was surprising. At the licensing in Herning, Firenze showed himself to be an ordinary mover while Showtime was very slow in the hindleg and not stepping under. Both Blue Hors Diamond Dancer and Diaz are two horses that already got licensed at the 2005 Oldenburg licensing in Vechta and have showed considerable improvement in Herning. Diamond Dancer moved very electrically and Diaz, who is definitely not a father type, has changed into a very interesting and elegant sport horse stallion.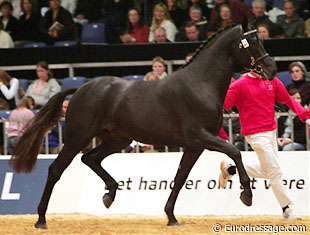 The non-acceptance of catalog number 61, Teglvangs West Point (by Willemoes x Master x Leonardo II) was disappointing The impressive black stallion did not have his best jumping day yesterday, but he has a powerful, engaged movement mechanism and looks like a stallion, outclassing many of the baby type stallions that did get accepted.
The licensing committee seemed very pleased with their choice of twenty-six stallions. "The past year we had more show jumpers in the licensing, but this year it's more half and half, show jumping and dressage", Karina Christiansen said. The Danish warmblood society relies heavily upon foreign stallions to improve their breed. "We have 1500 stallion foals per year and only 250 are shown at the preselection. We hope to change that because it should be more. The quality of the imported stallions this year was much better than before."
Text and photos by Astrid Appels - No reproduction allowed