2006 Dressage in Florida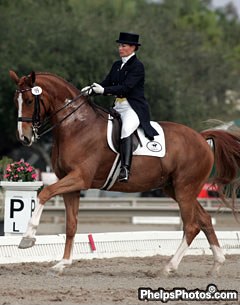 Wellington Dressage at the 2006 Winter Equestrian Festival wrapped up on Sunday, February 5, following four days of dressage competition at the Palm Beach Polo Equestrian Club in Wellington, Florida.
More than 200 horses from across the country competed in the four-ring show, which included 60 classes encompassing Training Level through Grand Prix. Featured classes were the qualifying competitions for the 2006 World Equestrian Games Selection Trials, and qualifiers for the 2006 USEF National Grand Prix Championship and USEF National Intermediaire I Championship.
Thursday, February 2
Kicking off opening day competition, 1996 Atlanta Olympics Team Bronze Medalist Michelle Gibson riding Lex Barker won the United States Equestrian Federation (USEF) Prix St. Georges, a qualifier for the 2006 USEF National Intermediaire I Championship. Gibson and the 10-year-old, 17.2-hand chestnut Hanoverian gelding topped a class of 11 horses with a score of 70.00%. Elite European Sport Horse, Inc. based out of Hinsdale, Illinois, owns Lex Barker. Nicole Bellah riding her own Avante-Garde scored 67.25% to claim second place. Silke Rembacz aboard DaCapo for owner Sheila Buchbinder earned 66.25% for third place.
"I was really happy because I wanted a quiet, chilled-out ride," said Gibson. "The best moments in the test were his medium trots on the long side, the trot half passes, and his changes felt quite good." Gibson, who is based in Wellington, has had the ride on Lex Barker for four years. She said the youngster was "greenbroke" when she started his training, and she has developed him to his current level. Though she said the 2008 Beijing Olympics would be "cutting it close" for the talented chestnut who has not yet shown the Grand Prix, Gibson is not ruling out a bid for a berth on the team. Gibson is currently aiming Lex Barker for the USEF National Intermediaire I Championships that will be held June 15-18 at the USET Foundation headquarters in Gladstone, New Jersey.
In open competition, Jan Brons of Wellington riding Focus for owner Karen McKean won the FEI Intermediaire II, scoring 66.911% to top a field of 11 horses. In the PSG A Section, Ashley Holzer of Canada topped a field of 13 horses with a score of 69.333% aboard Maximillian owned by Ellen Lazarus. In the PSG B Section for Adult Amateurs and Juniors, Robin Shehan and her 15-year-old Danish gelding Marsaelis were the winners over a field of seven horses with a score of 62.333%.
Friday, February 3
Qualifying classes for the 2006 WEG Selection Trials and the 2006 USEF National Grand Prix Championship began with Michael Barisone of Long Valley, New Jersey, aboard Neruda claiming victory in the USEF Grand Prix over a field of 14 horse-and-rider combinations on a score of 69.292%. Katherine Bateson-Chandler riding FBW Kennedy placed second, scoring 68.194%. Charlotte Bredahl Baker, a member of the 1992 Barcelona Olympics Bronze Medal Team, claimed third with Komo, receiving 68.056%.
Barisone has not shown the 11-year-old, 17.2-hand Dutch gelding for six months – their last outing was at the 2005 Grand Prix Championship at Gladstone where they placed third. Since then, Barisone has worked on his horse's fitness by implementing an interval plan designed by legendary eventer Jimmy Wofford, trained two to four times a month with six-time Olympian Robert Dover, and also received help from U.S. Dressage Team Coach Klaus Balkenhol. "I've been a bridesmaid every time and I don't want to do that anymore," said Barisone, who has been the Alternate for the World Equestrian Games, World Cup Finals, and Olympic Games. "I hope I can continue forward with the progress we've made."
Barisone was definite about what he thought were the highpoints of his test. "Without question, piaffe/passage. He's known for that – that's the thing he does very well." He credited Balkenhol and Dover for giving him the keys to his success. "Robert said, 'I don't want anyone to say Wow, look at that piaffe! Wow, look at that passage! Wow, look at that pirouette! I want people to say, Wow, what a great test!' There's a big difference there. That was the goal of the day." Barisone owns Neruda with his sponsors Jane and Salo Suwalsky.
The qualifiers for the USEF National Intermediaire I Championship continued, marking the second victory in two days for Michelle Gibson and Lex Barker. The duo won the USEF Intermediaire I with a score of 72.250%, topping a field of 14 competitors. Nicole Bellah riding Avante-Garde claimed second with 67.833%. Silke Rembacz riding DaCapo earned third place with 66.167%.
"The I-I is a nice test. It flows really nicely, so it's always been our better test," Gibson said. The pair is in their second year of competing in the small tour. "Overall today he felt more relaxed and everything flowed really nicely."
Lex Barker's owners, Scott Zahner and Michael Denneny of Elite European Sport Horse Inc., were at the show to watch the victories. "The reason I like to come to see Michelle ride is that she really is a classical rider," said Denneny. "When she rides, she's very soft with the horses. The horses are always happy and that's nice to see in this sport. That's what this sport is partly about."
Laura Noyes of Wellington aboard her 11-year-old Trahkener Syncro won the FEI Young Rider Team Test, one of the Region 3 designated qualifying competitions for the 2006 North American Young Riders Championships (NAYRC) at Wellington Dressage. From a field of six entries, three scratched leaving a one-two-three finish for the ribbons. Noyes won with a score of 64.815%. Erin Moran aboard her own Widerhall claimed second with 64.370%. Jocelyn Wiese riding Lamborghini earned third with 61.556%.
In open competition, the FEI Prix St. Georges (PSG), which was divided into three sections over two days, wrapped up. In the PSG C Section, Ashley Holzer who won the A section on February 2, again claimed victory, riding her own Pop Art to a score of 71.667% to top a field of 12 horses. In the open FEI Grand Prix, 18 topnotch horses competed and the Canadian contingent dominated the field, taking the top three slots. Holzer claimed first place with Imperioso, scoring 69.306%, and also took second place aboard Gambol, earning 69.167%. Jacqueline Brooks riding Gran Gesto was third with 65.903%
Saturday, February 4
Competition started off in the morning under cloudy skies and drizzle, but by 11:00 am heavy rains poured down. Most riders elected to scratch as the weather worsened to include strong winds, and management ended the show early. Mary Silcox, head of dressage for Stadium Jumping Inc., the producer of the Winter Equestrian Festival, re-scheduled Class 83, the USEF Grand Prix Special, a High Performance qualifier, for Sunday, February 5. Riders who were scheduled to compete in Training Level through Fourth Level were given the opportunity to re-schedule their ride in a Test of Choice class on Sunday. The $25,000 Windsome Dressage/Show Jumping Team Spectacular was cancelled. Show management may re-schedule the event for later in the season. The popular event, which has been contested at the Winter Equestrian Festival for 10 consecutive years, will return as scheduled for the Wellington Dressage show in 2007.
The morning rides included a win for Jocelyn Wiese and Lamborghini in the FEI Young Rider Prix St. Georges, a qualifier for the NAYRC. The duo earned 65.083%.
In open competition, Lars Petersen aboard Dacardo for owner Melissa Taylor Yee, claimed victory in the FEI Intermediaire I with a score of 69.917%.
Sunday, February 5
Arlene 'Tuny' Page and Wild One, who finished 10th in Friday's USEF Grand Prix, came on brilliantly to top a class of seven contenders in the USEF Grand Prix Special, a High Performance qualifying class for the 2006 World Equestrian Games Selection Trials and the 2006 USEF National Grand Prix Championship. Page and Wild One, who are the reigning Reserve National Grand Prix Champions, claimed victory with a score of 68.800%. Charlotte Bredahl Baker aboard Komo earned second place with 68.733%. Pierre St. Jacques and Lucky Tiger, a duo that competed on the 2003 Pan American Gold Medal Team, was third with a score of 65.133%.
"I warmed him up smarter and it felt like I rode him in the ring a little bit more intelligently for him at this stage of the game," said Page, explaining the difference between her performance in the Special on Friday, which earned 63.194%, and Sunday's jump to 68.80%. "He is a horse that needs to feel very, very confident within himself and confident on his four feet. He is so highly reactive in this situation. He has to be willing to relax and stretch down into the reins in a heartbeat, because if something happens outside the arena, he can be distracted." She noted that her 10-year-old, 17.2-hand Hanoverian gelding looked at something outside the ring on Friday, "and then I couldn't quite get him back." To prepare for Sunday, Page used a strategy she knows works with Wild One. "I went out Saturday morning and very calmly asked him to piaffe deep or walk deep – just relax so that I knew that today if there were 25 blenders whirring or whatever, that he was instantly familiar with it. Today we had to go a little low because that's what makes him calm. Our boy's got a lot of fire."
Page is aiming for both the World Cup Final in Amsterdam, The Netherlands, in April, and the World Equestrian Games in Aachen, Germany, which will be held August 20 through September 3.
Barely edged into second place, Olympian Charlotte Bredahl Baker of California said of her finish in the Special, "I couldn't be happier with the horse. I was absolutely thrilled." Baker is also aiming to compete in the World Cup Final and the World Equestrian Games. Bredahl has had the ride on the 14-year-old Dutch gelding owned by Kathy Pavlich of Solvang, California, since July, taking over the reins from the horse's long-time partner Carol Plough, who passed away. "I've been friends with both Carol and Kathy for at least 12 years, so when Carol passed away, the owner decided to send the horse to me," Bredahl explained. "He's just an awesome horse. I just love him."
Concluding the High Performance qualifying competitions, Olympian Bent Jensen of Wellington riding Liberty Light was the sole competitor in the USEF Intermediaire Freestyle, scoring an impressive 69.542% for the win. George Williams also went solo, taking the win in the USEF Grand Prix Freestyle aboard Marnix with a dazzling freestyle that earned 72.083%.
In open competition, Canada's Ashley Holzer continued her winning streak, claiming victory in the FEI Grand Prix Freestyle aboard Gambol with a score of 75.083%. Brazil's Pia Aragao riding Nirvana Interagro won the FEI Intermediaire Freestyle with 69.917%.
In addition to ribbons and prize money awarded to the top six places in each class at Wellington Dressage, at the conclusion of the show High Score Awards for Champion and Reserve Champion were presented to the top two horse/rider combinations in each of the divisions from First to Fourth Level as follows:
First Level Champion, Allison Brock and Peajay, 72.22% 
First Level Reserve, Kelley Corrigan and Robinson, 70.741%
Second Level Champion, Krystal Ann Shingler and Tividor, 68.289% 
Second Level Reserve, Joan Pecora and Talent, 65.132%
Third Level Champion, Lars Petersen and Chicco, 68.333% 
Third Level Reserve, Lynn Leath and d'Artagnan, 67.917%
Fourth Level Champion, Lynn Leath and d'Artagnan, 73.488% 
Fourth Level Reserve, Bill Warren and Romantic, 69.348%
Officiating at Wellington Dressage was a distinguished panel of international judges at the FEI rings: Natalie Lamping 'I', Marianne Ludwig 'I', Joan MaCartney 'I' and Lois Yukins 'I'. Judging Training through Fourth Level were Maryall Barnett 'C', Jane Weatherwax 'C', Susan Roberto 'R', and Lynda Southam 'R'.
Photos copyrighted: Mary Phelps/Phelpsphotos.com
Related Links
Horsesdaily: Articles and Photos from the 2006 Wellington Dressage Show 
Eurodressage Scores: 2006 Wellington Dressage Show
jje