Spanish Dressage News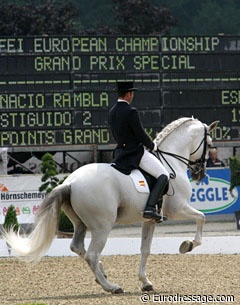 The Portuguese website Equisport reported that Ignacio Rambla's Distinguido has been operated on last month. The grey licensed Andalusian (PRE) stallion was operated on his right eye because of a recurring infection.
The operation, which took an hour, was a success. Distinguido is by Evento out of Distinguida XIII and is owned by Yeguada Romero Benitez. Under Rambla, Distinguido won team bronze at the 2005 European Dressage Championships in Hagen, Germany.
Equisport also wrote that the Portuguese dressage rider Leonor Ramalho got severly injured when trying to separate two horses fighting in a paddock. Ramalho got severe physical lesions and was rushed to the emergency room where she was need immediate operation. She's currently still in intensive care.
Photo copyrighted: Astrid Appels/Eurodressage
Source: Equisport.pt
Related Links 
Sweden and Spain Share the Team Bronze Medal in Hagen
Andalusian Stallion Distinguido Abused by Groom