Oldenburg Breeding News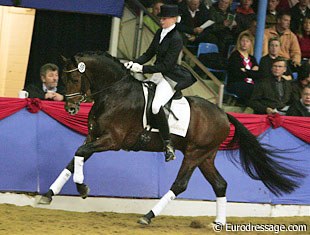 When one woke up on Saturday morning November 26, 2005, with that bubbly feeling of looking forward to the annual Althengst Parade in Vechta, Germany, and looked out of the window, one probably was very surprised.
The day before, a severe snow blizzard affected northern Europe, covering the Oldenburg area in 30 centimeters of snow. It immediately felt like Christmas, but the problem was that half of the horses scheduled to appear at the Althengst Parade were unable to make the journey to the Vechta Equestrian Center. Nevertheless, those who had trailered in their stallions the day before or those who did not live all the way down south in Germany, were able to present their studs in the show which had a sell out crowd despite the winter weather.
Here is a small photo report of the stallion that caught our interest, in one way or another.
Serano Gold (Sandro Hit x Grundstein II)
This young stallion claimed much fame this year by scoring top marks in the 30-day test. The dark bay had a ponyesque appearance, but showed super supple gaits and much elasticity.
Samarant (Sandro Hit x Brentano II)
Schockemohle's dressage horse trainer Anja Engelbart presented Samarant, one of the newer Sandro Hit offsprings that has caught the interest of many breeders. Elasticity was this stallion's forte and though his canter looked brilliant in its ground cover and suspension, he cantered croupe high as so many Sandro Hits do. Samarant did not show any walk.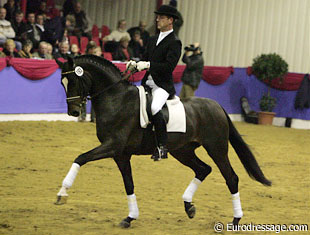 Sir Donnerhall (Sandro Hit x Donnerhall)
Sir Donnerhall, the youngster people seem to talk about the most in Germany. Last year, Sir Donnerhall was still looking like a baby, with his tiny mouth, baby teeth and his foal like nickering. This year, under Dr. Ulf Möller, the 4-year old Sir Donnerhall has exploded in muscle (looking like a 6-year old). Winning his 70-day test, Sir Donnerhall showed super quality gaits and is a real interesting cocktail of Sandro Hit x Donnerhall blood. His flat back and topline remind him of Donnerhall, his hind legs which are constantly active but fail to completely step under the body are typical Sandro Hit. Nevertheless, Sir Donnerhall is definitely one of the more interesting Sandro Hit offsprings and he was proclaimed 2005 Hauptpremium Winner based on the quality of his offspring and his Stallion Performance Test results.
Belissimo (Beltain x Romadour II)
The Westfalian stallion Belissimo was presented at the Oldenburg epicenter in Vechta as an option for refinement in the conformation / bloodline. This reserve Bundeschampion gave a different impression from two months ago in Warendorf. The chestnut had developed well in the trot work, taking more weight on the hindquarters and pushing more from behind, while the canter had lost some suppleness and jump.
Rousseau (Ferro x Ramiro)
This Dutch Warmblood stallion is the former reserve World Young Horse Champion. He used to be ridden by Nicolette van Lierop, but has now been stationed at Ingo Pape's for a year. Susan Pape-Draper presented the massive bay stallion. Rousseau has a huge frame, looking very stocky, but showed nice quality gaits. Nevertheless, the horse was not completely through in the body and looked extremely uncomfortable and unresponsive in the mouth.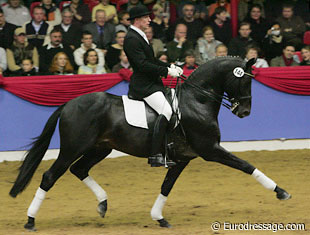 Hofrat (Gribaldi x Guter Planet)
Another refiner for Oldenburg: the Trakehner reserve licensing champion Hofrat. This black stallion looked stronger behind than most Gribaldi offsprings but lacked some dynamics. The connection in the back between the hind and front quarters seemed weak. This could partly be attributed to the too tight frame the stallion was ridden in. The walk was slightly short-long behind. Hofrat regained popularity this year by siring the 2005 Hanoverian Licensing Champion "Hotline" (Hofrat x De Niro).
Furst Grandios (Furst Heinrich x Argentinus)
Wow, what a lovely stallion. Super elastic gaits, good engagement from behind and much scope and potential in his basic gaits. His full brother became the Reserve Champion this year at the Oldenburg licensing the day before the Althengst Parade.
Furstenreich (Florestan x Matador)
More F blood for Oldenburg. British Grand Prix rider Emma Hindle presented Furstenreich. I hadn't seen the horse go since his performance at the 2004 World Young Horse Championships and did not recognize him at first. This 7-year old has almost doubled in muscle and looks like a real FEI horse now. His solid basic gaits were lovely, but his real talent lay in the piaffe and passage.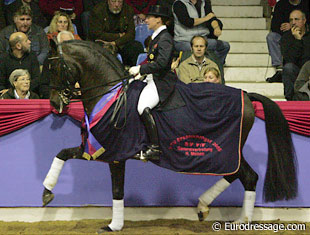 Diamond Hit (Don Schufro x Ramino)
VTV Insurance honoured Diamond Hit as the best performing Oldenburg stallion of the year 2005. Diamond Hit is by the Grand Prix stallion Don Schufro out of Sandro Hit's dame Loretta (by Ramino). Under Emma Hindle, he has been consistently winning and placing at the top in the small tour at international dressage shows in Europe. Furthermore, his offspring has been doing extremely well: Loxana (Diamond Hit x Argentinus) became the Rastede Mare Champion this year. Donovan (Diamond Hit x Consul) won the Bundeschampionate, and three out of four presented Diamond Hit progeny at the 2005 Oldenburg Stallion Licensing got licensed; one earning the Premium predicate.
Donnerball (Donnerhall x Alabaster)
Talking about piaffe, passage and World Young Horse Championships. Probably the star performance at the 2005 Althengst Parade was Donnerball's. The liver chestnut has changed dramatically since the World Championships in July, looking much stronger and more balanced, especially in the trot work. His canter was well engaged and relaxed. The drastic improvement in the trot work must have resulted from the extensive piaffe - passage training Finken has been doing with this five-year old. He showed more pi-pa in his performance than the Grand Prix trained horses that were presented in Vechta, adding a piaffe pirouette to his performance. The young horse seemed very much at ease with this high degree of collection, but to me it was overdoing it a bit.
All photos copyrighted Astrid Appels/Eurodressage. No Reproduction Allowed
Related Links
Marketing Above Quality at the 2005 Oldenburg Stallion Licensing
Results of the 2005 Oldenburg Stallion Licensing