2005 Global Dressage Forum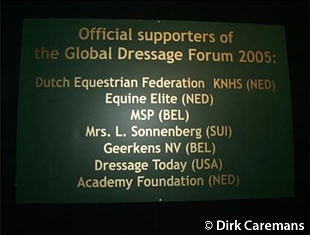 When Eurodressage wrote its report "Global Dressage Forum: Yap Yap for the Elite?" on the 2004 edition of the Global Dressage Forum (GDF), it caused a big stir. The Eurodressage article carried several indictments. The forum's so-called mission was to discuss training methods and techniques and help the sport progress, but to us it seemed all talk and no action
, it looked like a social gathering of the dressage 'creme de la creme,' while journalists were ostracized or forced to pay the 500 euro entrance fee for participation.
Joep Bartels, organizer of the GDF, replied in person to our article telling that for the 2005 edition they would invite more journalists through the International Alliance of Equestrian Journalists. Bartels kindly invited Eurodressage to join the 2005 forum on October 31 and November 1, 2005, without paying. We gladly accepted this invitation and drove to Hooge Mierde, The Netherlands, with much eagerness to discover and critically evaluate the GDF.
There is no need to mention that our expectations for the 2005 Global Dressage Forum were extremely high. To us, this trend setting convention, which has to push the dressage sport forwards, needed to be ground breaking, thought provoking and polemical in order to fulfil its reputation. With St.Georg's controversial "Dressur Pervers" article still quaking the dressage world, the GDF would have been the perfect platform to openly discuss rollkur versus classical dressage amongst riders, trainers, judges and other dressage experts.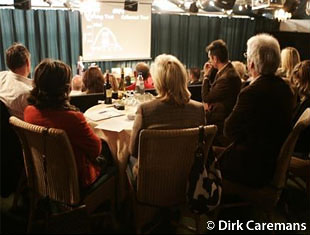 Unfortunately this was not the case. Any mention of rollkur, or riding behind the vertical was hushed and swept under the carpet by the speakers' panel. It seemed as if the topic was complete taboo and not to be discussed at the forum. This is a great pity. This year's GDF should have been totally devoted to that debate and should have included a thorough discussion on the current judging system, which completely derailed at the CDIO Aachen in August.
None of this happened and instead we had to listen to platitude and commercial statements that lacked guts. Fortunately, three sessions saved the 2005 Global Dressage Forum and those were the ones conducted by Cees Slings & Victor Kerkhof, Dr. Hilary Clayton and Kyra Kyrklund.
Anticlimactic Opening Sessions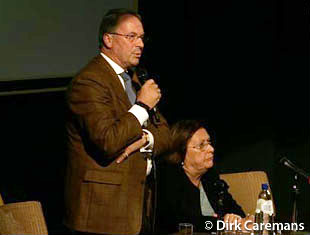 Sitting on the edge of the seat with high expectations, we were hoping to get a flaming opening of the 2005 Global Dressage Forum that immediately touched upon the sore spots in our sport: rollkur and the judging system.
Instead, in his opening speech IDTC president David Hunt commanded the audience to virtually shut up about any rollkur related issues, forget the past and move forwards. "Our goal here is to move the sport forwards in relaxing circumstance," Hunt stated, "We don't support a certain training system. We go for quality of the paces and the welfare of the horse. We look for a system which produces the best result." This statement seemed to promise the critical debate that would compare rollkur versus classical training, but on the contrary, Hunt added, "we have to swipe away the past. Let's move on and see what is being produced in the ring." Quite trite, don't you think?
FEI Dressage Committee Chairwoman Mariette Withages concurred with Hunt saying that through the Dressur Pervers discussion "we are going backwards and now have to start all over again. Let's go back to the Happy Athlete." At the 2004 Global Dressage Forum, the 'Happy Athlete' was the major theme and its echoes are still reverberating at this year's forum, which is a positive development. Classically schooled trainers and riders like Georg and Monica Theodorescu and Klaus Balkenhol and Stefan Wolff showcased a happy athlete, but before Theodorescu was asked to speak, the audience had to survive a monotonously long introduction to the judges' handbook.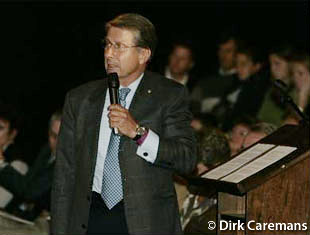 Dr. Volker Moritz was asked to talk about the progression of this handbook, which is currently in its fifteenth draft version and which will not be ready before next year. Judges Linda Zang, Mariette Withages, Angelika Fromming, Stephan Clarke, Volker Moritz, Katrina Wust, Beatriz Burchler, Woyczeck Markowski and Dieter Schule contributed to the handbook with the criteria of the training scale as its central theme. Moritz stressed that the regularity of the gaits has to be the highest priority for judges and looseness ("durchlassigkeit") should be the overall aim of the training scale. He reviewed the marks from 0 to 10 for each movement.
In general, the handbook presents a rigid, structured definition of what each mark represents and in what way a movement has to be performed to earn such a mark. However, there are still several comments to be made about it.
For instance, if a horse performs an extended trot for a 10, but does two steps of canter, does the score have to drop all the way to a 2 or 3 as the judges' handbook defines, or will it go to a 4 or 5 as one expects currently to get in the judging system?
Moritz renamed the judges' handbook "Dressage Handbook" and told the audience that is would be "a tool for teaching young, less experienced judges. It will lead to better judging. However, it can not replace the schooling of the eye and the judge needs to develop a clear picture in his head" of what quality of movement each mark represents.
The Theoderscu's on Balance, Balkenhol on Relaxation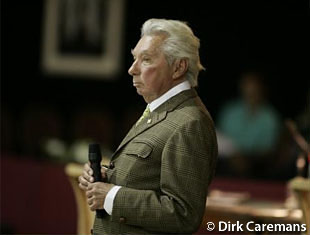 After quite a dry lecture by Volker Moritz, the 350 guests of the GDF were eager to see an equine in action. Monica and Georg Theodorescu were the first to give a practical demonstration in the beautiful set up indoor arena of Tineke and Joep Bartels' Horse Academy. With drapes on the wall and ceiling and lovely flowers hanging off the kickboards, the 37 x 17 m arena was intimate and cozy for the GDF demonstrations.
The 80-year old Georg Theodorescu is a legendary dressage trainer and he announced himself as a man who needs to use few words to communicate with his daughter ("My daughter knows what I want to say") and he put this non-verbosity into practice at the forum. It was great pity that Mr Theodorescu lacked eloquence and speed in his talk when he tried to explain his training principles, but the man remained witty in his remarks. "A horse needs balance, especially in the half passes. You don't want him to cross his legs like an epileptic," he joked.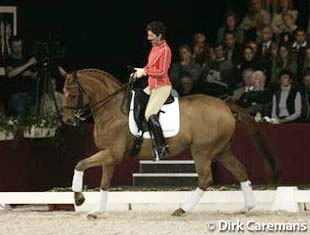 The subject of the Theodorescu session was balance and Monica brought the 7-year old chestnut gelding Whisper (by Welt Hit I) as superb example of rhythm, cadence, and balance. The chestnut gelding moves like a metronome with so much rhythm and spring.
Wearing a headset, Monica explained that she developed strength and balance in her horse by riding many voltes in the corners and serpentines, changing leads often to supple the horse on both sides. Georg said that the horse's forehand is naturally heavier than the hindquarters because the horse's head and neck, as well as the rider, are carried in front. The horse needs to muscle up the hindquarters to be able to take over the weight and lift the withers.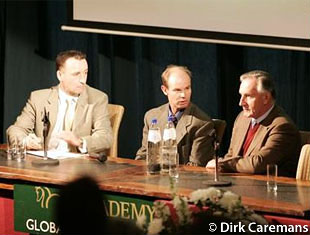 Klaus Balkenhol, who is the United States Dressage Team Trainer, was the only guest speaker at the forum he did not make the effort to speak English and brought Volker Bromman as his interpreter.
Balkenhol was invited to talk about classical training with young horses and he stated that the training of a horse starts with foals, who have to get used to humans. Mistakes made in that stage can lead to great problems later on. He looked at two 2,5 year old horses presented in hand, analyzing the conformation and their walk and trot. He stressed that young horses (3 and 4-year olds) should not be trained as dressage horses, but approached as versatile riding horses by hacking them, taking them cross country and making them jump small fences.
As practical example, Balkenhol brought the 2002 Hanoverian Licensing Champion His Highness (by Hohenstein x Donnerhall), who has been breeding much this 2005 show season, but has been focused on sport again this summer. "It takes about three weeks to get his mind off breeding and fixed on riding," Klaus said, adding that "the best dressage stallion is a gelding. Most riders can't handle such strong personalities. If a stallion is just used as a dressage horse, it's better to geld them." His Highness, on the other hand, mainly makes his living as a breeding stallion and is slowly being trained to FEI level.
The black stallion moved with remarkable relaxation and looseness in his body, easily stretching into the bit without losing purity in his paces. He was a lovely example of a young horse being worked in the correct way without being tense or stressing out in his work. However, what I would liked to have seen was Balkenhol work horses that have not been trained by him for several years. He should have showed his techniques for creating harmony and relaxation in horses strange to him. That would have been a real test and and intriguing demonstration.
Better Bitting for Happier Horses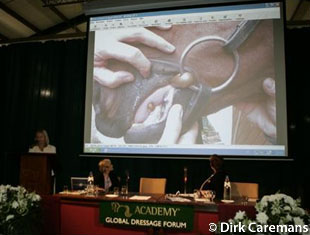 Dr Hilary Clayton, professor in equine biomechanics at the Mary Anne McPhail equine research center of Michigan State University, was one of the keynote speakers at this year's GDF and delivered some academic wisdom on the anatomy of the horse in two different sessions.
Her first session was on her fluoroscopic research on bits in a horse's mouth. Clayton researched the position of the bit in the mouth and which behaviour it evokes. She discovered that a horse is constantly moving is tongue and that horses dislike the bit touching the palate. Because the tongue fills up the entire mouth space, horses prefer to have thinner bits that lie not too low on the tongue and that are double jointed, providing more comfort.
Two bit company representatives from Hermes Sprenger in Germany and Mylers in England backed up Clayton's research. Sprenger stressed the fact that horse like a bit partly made of copper as it stimulates the production of saliva. Rubber or nylon bits work like razors in the mouth because they dry out the mouth more than stainless steel or aurigan bits.
An interesting question was raised whether we were harming the horse by riding in a compulsory double bridle. Clayton replied that "there is awfully a lot of metal in their mouth. Horses do not always have the oral conformation to house such a bit." Christina Stuckelberger added that a severe tightening of the noseband and curb chain also hurt the horse. Balkenhol mentioned that a tightening of the noseband is a typical reaction to hide training problems.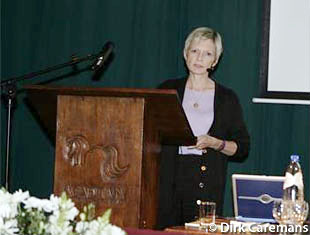 Clayton's second session had extremely scientific explanations of the locomotion of horses, using technical graphics and physics that were hard to digest. Ground reaction force, force plate, breaking and propulsion components, vertical, longitudinal and transverse forces were terminology that Clayton explained and used throughout her exposé. Clayton's locomotion research focused on the horse's usage of its hindquarters.
She talked about "diagonal association" which could be 'positive' if the horse moves with an uphill balance touching the ground first with the hind quarters and then with the front legs. 'Negative' dissociation is when the front legs hit the ground before the hind quarters. This is all a matter of milliseconds. Some of the top horses at the 1992 and 2004 Olympic Games move with negative dissociation, while others move with positive dissociation. Clayton showed video clips of Rembrandt who has a clear positive dissociation movement mechanism, while Ignacio Rambla's Evento moved with negative dissociation.
The most striking point that Clayton made in her long exposé was that the canter becomes four-beat in the canter pirouette due to diagonal dissociation. Christine Stuckelberger commented that "twenty years ago, Eric Lette and Georg Wahl said that the pirouette was four-beat but everybody protested. I am glad that today it has been scientifically proven."
Freestyle On the Move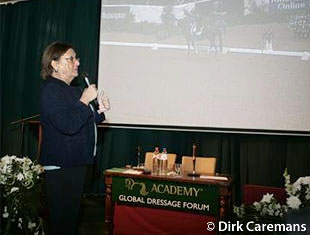 Another much anticipated session was the discussion and evaluation of the World Cup Finals in Las Vegas, but it generated mild disappointment from my side. Mrs Withages was extremely laudable about the unique atmosphere in Las Vegas and hoped that every show could be as exhilarating as the 2005 World Cup Finals. "We have to get rid of the cathedral atmosphere," she claimed.
Withages stressed the fact that a good freestyle has to feature a "choreography like a ballet. It has to have a start and a finish." She reiterated the foundations of a good freestyle which she lay at the 2005 Freestyle Forum in Ankum, Germany, in February. A good kur has a choreography that uses the arena fully and the music must display a unity in genre.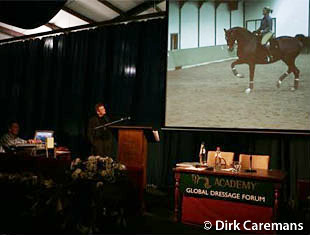 Withages showed three video clips of the top three Las Vegas rides (Debbie McDonald, Edward Gal, and Anky van Grunsven) and provided simultaneous commentary. She gave a strong impression that she is concerned with the public opinion. Globality for her does not only mean attracting more riders from different nations, but it also seems to involve the popularization of the sport world wide. To her, the kur to music is a gateway to attracting a public of laymen, who are more hungry for entertainment than classical training and purity in gaits.
Withages insisted that the three riders were ranked correctly and she left little room for discussion. She highlighted the fact that there was no tension in any of those rides, turning a blind eye to the non-execution of a decent extended walk by none of the three. Their overall correctness in the ride (no major mistakes) and an audience of ecstatic American spectators were plenty for her to award new record scores and boost the dressage sport.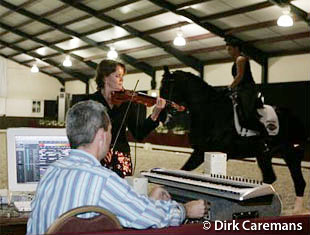 The freestyle topic was further explored by Cees Slings and Victor Kerkhof, Anky van Grunsven's in-house kur composers. The Dutch musical composers' duo Slings and Kerkhof thoroughly explained their work method, repeating their gig of the 2005 Freestyle Forum in Ankum, but adding additional information about their new FEI supported project "The Natural Rhythm of the Horse," which will be an audiovisual demonstration of the horse in movement on music in a 'perfect' dressage freestyle test.
Their work method involves videotaping the choreography of the kur, making a click track to it with each click representing the footfall of the horse's front leg to create a beat. Then, they add music to the click track and gradually create a custom made kur to music with originally composed music.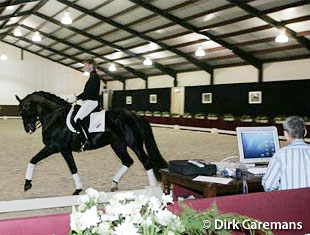 As demonstration riders, Slings and Kerkhof invited Laudy Miedema, a fourth level rider who rode a KWPN bred Kigali offspring to their music with a live violin player backing up the music. British Grand Prix team member Wayne Channon performed his Slings & Kerkhof designed kur 'Il Passeggiato'.
Kyra Kyrklund on Collection
The highlight of the second day was Kyra Kyrklund on collection. Kyrklund was already a speaker at the 2004 forum and returned this year by popular demand. If you want to talk about an eclectic trainer, than Kyra is your person. Kyrklund is a multiple Olympian and has trained numerous riders and horses to international Grand Prix level. She openly admits that she experiments with different training systems (though she is not a user of the rollkur) and recommends any rider to use the 'tool box'. "See a lot of things, try them out and don't throw away the old ones because they might come in handy," she said. Yet, Kyra stayed clear-minded and jokingly added that "life is too short to make all the mistakes by yourself. Learn from professionals, be nosey."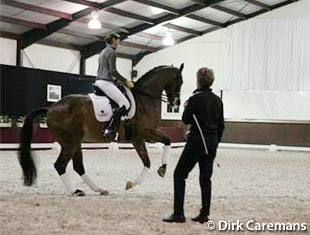 Kyrklund defined collection as "the gathering of the natural forces of the movement of the horse to be able to control its center of gravity more easily. It is a state of readiness in the horse's mind, body and movement for it to be willing and able to execute any understood exercise demanded by the rider."
She asked her students Mia von Essen, Kristian von Krusenstierna and Sarah Millis to ride a circle round her and shorten the steps, gradually working towards a pirouette. According to Kyra, controlling the length and speed of the steps is essential in the training collection and the best way of developing the piaffe and passage.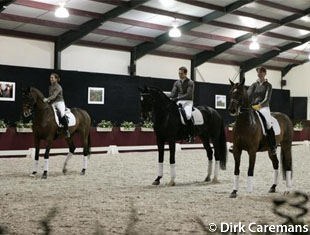 Kristian von Krusenstierna displayed total control of Wilson's steps by riding a half canter pirouette, making a transition into piaffe for a few steps before cantering on and finishing that same pirouette.
To make a horse light to the aids, she recommends riding counter canter - walk transitions. She prefers the counter canter because the rider doesn't need to worry about the haunches coming in as the horse stays straighter in the body more easily.
Mission Impossible at the 2005 Global Dressage Forum
On the official website of the Global Dressage Forum, the forum is described as "a medium through which a common dressage language and philosophy can evolve and spread globally." As its mission it states, "dressage is rightly proud of its traditional routes and history. While recognizing the importance of classical riding, delegates at the Global Forum are invited to be open minded and are stimulated to explore ideas, not only with sport 'insiders' but also with experts from other sports and sports scientists. "
The critical debate in our dressage world, i.e. rollkur vs classical dressage (or a combination of the two, if someone will prove it?) was complete taboo at the forum and none of the panelists or IDTC/IDRC/IDJC members made an effort to discuss these training techniques, or the current hiccupping judging system.
With the 2005 Global Dressage Forum clearly missing a theme and an organized structure in the sessions, the forum failed at making the sport move forward. With a derailed judging system, controversial training systems dominating the sport and no one with the guts to open up his mouth, the organization (IDTC/IDRC/IDJC) of the Global Dressage Forum needs to meditate upon its status and re-evaluate its mission for next year if it wants to make a difference to the sport.
Text copyrighted Astrid Appels/Eurodressage.com, Images copyrighted Dirk Caremans - 
No Reproduction allowed without explicit permission
Related Links
Coverage of the 2004 Global Dressage Forum
2001 Global Dressage Forum for Europe's top dressage trainers