2005 European Dressage Championships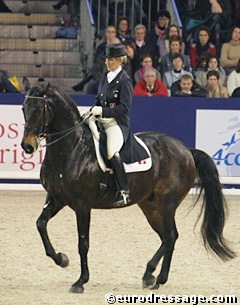 The selection committee of the Swiss Equestrian Federation has announced the riders who have been nominated for the Swiss team to represent Switzerland at the 2005 European Dressage Championships in Moscow, Russia, July 27-31, 2005.
Swiss will be sending a team of four riders and has picked a fifth reserve rider:
Silvia Iklé - Salieri
Christian Pläge - Regent
Marie-Line Wettstein - Le Primeur
Marcela Krinke Susmelj - Fibrin
Reserve: Birgit Wientzek Pläge - Sappalot
Sylvia Ikle, Christian Plage and Marie Line Wettstein are definitely selected on the team, Marcela Krinke Susmelj and Brigit Wientzik still have to confirm their show shape at the CDI Fritzens, July 8-10, 2005. Of the latter two, the one who achieves the best score in the Grand Prix at Fritzens will be the fourth team rider for Moscow.
The Swiss dressage team has Michel d'Arcis as chef d'Equipe and Jurgen Koschel as team trainer.
Grand Prix rider Simonne Staub has recently been added to the Swiss Elite Squad, which consists of six riders in total. Based on her performances at the Sunshine Tour, CDN Avenches, CDI Bern and CDI Lipica, Staub has joined Ilke, Plage, Wettstein, Krinke Susmelj and Wientzek Plage on this "Dressur Elitekader 2005".
Photo copyrighted: Astrid Appels/Eurodressage
Related Links
Silvia Iklé Not Competing at World Cup Finals in Las Vegas
Simonne Staub Standing Out at the 2005 Sunshine Tour
Eurodressage On The Scene of the 2005 European Championships