2005 World Cup Finals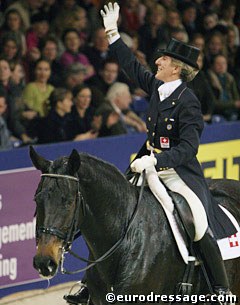 Swiss rider Silvia Iklé will not be competing at the 2005 World Cup Finals in Las Vegas, USA, with her Swiss bred Salieri CH, even though she qualified for the Finals after a superb sixth place in the Kur to Music on Saturday at the CDI-W 's Hertogenbosch.
Iklé has decided to spare her 11-year old Salieri CH from the strenous trip to the Finals in the U.S.A. "The long air trip to the US is involving quite a lot of strain and also high risk. These circumstances are contradictory to my philosophy and strategy and after intensive and careful reflection I do not want to expect all this stress from Salieri CH," Ikle announced.
Iklé explained that Salieri CH has been "educated, trained and built up with great care. His competition schedules have been (and will be) done very carefully as well and always having the main target in mind, to allow the horse to unfold his outstanding talent, skills and capabilities in the best possible way."
In agreement with the Swiss Equestrian Federation, Ikle has decided that her main focus will be the 2005 European Dressage Championships in Moscow in July. She will also compete at several other big international dressage competitions in Europe.
Eurodressage Coverage of the 2004-2005 World Cup Finals