2005 Bundeschampionate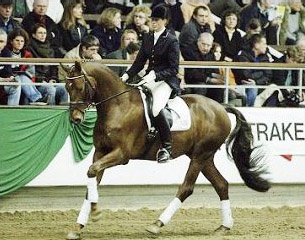 At the Schleswig-Holstein Bundeschampionate qualifier in Althof, Germany, the 5-year old mare Devil's Bride and the 6-year old stallion Hoftänzer were the winners of the dressage horse classes.
Stefanie Hein rode her 2003 Bundeschampion Devil's Bride to victory in the L-Dressage test, scoring 8.5. The chestnut mare Devil's Bride is by Don Primero x Castro. She beat the licensed stallion Lord Sinclair III (Lanciano x Raueck) under Rond Luders (8.3).
In the 6-year old division, the chestnut stallion Hoftänzer (by Gribaldi x Guter Planet) was the only horse scoring 8.0 or higher. With an 8.0 mark, Karin Winter-Polac and Hoftänzer qualified for Warendorf.
Photo courtesy: Trakehners Nord
Results
5-year old Dressage Horses
1. Stefanie Hein - Devils bride 5j. F S v. Don Primero M. v. Castro - 8.5
2. Ronald Lüders - Lord Sinclair III - 8.3
3. Sandra Bührmann - Carry Gold - 8.1
4. Julia Marrancone - Don Johann - 7.8
4. Julia Mestern - Coco channel - 7.8
6. Isabelle Schäfer-Trepkau - Rosa Rot - 7.6
7. Kornelia Kindermann - Rasmus de la Roche - 7.5
8. Wolfgang Schierloh - Lentaro - 7.3
6-year old Dressage Horses
1. Karin Winter-Polac - Hoftänzer - 8.0
2. Frank Agne - Floggensee's Royal Dream - 7.4
3. Janne Ahlmann - Fiorella - 7.2
4. Jürgen Böckmann - Royan - 7.0
4. Wolfgang Schierloh - Lüderitz - 7.0