Oldenburg Breeding News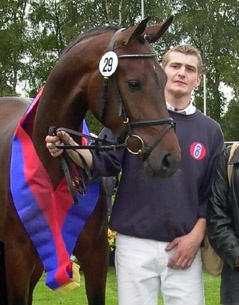 It was a very tough call between Dark Rose and Loxana, but the latter became the Champion of the Brilliantring at the 2005 Oldenburg Mare Show in Rastede, Germany. Loxana is a 3-year old bay Diamond Hit x Argentinus offspring
bred and owned by Franz Josef and Elke Herff from Herzogenrath, Germany.
Friedrich Jahncke, honorary president of the Hanoverian Society, described Loxana as a "highly modern Oldenburg sport horse who guarantees a successful breeding line". Loxana will be offered for sale at the 2005 Elite Autumn Auction in Vechta, in October 2005.
Twenty-eight mares out of 119 were selected for the Brilliant Ring, the Champions of Champions ring in which the grand winner of the show is selected. The excellently moving Loxana was picked as Grand Champion. She descends from a famous mare line which also produced Nick Skelton's Grand Slam. Loxana's sire Diamond Hit was reserve World and Bundes Champion as a 5-year old.
Reserve Champion was Dark Rose, a De Niro x Lord Liberty G mare bred by Josef Greten and owned by Johannes Westendarp. This black mare was the favourite of the show, partly because she achieved the highest score this year in the Mare Performance Test. In third place was another Diamond Hit offspring, Diamantina, who is out of Campari M dam.
Sandro Hit was - quantitatively the top producing sire in Rastede, with 18 mares present at the show and five selected for the Brilliant ring. The highest placing Sandro Hit mare ranked fourth. She is Gloriosa, out of a Rubinstein dam, and bred by Gerd Berges. Rubin Royal had four offspring in the Brilliant Ring, Furst Heinrich two. Nevertheless, it was Diamond Hit who impressed as a stallion by being the sire of the champion and third placed horse.
Photos by Dr. Tanja Becker
Results - Brilliantring
1. Loxana (Diamond Hit x Argentinus) B&O : Franz-Josef + Elke Herff
2. Dark Rose (De Niro x Lord Liberty G) O: Johannes Westendarp - B: Josef Greten
3. Diamantina (Diamond Hit x Campari M) B&O: Quadriga Pferdh. GmbH
4. Gloriosa (Sandro Hit x Rubinstein I) B&O : Gerd Berges
5. Carmina Burana (Rubin-Royal x In Extenso) B&O : Holger Steinmann
6. Clara (Donnerschwee x Alabaster) B&O : Richard Wiegert
7. Feuerprobe (Fürst Heinrich x Prestige Pilot) O: Gesuet Sprehe, B: Diedrich Fick
8. Grazia (Depardieu x Andiamo) B&O : Tanja Schnetlage
9. Coco Chanel (Couleur Rubin x Espri) O: Anne Haase, B: Heinrich Kröger
10. Banda (Argentinus x Lefevr) B&O : Heinz + Werner Sandkamp
11. A Sugar Baby (Sandro Hit x Plaisir d Amour) B&O : Britta Budeus-Wiegert
12. Bellamie (!Santander H x Zeus) B&O : Gottfried Vorwerk
Related Links
Love Story V, Champion of the 2004 Oldenburg Elite Mare Show in Rastede 
Fabina, Rastede Oldenburg Champion 2003 
1999 Oldenburger Champion Mare Lady Madonna sold to the USA 
Donna Doria, the 2000 Oldenburg Champion Mare at Radstede