2005 Bundeschampionate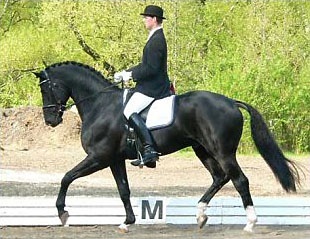 Damon Hill, His Highness and Dornfelder were the winning horses at the German regional show in Haftenkamp, one of the biggest Bundeschampionate qualifiers of the year.
The 5-years olds were divided into two groups and Helen Langenhanenberg and Stefan Wolff earned the winning scores of 8.7 and 8.4 for their rides on stallions Damon Hill (by Donnerhall) and His Highness (by Hohenstein). Eight 5-year olds scored 8.0 or higher and qualified for the Bundeschampionate in Warendorf.
In the 6-year old division, only one horse out of 22 was able to overcome the 8.0 barriere and that was Dornfelder (Donnerhall x Pik Bube). Sabine Egbers rode her Oldenburg gelding to an 8.10 mark and beat Dr. Ulf Moller on Fitou E, who got 7.7
Photo His Highness - copyrighted: Mareen Lucas. You can see more wonderful photos by her from the Bremen Bundeschampionate qualifier here.
Results
5-year olds - Group 1
1. Damon Hill - Langehanenberg,Helen - 8.70
2. Rescada HS - Kerner,Stefanie - 8.30
3. Flor de Selva - Möller,Eva - 8.10
4. Don Alvarito - Augustin,Johannes - 8.00
5. Riverside - Pape,Ingo - .7.70
5. Lancelot - Egbers,Sabine - 7.70
7. Ra - Weichert,Dieter - 7.60
7. Ashley W - Meyer, Svenja Irina - 7.60
7. Final Destination - Dietrich,Jörg - 7.60
10. Don Angelo - Klatte,Britta - 7.50
10. Die Diva - Horstmann,Anne - 7.50
10. Donnerwetter - Wiebusch,Marion - . 7.50
13. Indira Ghandi - Heinze,Sebastian - 7.40
14. Don Gregor - Fischer,Iris - 7.30
15. Licotus - Busch,Marcus - 7.10
16. Augenstern - Horstmann,Anne - 7.00
17. Roxanne - Menke,Andreas - . 6.90
18. Falkao - Holz,Birgit - 6.80
19. Roman Lifestyle W- Langehanenberg,Helen - 6.70
19. Fay - Nowatschin,Sina - 6.70
21. Fuchhur - Wiens,Christiane - 6.60
22. Argentina - Oelrich,Oliver - 6.50
22. Diego - Müller,Sandra - 6.50
24. Wanthano - Wiens,Christiane - 6.30
5-year olds - Group 2
1. His Highness - Wolff,Stefan - 8.40
2. Farewell III - Kötter,Sandra - 8.20
3. Langazzo - Sommer,Henrike - 8.10
4. Stedinger - Wulferding,Kira - . 8.00
5. Lancelot - Heinze,Sebastian - 7.70
6-year olds
1. Dornfelder - Egbers,Sabine - 8.10
2. Fitou E - Möller,Ulf Dr. - 7.70
3. Rubinero - Lammers,Tanja - 7.40
3. Lafayette Lord - Klimke,ingrid - 7.40
5. Dr.Doolittle - Kötter,Sandra - 7.30
6. Ravienne - Henschke,Miriam - 7.20
7. Formidable - Möller,Ulf Dr. - 7.10
7. Florijn - Slüter,Annika - 7.10
9. Limited Edition - Egbers,Sabine - 7.00
10. Lifestyle - Hansen,Insa - 6.90
11. Diktus - Heinze,Sebastian - 6.70
12. K2 - Linden,Tom van den - 6.60
13. Responsible - Langehanenberg,Helen - 6.50
13. Kaiserdom - Meyer zu Strohen,Kathrin - 6.50
13. De Layla - Oelrich-Verlage,Jutta - 6.50
16. Revan - Lammers,Tanja - 6.40
16. Don Jueves - Tilke,Yvonne - 6.40
18. Optima - Oelrich-Verlage,Jutta - 6.30
19. Dance of Joy - Dietrich,Jörg - 6.20
20. Farwick's Fallaby- Langehanenberg,Helen - 6.00
20. Le Charmeur - Dornan,Casey - 6.00
22. Sir Tender - Bührmann,Sandra - 5.80
Back to the 2005 Bundeschampionate Index