2005 World Cup Finals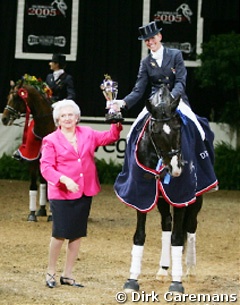 Olympic dressage champion Anky van Grunsven claimed her seventh World Cup Title in her career with a new world record score of a 86.725% for her kur to music aboard the 11-year old Hanoverian gelding Salinero (by Salieri x Lungau).
The master beat her student Edward Gal in the freestyle final on Saturday April 23, 2005. Edward Gal scored 85.225% aboard the freshly KWPN licensed stallion Lingh (by Flemming x Columbus).
It was a true "Clash of the Baby Titans" in the Thomas & Mack center in Las Vegas. 13-year old Lingh and 11-year old Salinero were a league of their own at the World Cup Finals and the number one and two places could equally have been interchangeable.
Gal rode a super sonic Lingh who was truly magical in his magically choreographed freestyle. "The music, his cheekbones, the horse's fabulous movements, it was truly fabulous," Lita Dove reported for Eurodressage. "The piaffe, the passage, the half passes, everything was wonderful plus the extra that makes it magical. It was dancing in the one tempi's. Fantastic!" His 85.225% score was a personal record for Edward Gal and it was a very challenging mark for Anky to beat. At the Olympics she already rode 85.8% so it was feasible.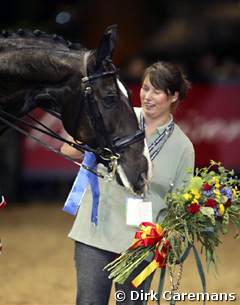 Anky van Grunsven is not the double Olympic Champion for nothing. Her timing and "fingerspitzengefühl" on a horse are out of this world and she continues to prove that in every major league competition. "Salinero was ten times better than in the Grand Prix," Dove wrote. "The horse was of course at the line, but the changes stayed uphill and expressive. Perhaps he's tight, but this is truly a quibble, and I felt that she was not exactly accurate in the pirouettes, but one can quibble forever about a step here and there." Anky scored 86.725% and claimed her seventh world cup title in her career.
Anky's Vegas' World Cup victory was not gratuitous, she had to fight for every point and fortunately for dressage competition in general, there is a new rider who can challenge the world's dressage leader. "Edward Gal took freestyle to a new level of theater and technicality," Dove stated. " Salinero had some tiny imperfections and technically/musically he was not better than Lingh. Nevertheless, Anky is a fabulous rider on a fabulous horse."
Judge at C , Uwe Mechlem said, "it was very difficult to find the winner. The level of riding was unbelievably high. After seeing each ride, you think it can't be beaten, then the next and the next. It is frustrating but exciting." Judge Mariette Withages said, "I thought this was more difficult to judge than in Athens because of the level and the small differences between riders."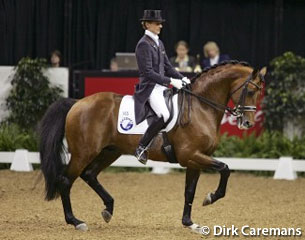 For Eurodressage correspondent Lita Dove "Gal on Lingh was magic. I loved his music. The horse was in every way equal to Salinero and perhaps a bit looser. If one wants to debate, Salinero's collected walk could have been better. Obviously, for four of  the judges, Anky had a bit more magic, except for Axel Steiner, who had her third. His order was Lingh, Brentina, Salinero..I tend to agree."
Mechlem said Van Grunsven's music and choreography set her apart from the rest. "In the end, I gave her a 10 for music. The combination of horse and music couldn't be better. The style of the music fit the horse and the movements were in the right moment. Anky did it perfect."
R.E.S.P.E.C.T U.S.A.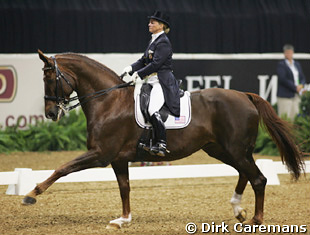 Standing ovations for Anky van Grunsven and Edward Gal and clapping and cheering throughout their rides, the atmosphere in Las Vegas was unique. However, the roaring of 12,000 wild Americans attending the freestyle when Debbie McDonald wrapped up her kur was incomparable.
McDonald and her Hanoverian mare Brentina (by Brentano II x Lungau) placed third with a score of 83.450% for the ride of a lifetime. "Brentina was the best i've ever seen her," Dove said. "she was just lovely; much better than at the U.S. League Finals. The three piaffe passage pirouettes were gorgeous. There was high quality everywhere and the transitions were out the wazoo. Debbie looked the happiest I've seen and scored in the 90s for artisticity." McDonald, who was the 2003 World Cup winner after Salzgeber's Rusty tested positive to doping, now ranked third in her home country.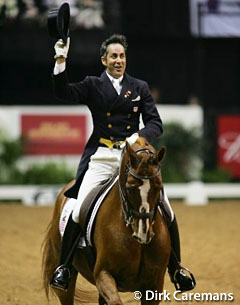 Robert Dover and FBW Kennedy (by Tiro x Karat) also put down a personal best. His music was a compilation of all the freestyles he had ever ridden, from Federleicht to Kennedy, and featured "Hey Big Spender" (music for Rainier) as general theme in his music. "He has excellent music and choreography," Dove said. "Sometimes a little jerky and a little too busy in changes of music and movements, but technically he showed lovely piaffe passage and pirouettes." Dover scored 80.100% and placed fourth.
The third American that qualified for the freestyle was Leslie Morse with her KWPN stallion Kingston (by Voltaire x Burggraaf). "It's a good time to decide to peak at the World Cup," Dove noted. "Morse's music works, the two tempi's were in sync. The enter-halt-salute moved into a full pirouette from piaffe into passage and she did the best half pass I've ever seen them do. She did so many good pirouettes in canter and from canter into piaffe; it makes you wonder if there were any one tempi's," Dove joked, but she also added that "Morse nailed everything." Morse scored 78.475% and ranked sixth.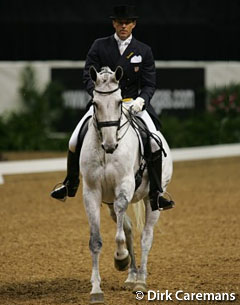 Guenter Seidel and his Bavarian gelding Aragon (by Abydos) were the fourth American pair making it to the freestyle final. Seidel finished 12th and did not have a brilliant ride. The 70.650% mark was generous of the judges. "Aragon had a helicopter tail throughout the test and did not look the happy athlete," Dove said. "He was short in front which led to a loss of connection and loss of rhythm. The test looked erratic and judge Axel Steiner gave them technically a 63%."
For Debbie McDonald, the 2005 show season came to an early climax, but the American has set her mind on more. With her new Aretha Franklin/R.E.S.P.E.C.T freestyle, the Sun Valley citizen wants to explore European territory again and see if she can earn the respect from the judges in Europe as well. Debbie has planned to show Brentina and her Prix St Georges horse Felix (by Fabriano) at the 2005 CDIO Aachen in August.
Danish Delight in Las Vegas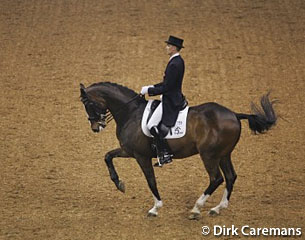 Danish dressage star Andreas Helgstrand, winner of the two Scandinavian World Cup qualifiers, flew to Las Vegas with a real Nordic fighter's mentality. He wanted to kick butt in Vegas and that's exactly what he did by finishing fifth with a 78.500% kur.
Danish judge Hanne Valentin placed Helgstrand and Cavan in third place. "The plus sides were Cavan's piaffe and the many nice tempi changes on the circle. It worked perfectly," Valentin commented. "Some of the trot work was a bit forced, but the canter work fitted perfectly to the music. That's why I put him fourth."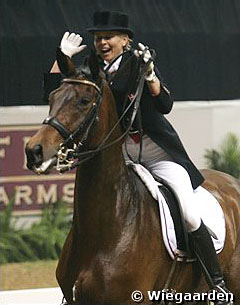 Lita Dove had mixed feelings about Helgstrand's ride. "The judges saw something I did not. The music was jerky. There was some loss of rhythm in piaffe, but it got better when the horse was allowed to go a little forward in the piaffe. On the other hand, absolutely gorgeous were the tempi changes which looked like skipping, like dancing. The horse has beautiful natural gaits, pure and did stay in balance for most part."
Andreas Helgstrand was extremely satisfied with his World Cup Finals. "This World Cup can be compared at the Olympics. I was completely amazed to ride at the Olympics, but here in Las Vegas the atmosphere is much more concentrated," Helgstrand said.
The other Dane qualifying for the finals was Lone Jorgensen on her green Grand Prix horse Ludewig G (by Landfriese x Ibikus). The 10-year old Oldenburg gelding is a very sensitive horse and seems complicated to steer through the ring. With 72.275%, they placed eleventh. "Jorgensen was worried going in, asking everyone to be quiet," Dove wrote. "Ludewig is a loose horse, rather than a power house, so when he gets tight the sparkle is completely missing." Unfortunately, Ludewig did not shine as much as we'd hoped for and he appeared to be a bit stiff and flat in the freestyle.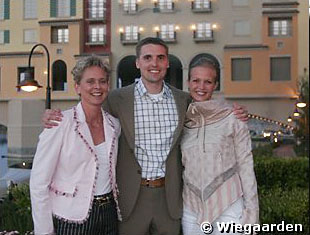 Nevertheless, Jorgensen was happy with her horse and their World Cup experience. "I'm super pleased. It was worth the whole trip. I was surprised that Ludewig stayed so cool today," Jorgensen said.
More Scandinavian power came from Swedish Jan Brink on Bjorsells Briar. This powerful duo ranked seventh with 77.325% and put in a really solid kur. "Briar was excellent, better canter than I've seen them do. The passage was as great as ever, but the piaffe went almost backwards a few steps and the pirouettes weren't great. The gorgeous half passes were looser in front than before and Brink was riding super," Dove commented.
Aramis, Barclay II and Escapado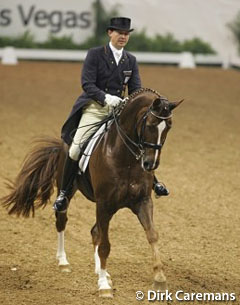 So there are three more horses left to talk about. Hubertus Schmidt and Aramis put in an awesome ride finishing eight with 77.200%. "Wow, that horse grew two inches taller in withers since the Grand Prix," Dove said. "Everything looked easy; piaffe, passage, extended trot, all in front of leg. It showed beautiful training on a good horse. All the transitions were on the beat of music. It was just a pleasure."
Dutch Sven Rothenberger and Barclay II also performed beyond expectation. Riding to Simon and Garfunkel, Rothenberger looked Barclay II fresher than ever and placed 9th with 75.250. "Gorgeous music and it fits the horse. At times, he almost danced! yes even with Sven being a bit heavy handed, they both went through to a level where they both looked happy," Dove wrote. At times, Barclay (by Brentano II x Lungau) did die behind in the piaffe, but the extensions and the passage were lovely."
Brit Carl Hester landed on 10th place with 73.475%, not their personal best. "Escapado is a lovely horse with a nice passage. The piaffe was ok and correct. They lacked sparkle in general and the choreography was not very inspiring," according to Dove.
Text by Lita Dove and Astrid Appels - Photos copyrighted Dirk Caremans
No Reproduction Allowed
Eurodressage Coverage of the 2004-2005 World Cup Finals