2005 World Cup Finals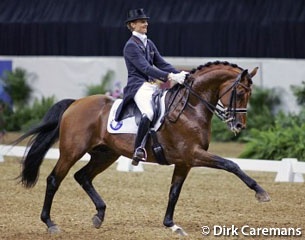 The opening Grand Prix at the 2005 World Cup Finals was won by Dutch Edward Gal aboard his KWPN licensed stallion Lingh (by Flemmingh). The Grand Prix, which determines which twelve rider qualify to ride the freestyle
and compete for the World Cup title, was of an extremely high level obvious from the high marks on the score board.
Eurodressage correspondent Lita Dove sent us a few quick impression. "Gal and Lingh put together the kind of electrifying performance that leaves spectators gasping. Salinero did as well and the results were as involving and exciting as American Idol," Dove wrote.
She continued, "during the warm up session on Thursday the smuggest face had to belong to Sjef Janssen, quietly talking through a headset to Anky van Grunsven and Edward Gal. Smug with good reason! These two riders and their horses put in athletic, superior performances, 9s sprinkled everywhere."
Edward Gal scored 78.625% for a ride in which the piaffe-passage and transitions were absolutely breath taking. Gal's trainer, Anky van Grunsven, placed second with 78.00%. "Salinero's piaffe was marked by regular, even steps nearly up to his chin and death-defying transitions. There are few riders in the world to match Anky's absolute concentration and ability in the show ring -- or her timing any place on any horse. And she needs every bit to stay up with this horse," Dove stated. "It took a mistake in the one-tempi's for Anky to end six-tenths of a percentage point behind Edward Gal. If anyone doubted the point of controlled changes of tempo, working the horses deep, asking for instant responses -- the answer lay in these two power-driven, elastic tests."
The top two horses, Salinero and Lingh, were in another class compared to the other 16 competing in Las Vegas. "They are in a class where rhythm and balance were matched by risk and power and elasticity," Dove described. "It was easy to see how much body and muscle these two horses put into each movement, and how strong their riders need to be in their core strength."
Edward Gal was on cloud nine after his Grand Prix victory. "This [World Cup Finals] is such a kick and then when you win it, it's even greater. I had a wonderful ride and you hope the points will be good. Which was the case!" a delighted Gal said. Even though there were 8700 people in the stands, Gal remained focused on his ride. "It was startling to see all those people in the stands, but once you ride on the centerline you forget all that. During the pirouette I heard people "oh' and 'ah' in the stands. I knew it was a good pirouette but it's actually quite fun when the audience is so empathic."
Beaten by her student, Anky van Grunsven remained her usual, funny self. "I train Edward for free, but I think I have to start charging him," she joked. Van Grunsven's Hanoverian gelding Salinero is gradually maturing in his work and is getting more confirmed and relaxed. The pair started off with a good halt, but tension slowly seeped in. It outed itself in an error in the single flying changes. "It was my mistake," Anky said. Nevertheless the tension did not vaporize. Though scoring tens for piaffe and passage, Anky had to hand the victory to Gal because of the tension laden ride.
Finishing third in the Grand Prix with 75.958% was American Debbie McDonald aboard her Hanoverian mare Brentina (by Brentano II x Lungau). "Brentina had a good go, absolutely lovely passage and piaffe and signature transitions, often for scores of 9. The changes may have been a little flat, but they were smooth and rhythmic, and the pirouettes were very good," Dove said.
American Robert Dover and FBW Kennedy followed in fourth place with 75.625%. Third best American ride came from Leslie Morse and Kingston who placed 7th with 72.792%. "They showed a new maturity and continuity, the passage that was there at the Burbank World Cup Qualifier even more solid here, and lovely one-tempi's."
The Scandinavian riders Jan Brink and Andreas Helgstrand comfortably settled into fifth and sixth place with 75.583% and 73.000%. "Blue Hors Cavan is one of my favorite horses," Dove confessed. "His gaits are just so free and natural and expressive. He had to bring a smile to the face of rider Andreas Helgstrand and trainer Rudolf Zeilinger. Even in passage he stayed loose over the back and looked quite the partner."
Dove was also impressed by Brit Carl Hester who finished in 9th place with 71.667%. "Carl and Escapado are just elastic and electric and wonderful to watch," she stated.
The opening ceremony for the 2005 World Cup Finals included "glitz, glamour, lights, fireworks, and lots of Ya-Hooo! Typical Vegas cowboy bravado," Dove wrote. "It definitely made dressage a warmer, fuzzier entity than it had been before."
The Freestyle is shaping up to be a huge battle--and not just for 2nd, 3rd,and so on. The Las Vegas organizers could not have asked for more.
Text by Lita Dove and Astrid Appels
Photo copyrighted: Dirk Caremans (more to come, check back often)
Eurodressage Coverage of the 2004-2005 World Cup Finals