2005 World Championships for Young Dressage Horses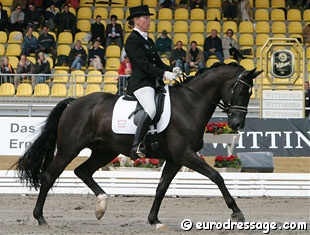 In order to improve the results of the Danish riders and horses at the WBFSH's World Championships for Young Dressage Horses in Verden, June 29 to July 3, 2005, the Danish Equestrian Federation
and Danish Warmblood Society have initiated a co-operation that focuses on a thorough preparation for Verden.
The first group of Danish young horses qualified for the "Verden Long List" at the 2004 Danish Dressage Championships. The second and last group of horses competed in a selectian trial on April 2-3, 2005.
The current short list for Verden consists of fifteen 5-year olds and ten 6-year olds. These young talents are now being trained in special clinics, after which the actual short list for Verden will be nominated. This year four Danish warmblood horses of each age group are expected to compete.
Danish Olympian Morten Thomsen, who himself has competed several Danish horses at the WBFSH championships and who has trained many of the Danish competitors in recent years, has been nominated as team coach. He is aiming at better preparing the riders, the horses, and the individual trainers for what is actually required to make a solid performance in Verden.
Thomsen has no doubt that the Danish Warmblood horses are of very high quality, but in recent years Denmark has been lacking in training and preparing their competitors compared to other nations.
"We need to get our squad team together at training sessions where the FEI tests are being practised, judged and taped in order to make a final selection of the most suitable horses and riders that will compete under Danish flag in Verden," Thomson told Eurodressage.
5-year olds
Andreas Helgstrand - Kgs. Hørgaards Hustler (Blue Hors Hertug x Weltmeyer )
Andreas Helgstrand - Consequent (Blue Hors Cavan x Donnerhall)
Anke ter Beek - Sans Petite (Loran x Flamingo)
Jan Christensen - Jakas Roana (Robin x Blue Hors Agent)
Anette Toft - Mickey Mouse (Master x Esprit)
Lone Bang Larsen - Marron (Michellino x Woernitz)
Christina Borg Bahnsen - Domenik K (Blue Hors Don Schufro x Elizar)
Sanne Henningsen - Elmegårds Caravelia (Solos Carex x Belluc)i
Lene Wiisbye Hansen - Gilbæks Zara (Blue Hors Hertug x Midt-West Ibi-Light)
Mette Maria Schmidt - Daner Schibis (Blue Hors Don Schufro x Galanthus)
Mogens Svane Rasmussen - Manto (Mantovani x Racing Ace xx)
Sophie Christensen- Swingking Havdal S(chwadroneur x Ramir)
Jane Waterstradt - Harvett K (Blue Hors Hertug x Alibi)
Camilla Lunderskov - Cardeur (Caprilli x Rasant)
Vibeke Bjørn Rasmussen - Heterosis Nord (Hohenstein x Dolomit)

6-year olds
Astrid Gemal - Schianto (Gribaldi x Schwadroneur)
Anemette Holm Petersen - Græsmarkens Don Pedro (B.H Don Schufro x Aleksander)
Holger Sørensen - Pacito Vedstedholm (Solos Landtinus x Chrevi's Cavallo)
Lone Bang Larsen - Fitou L (Florestan I x May Sherif)
Bettina Laisbo - Donatella (Blue Hors Don Schufro x Lagano)
Bettina Laisbo - Durban Marielyst (Blue Hors Don Schufro x Splitau)
Mogens Svane Rasmussen - Ace of Schubon (Blue Hors Don Schufro x Kalahari)
Betina Jæger Jensen - Gredstedsgaards Michigan (Michellino x Astaire)
Poul Fabricius-Bjerre - Alley Cat (Lillemarkens Arkibal x May Sherif)
Kristoffer Mejlhede - Donnerfleur (Blue Hors Don Schufro x Pari-Ace Dane)

Text by Thomas Bach Jensen 
Photo copyrighted: Astrid Appels/Eurodressage

Related Link
Eurodressage Coverage of the 2005 World Young Horse Championships