Dutch Dressage News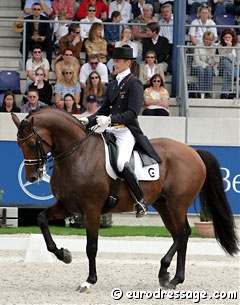 The Dutch warmblood stallion Lingh has been secured under contract for Edward Gal until the 2005 European Dressage Championships in Mosow, Russia. Lingh has been up for sale since 2004
, as his 80-year old owner Theo van Sadelhoff wanted to take care of business in his life, but so far the horse did not sell. Dutch chef d'Equipe Sjef Janssen wanted to have certainty about every single Dutch A-team rider and, therefore, negotiated with Van Sadelhoff so that Lingh would not be sold until after the 2005 European Championships.
"Both KNHS team coaches Sjef Janssen and Rob Ehrens want to have clarity for their teams and have made certain written agreements with the A-team members," Dutch journalist Claartje van Andel said. "Included in those agreements are the availability for the team and team duties. Fortunately, Theo van Sadelhoff agreed to make a contract to secure Lingh for Edward Gal until the European Championships in Moscow."
Two famous international dressage riders have already looked into buying Lingh (by Flemmingh), but they did not pursue a purchase. Lingh was recently licensed for breeding for the KWPN society.
Source: KWPN
Image copyrighted: Astrid Appels/Eurodressage
Related Links
Come Back Deluxe for Edward Gal and Lingh at the CDI-W Amsterdam 
Drama in the Dutch Camp - Gestion Lingh Withdrawn 
Extraterrestrial Edward Gal 
New Ride, TC Ravel, and New Music for Edward Gal