Danish Warmblood Breeding News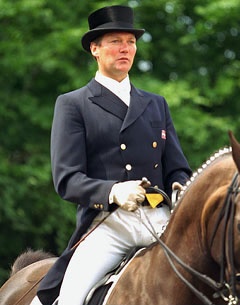 The Danish Warmblood Society has announced that a special seminar will be held on training young horses at the 2005 Dansk Varmblod's Stallion Licensing in Herning, Denmark, March 10-13, 2005.
It will take place on the Thursday night March 10, 2005, starting at 8 pm and will be led by Jan Pedersen, Chairman of Dansk Varmblod.
By arranging this seminar Jan Pedersen takes remarkable initiative. In an attempt to throw new light on the subject of Educating Young Horses he will be enlisting the help of two of the most experienced Danish riding masters, Hasse Hoffmann and Bo Kristoffersen, both former national Champions.
The seminar will include a lecture, demonstrations and discussions in which the two top trainers will provide examples and on-going commentaries to show the audience how they think young horses should be trained. With Jan Pedersen chairing the debate the audience will be invited to contribute actively to the discussion with comments and questions.
Hasse Hoffmann who runs an international sales and training facility on the estate, Søholt, on Djursland, will use four different types of dressage horses at different levels of training. The horses will be ridden by his riders and he will explain their strengths and weaknesses in each case.
Bo Kristoffersen who runs an international sales and competition yard at Breitenburg, Germany together with world class rider Swedish Rolf Gøran Bengtsson , will show two horses and riders jumping different combinations of obstacles. He will use these two horses to show the importance of considering the horses mental development. He will also emphasise that it is essential to be aware of danger signals and not to push the horse too much in its training. In doing so he will show that it is better waiting another year rather than risk a damaged horse.
World Championships for Young horses
The importance of correct training the young horse has become an increasingly significant factor in international success since the introduction of the World Championship for Young Horses. Even though Danish riders have achieved good results so far, it is felt that they have not yet managed to show the full potential of Danish bred horses sufficiently well. By holding this seminar, Dansk Varmblod hopes to unite trainers and breeders in a combined effort designed to winners of the World Championships in years to come.
Dancing with horses
As a natural extension to the subject of educating young horses, Dansk Varmblod is pleased to be playing host to two demonstrations by the Czech, Honza Blaha, on Friday and Saturday night at 7 pm. The Czechoslovakian wizard will be performing in freestyle dressage and jumping both with and without saddle and bridle for two hours in Hall E parallel at the same time as the Gala show in the main hall. He will begin by showing how he starts the training of an unbroken horse, using one supplied by Dansk Varmblod that he will never have met before.
In the freestyle performance with his new top show horse, the pure-bred Arab Maxim, he will be working with a lightness and elegance that makes you think of another master in freestyle dressage, the Frenchman Francois Pignon. Fittingly Pignon will also be present at this years Gala Show, and Honza Blaha will be one of the highlights in part two, once he has finished his own show in Hall E.
Images copyrighted: Per Høst Madsen