Westfalian Breeding News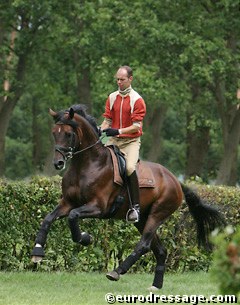 The rumour that the 2004 World Young Horse Champion Florencio is EVA positive, has finally been officially confirmed by owner Henk Nijhof. Right after the 2004 World Championships in July, Westfalian licensed stallion Florencio became ill
because of a breeding accident, Nijhof stated at that time. Since then the rumour floated in Europe that the stallion was EVA positive and suffered from fever attacks because of that. Dutch equestrian journalist Karin de Haan finally got the Florencio's EVA positive status officially confirmed through Nijhof.
And there is more Florencio news. Paul Schockemohle eventually did not purchase half of Florencio, but Nijhof sold 1/3 to the Bosch brothers in The Netherlands. This means that Florencio is now completely Dutch owned.
At the World Championships, Florencio was owned by two Dutch horse owners, Eugene Reesink and Henk Nijhof. Reesink sold his half of Florencio to Paul Schockemohle right after the Championships, but the deal was never finalised. Nijhof then became full owner of Florencio. Last week, he sold 1/3 of the ownership to the Bosch brothers from Luttenberg, The Netherlands. Hans Peter Minderhoud will remain Florencio's rider.
At the 2005 KWPN Stallion Licensing begin February 2005, Florencio was approved for the KWPN verband. During the veterinary examination, it became clear that Florencio was EVA positive. The stallion is treated for this disease in Germany and if all goes well, his fresh semen will be available again in May.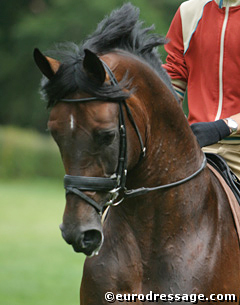 At the moment Florencio's frozen semen (EVA negative) is available through the Nijhof stallion station. Mares who are EVA positive can be inseminated with Florencio's fresh semen without a problem through Ludwig Kathmann's stallion station. Mares who are EVA negative can also be inseminated with fresh semen, but need to quarantained for 3 to 4 weeks after the insemination, because they can contaminate other horses. Mares who were bred to Florencio in 2004 do not run any EVA risk because Florencio was then EVA negative.
EVA does not affect the quality of the semen. Florencio's sperm report at the University of Utrecht proved to be excellent with a morfology of 85.29% and a TNB of 9401!
Because of Florencio's EVA status, he will performance tested for the KWPN verband in the autumn. Florencio was bred to approximately 500 mares in 2004 and foals are expected in Germany, Holland, England and Sweden.
For more questions about EVA, please contact Jeanette Nijhof at: +31 545 48.12.59.
Photos copyrighted: Astrid Appels/Eurodressage
Related Links
Karin de Haan's VWF website - More KWPN news at the official website 
Minor Breeding Accident Sidelines Florencio 
Florencio and FBW French Kiss Win 2004 World Young Horse Championships 
Florencio Makes Crowd and Judges Go Wild