Eurodressage F.O.C.U.S.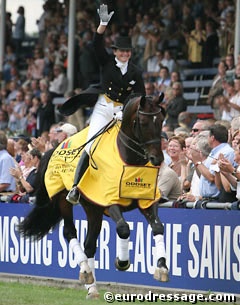 American rider Leslie Morse has trained and competed several horses to win the U.S. Intermediaire Championship, and in 2003 did win the U.S. National Grand Prix Championship, but international success proved ever elusive...Until now.
Now, she has not one but two top horses: the 12 year old stallion Kingston (Voltaire x Gisnette) and Tip Top, the 10 year old Swedish stallion by Master. Her most recent success was at the U.S. Olympic Selection Trials, where she and Tip Top won the Intermediaire 1 Championship, and Kingston won an alternate spot to the U.S. Olympic team selected for Athens.
"This last trip to Europe was a bit different," says the very focused rider. "Other trips (which included a long stay with Olympic rider and trainer Kyra Kyrklund) were more about training, and maybe doing a show or two."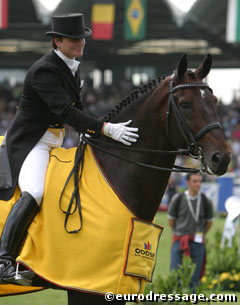 This trip had a definite goal—to try to win a spot on the team. "Riding at Aachen and other European shows," says Morse, "riding against the best in the world—it raised the bar. NOW, I feel that I am figuring out how to get the best out of myself and the horses. This trip really helped –me and the horses—to grow and mature. We were so lucky to get to represent the United States—thank you to the U.S.A. for all the support!"
USET funds enabled Leslie Morse to stay with other team members at US coach Klaus Balkenhol's farm, and she fully acknowledges the guidance and support she received there. Her original plan was to show Tip Top in the small tour at selected shows. "But Klaus felt Tip Top was ready to move up—and Tip Top rose to the occasion," she says happily.
At the Hagen CDI, Morse won the Grand Prix with Kingston and was 7th with Tip Top, beating many top riders, including the rest of the American team. At the CDIO Aachen, Morse won the Intermediaire II with 67.073%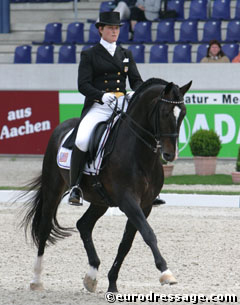 With precious European show scene experience in her past, Leslie Morse is looking forward to spring 2005, which will be an exciting time for many reasons. Late April is World Cup Finals 2005, in Las Vegas—the first time, as most of the sport horse world knows—that jumping and dressage will be held at the same time in the same place.
Morse's plan is to get ready to try for one of the slots open to U.S. riders. Her plan is typically focused, intense and worked around the well-being of her horses. Morse needs one more score to qualify Tip Top for the final selection trial, to be held at Los Angeles Equestrian Center April 1-3, only a few weeks before World Cup itself.
Her preparation will include a few shows for both stallions. "It is important to keep the boys happy, and not stressed.. And as travel and going to shows can be stressful, it is best for them to keep going out and about.. It keeps all of us adaptable and flexible—and this can only be good for an athlete," Morse explained, adding with a grin, "it will be nice to show the stallions to prospective breeders before breeding season actually begins."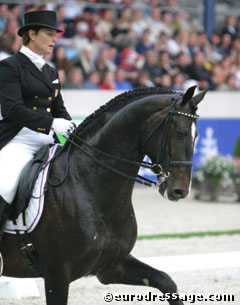 After the World Cup Finals, Morse's plans include having her own property. "This will be a big step," she observes.
Once she has the barns and arena and pasture set up, she will concentrate on breeding, training and showing her own horses. She feels that at least some of her broodmares are exceptional. "Kingston's first son will be 3 in 2005. He looks just like his daddy, and is by one of my favorite mares, Phylianthea (who is by Edison, sire of Leslie Reid's current GP horse, Mark).
"This is full circle—this is why I started riding. To have fun with my own horses."
Text by Lita Dove
Images copyrighted: Astrid Appels/Eurodressage - NO reproduction allowed!!
Related Links
Leslie Morse Wins Intermediaire II at 2004 CDIO Aachen
Leslie Morse and Kingston, Grand at 2004 CDI Hagen 
Leslie Morse, 2003 American Dressage Champion
Kyra Kyrklund's Tip Top Sold to Leslie Morse