A Walk on the Premises of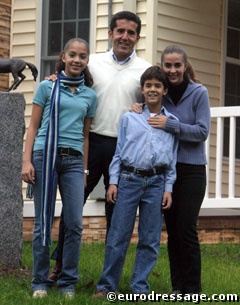 For Colombian Grand Prix dressage rider Dr. Cesar Parra, the year 2004 was so far an absolute apex in his professional career. Aboard the French Selle Français licensed breeding stallion Galant du Serein, Parra qualified for the 2004 Olympic Games at the Olympic assessment in Florida. He received the unique opportunity to compete at the CDIO Aachen -- the world's biggest and best dressage show -- in Germany in July. He entered the lion's den as new comer on the scene and left the show having stolen the hearts of the audience and making himself known amongst the international dressage elite. In August, he fulfilled a life time dream by showing Galant at the 2004 Olympics in Athens, Greece.
With the Hanoverian breeding stallion Pik L, Parra confirmed his small tour dominancy in the United States for the second, consecutive year, being the unbeatable combination at Intermediaire I level. Pik L and Parra put the icing on the cake by reigning supreme in the 2004 Dressage at Devon CDI Small Tour and becoming the high point champion of the weekend.
To wrap up a phenomenal year, Parra unveiled his newly built barn in Whitehouse Station, New Jersey, to his family, friends, international judges and trainers on September 12, 2004. Life couldn't get any better than that.
It was time for Eurodressage to take a peek at Parra's newly built farm and talk to him about his achievements of the past year, his visions on the future, and how Parra's life really is behind the scenes.
Indian Summer in New Jersey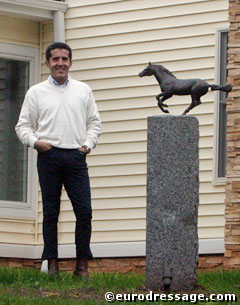 Before he started a life with horses, Cesar Parra lived in Bogota, Colombia working at the Bogota University as a professor in dentistry. His first journeys to the United States were for academic purposes, studying. at Harvard University and becoming a Doctor in Science of Dentistry at Boston University. However, as with every serious horse person, the equine gene is too strong to be suppressed and Cesar shared a life of teeth and dressage. Training in Germany with Herbert Rehbein at Gronwohldhof and with Herbert Kukuk at Klaus Rheinberger's Schafthof in the late 1990s, Cesar enhanced his skills in classical dressage by working with the best dressage trainers in Germany.
By winning the silver medal at the 1999 Pan American Games aboard his Holsteiner Cinbad, Parra attracted the interest of the Colombian guerrilla. He made the courageous decision to leave behind his successful dentistry firm in Colombia and sought refuge in the United States. Together with his wife Marcela and children Nicole and Federico, Cesar relocated in New Jersey. "I left Colombia with two horses and all my savings," Parra said. His silver medal at the 1999 Pan Ams proved to be vital for launching his name as a professional dressage rider in the United States and everything went upwards from there.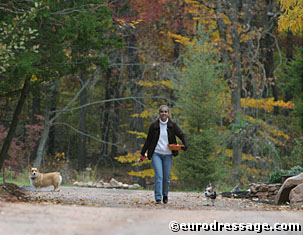 Touching down on the Newark International Airport's runway, Eurodressage reporter Astrid Appels arrived in New Jersey on October 28, 2004. She was picked up by Marcela Parra at the international gate. "Most people think New Jersey is just industrial, but it's only a 15 minute drive to get into the country side," Marcela said.
Renowned for its beauty during Indian Summer, New Jersey was a delight to discover this autumn, my first Indian summer. Driving on the highway, I saw the most beautiful painted trees flash by. Bright reds, greens, yellows, browns; it was the intensity of the colours that made Indian summer so different to a bleak European fall. After only thirty minutes, we drove onto Shade Lane, a gorgeous alley with gigantic trees, to arrive at Piaffe Performance Farm.
A tour of Piaffe Performance Farm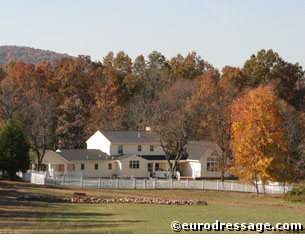 When Cesar and Marcela decided to buy their own property in the U.S. two years ago, Marcela was in charge of finding the right location. She went to some real estate agents with her requirements and started to look as properties. "The funny thing is that both Cesar and I looked at this land without knowing it," Marcela reminisced. When Marcela was shown Shade Lane 14, the only thing she saw was bushes and trees. "It was horrible, bushes everywhere," she said. A couple of months later, however, Cesar was shown the same estate, but the back side of it, where there was a large stretch of land, perfect to fit a barn on, an outside arena, pastures and much more. They bought the property and began constructions almost right away
The house is a semi-brick and semi-wooden house painted in light yellow, which blended in perfectly with the autumn colours in the backdrop. The interior of the villa is decorated with style and taste. It was a pleasure to see that the Parras had fantastic, modern paintings hanging on each wall. No overdose of cheesy horse drawings, but real art was on display in Cesar's house. One of his paintings has a history in Colombia. Painted in the 1940s, it depicts a naked woman on the beach waving and staring in the distance. "When the Colombian women saw this painting, they held their hands in front of their eyes and called it blasphemy," Cesar told.
The view from the kitchen looks out on a track on a moderately inclining hill. The horses are walked there daily. Sometimes they are cantered up the hill and walked downhill. It's a good exercise to strengthen their hindquarters and to revive their spirits, by riding them outdoors in nature.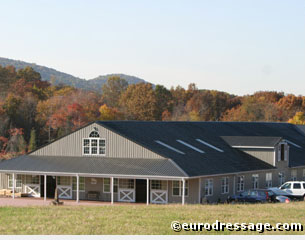 Behind the house there is a paved way towards the barn. While driving his golf cart to the barn, Cesar told me that it is far from completed. "We are still building a storage barn behind the outdoor dressage arena and I want to make a soccer field for Federico all the way in the back," Cesar explained, "the indoor will be opened up so that we can have an audience sit there and hold clinics." To me, the barn looks fabulous already and only the landscaping needs to be done in order to give the entire farm in image of perfection.
Piaffe Performance Barn, a European Arena with American stalls
I was very curious to see in what way Cesar's personal taste would be reflected in the barn and indoor arena. With Latin American roots, a European training background and an American lifestyle, Cesar built a barn which combined these factors.
The barn was a wooden, American construction, with a European style indoor arena. The stalls are incredibly light, large and luxurious. They are a palace for the horses with a mattress of straw. I wanted to recline in them myself. The horses have a window with a view outside and are able to touch each other through the bars. There are two corridors with stalls, several tack rooms, a kitchen, a bathroom, an office, a lounge, two washing places and several stands to cross tie the horses for grooming and saddling.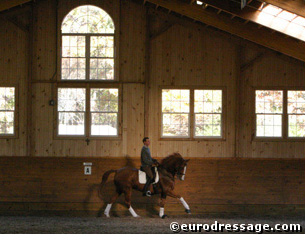 The most beautiful part of the barn is without a doubt the indoor arena. With gigantic windows on the one side and a huge mirror on the other, the arena is comfortable, functional and inspirational. "This is my church," Cesar said. In between the letters, there are signs of encouragement and contemplation for those who ride in Parra's arena. Confidence, respect, discipline, desire, determination, and control are hung at the letters and half halt points in the ring.
At A, the most important letter of the dressage arena, where all tests starts, hangs a cross and the sign for 'confidence,' one of the most successful attributes a rider needs to be successful.
The cross was given to Cesar by Ann Whitten, the leading lady behind Horses Unlimited, as a present. "Ann is like my sister. We can have a discussion, but we'll never part before our problem is solved," Cesar said. Ann and her mother Marylee Sparks have been the main benefactors and supporters in Cesar's career as owners of the licensed breeding stallion Pik L, Galant du Serein, and Adonis. Cesar pays much tribute and gratitude to Mrs Whitten and always talks about her with the most respect.
Happy Hour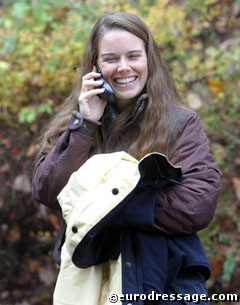 It is easy to praise an expensive barn in which everything has been built for the well being of horse and rider, but it is not so obvious to say that the major strength at Piaffe Performance is the wonderfully, positive attitude that reigns there. Katie Riley, manager of Piaffe Performance, supervises the daily routine. She teaches students, when Cesar is away, and constantly helps the riders even when they are training independently.
When you go to shows in the U.S. Cesar Parra's students stand out, not only by their top performances at local, regional and national shows, but also by their sympathy towards strangers (me and others). They immediately embrace you and are always available for a fun talk.
I wanted to put this to the test and see if this attitude was maintained at their home territory, where there is the daily stress of getting everything done at the end of the day, and where there is no public supervision nor scrutiny by strangers.
And yes, it is true.. there is a general positive attitude beaming from the barn. There was constant giggling and joking to be heard in the corridor. The people who fill up the barn daily, i.e. "the girls" who help Cesar groom and ride some horses, Michael Shondel, groom Jen, and recent import Thomas (a young German rider from Hubertus Schmidt's barn) were cheerful throughout the weekend.
Percy the pigeon is the resident bird of the barn, cleaning up the chaff on the ground. Michael Shondel's military inclinations did surface for a moment, as he drew a target on the white board strategically preparing himself to shoot the bird. Of course, the girls knew this was just male show off...
The Horse Collection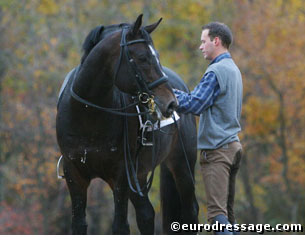 On the second day of my visit, I felt this great feeling of power come over me, because I was the one deciding where everyone had to ride that day. It was freezing cold outside, but I wanted to take advantage of the beautiful Indian summer landscape and bright light outside to take good photos of the horses.
One by one Cesar rode his horses outdoors, something which is not good for his Latin blood. "Everything above 70° is fine, everything below is col," Cesar stated. His students shared the same fate, having to ride outside for their lesson.
The first horse of the day was Galant du Serein, a 10-year old Selle Français by Apache d'Adries out of Sojornet (by Jalme de Mesnils). Galant is Cesar's Olympic horse. "The Olympics came a bit early for us," he confessed, "the horse is so much better now and in a month he'll be flying. This is the first time in a year that I am home for a long time and can really focus on my riding." Parra prepared Galant for the Olympics at Hubertus Schmidt's farm in Germany in the summer and learned much there. "I always tried to ride Galant the way Hubertus did, but realized that that is impossible. You can't copy the master. You have to learn from him and ride your own style."
Cesar's up and coming horses are the 8-year old Westfalian gelding Charming Boy, a Casaretto x Ehrentusch, whose fortés are his flying changes and piaffe- passage. Charming is only 16.2 hands high, but the horse is international caliber.
The combination is still working on more suppleness and throughness in the body, but they are Prix St Georges confirmed and will make their small tour debut in the 2005 show season.
Much hope lies on the shoulders of the gray Dutch warmblood mare Cali(sta). Owned by Martha Gantsoudes, Cali is a gorgeous mare with much personality. She's not an easy horse, but she's brimming with talent for the FEI ring. Her basic gaits are outstanding and her canter is fantastic, but the mare still need to learn to keep her cool in the tempi changes.
Cesar trained her tempi's by riding her on the third or fourth track and doing only two changes and then go straight again, so that she wouldn't freak out. On the diagonal he tried to do more changes. When she bolted out of the exercise, he rode a small circle to relax her again, and continued on the diagonal with tempi changes. He always patted the horse when the mission was accomplished.
Cesar's fifth FEI horse is Welfenprinz, a recently important Oldenburg horse by Welt Hit II. Welfenprinz is a dark bay gelding, with three classy gaits and much talent. The Hanoverian is on the verge of breaking through at the Prix St Georges level and shows much talent for the piaffe and passage.
Welfenprinz used to be competed at Fourth level in Germany by Heiner Schiergen, and he participated in the 2001 Bundeschampionate.
The Students Reflect the Training Philosophy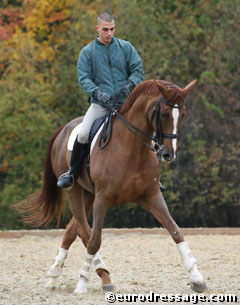 Having watched Parra's students train and show, the moment was there to find out the training philosophy behind their success. It is classical dressage. The horses are warmed up by being being ridden round and only a little bit deep, just so that they can stretch their necks, find a comfortable contact with the bit, loosen their back muscles and get their legs ready for some work. Cesar will continue to focus on getting the right degree of suppleness if the horse is not loose enough, before the movements are being practiced.
Cesar is very good at teaching his students the flying changes. He uses a system of trial and error. He lets them do hundreds of changes in order for them to get the feeling and rhythm of the change. Even if it is a bad one, there is no problem. The next one will be better.
It is important that the student doesn't get overcooked from learning so much new techniques and feelings. Cesar has a very calming voice and when he gets frustrated, he will grunt a bit and be very strict towards the student, but he relaxes right away when the exercise has been accomplished. I've never seen Cesar get really angry with his students or horses. Every ride ends in friendship and peace.
Parra strives for simplicity and happiness in riding. "When I'm riding, my goal is that it has to be easy," Cesar said. "The horse must be happy and he must love doing his work. A horse has to feel good and be through in the mouth."
Parra is excellent at working with amateurs and making them accomplish a dream, riding at FEI level. His barn system is all inclusive. You pay a monthly fee which includes boarding, lessons and training. If you are ill or can't make it to the barn, your horse will be trained. "All of my horses do the one tempi's, so that an amateur can ride them, and not only a professional. The professional will only add more elegance and presence to the horse."
The Group Shot
Probably the most exciting, yet stressful job during my weekend visit at Cesar's was the group shot. We wanted to get the flavour of the Piaffe Performance team, of New Jersey and of the newly built barn all into one photo. It proved to be a whole task. In the afternoon, Cesar rallied all the girls and guys in the barn, saddled up the show horses and took them outside to the track hill for the photo.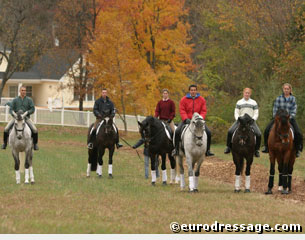 The horses sensed something special was going on and got all excited. Thomas mounted Welfenprinz who was being the naughtiest of them all. Jen hooked Welfie up to the lung line and the group was able to go to the hill.
When this mission was accomplished after 20 minutes, the group was ready to return to the barn. Galant, however, couldn't hold his excitement and wanted to play along with naughty Welfenprinz. At the end of the photo shoot he lifted his rider Bridget out of the saddle. Fortunately, he had no where to go and was caught right away. Talk about an exciting finale.
Horses on the group photo are Silver Label (with Michael), Welfenprinz (with Thomas), Pik L, Cali, Charming and Galant.
ESDCTA Clinic at USET Headquarters in Gladstone
Weekly business for Cesar Parra is not only teaching clinics, but also riding in them. The trainer - student opposition is interchangeable and a rider never stops to learn, even if he's a trainer.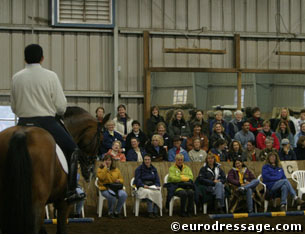 On Saturday October 30, ESDCTA organised a comprehensive clinic which dealt with training dressage horses, from young horses to Grand Prix level. Clinicians Betsy Steiner and Anne Gribbons discussed each horse from the viewpoint of trainer and judge. A small but enthusiastic audience had gathered in the indoor arena at the USET Headquarters in Gladstone, NJ (a stone's throw away from Whitehouse Station) for this clinic.
Cesar saddled Galant du Serein to demonstrated the way a Grand Prix horse's gaits are balanced, rhytmical and uphill. This contrasted much with Marilyn Payne's four-year old Hanoverian who was just green broken and showed no balance so far in his movements.
The co-operation amongst Piaffe Performers at Gladstone was a pleasure to see. Michael Shondel trailered the horses to Gladstone, Jen made sure they were all ready for transport and tacked up for the clinic, Thomas helped her, Katie was present to co-ordinate all the rides during the day. "Isn't this great, six people helping me just for one horse," Cesar said. "I'm so happy and honoured to have such great people working for me."
In Memoriam Caitlin Ben-Dror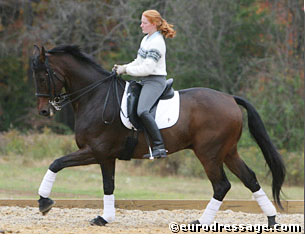 Writing this article about my wonderful stay with Dr. Cesar Parra was very difficult to me, because my positive impressions are clouded by the sudden death of the 18-year old Caitlin Ben-Dror.
My visit at Whitehouse Station was fantastic. I was a stranger to the people in the barn, and a far acquaintance to some of the riders, whom I had only met at shows in Florida and Devon. Nevertheless they treated me as a long time friend, which was heart warming.
One of those generous and kind persons as Cesar's place was Caitlin Ben-Dror, who welcomed me with open arms. The first time I talked to her was at 2004 Dressage at Devon, where we chatted about her stay at Eugene Reesink's barn in The Netherlands and discussed her way of braiding horses. "I love the Dutch way much more, but this is the fastest way. The braids come out this evening anyway," she joked.
When I arrived at the barn on Thursday October 28, Caitlin was riding her own horse Navarro. She immediately said hi and we started talking and joking, as if we had been friends forever. The next day, Caitlin's mom came over to the barn to see her daughter. Living five hours away from Whitehouse Station, Caitlin's mother had not seen her daughter in quite some time. I took pictures of Caitlin on Navarro and during the group photo, Caitlin was always in my focus, laughing and smiling, being happy. Her mom posed for a portrait shot while Caitlin was sitting on Charming Boy.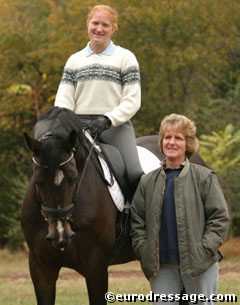 On Sunday afternoon November 22, 2004, I received an email from Emmy Andon that Caitlin had had a severe car accident on Saturday November 21, 2004 (the day before her 19th birthday) and had not survived the crash. Cesar called me the same day, telling me about the tragic accident and how everyone at the barn was in shock. "She was such a good girl, she didn't drink, she didn't smoke and she was such a talented rider," Cesar said. Barn mate Michael Shondel emailed me too, telling me how everyone at the barn was bereaved and leaning on each other in these sad days. "We are all praying," Michael wrote.
We are all deeply struck by Caitlin's death. Caitlin was such a lively, happy girl, yet she was not allowed to live a long, happy life. May God Rest her Soul.
Text and Photos by Astrid Appels of Eurodressage.com