Hanoverian Breeding News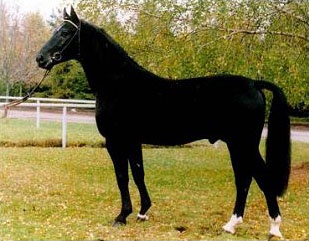 The Celle State Stud stallion Graf Grannus has been proclaimed Hanoverian Stallion of the Year 2004. Graf Grannus' breeder Heiko Oltmanns from Neuengland, Germany, has received the Wohlklang bronze statue and a check from the Uelzener Insurance Company
at the 2004 Hanoverian Stallion Licensing in Verden, Germany. Graf Grannus succeeds Brentano II as Hanoverian Stallion of the Year.
The black stallion Graf Granus was born April 8, 1988 at Heiko Oltmanns' barn. Sired by Grannus out of Goldmädel (Goldlöwe x Goya), he is considered to be a top foundation stallion for show jumpers. As a 2,5 year old, he got sold to Alfons Frehe-Siermann. In agreement with Celle state stud manager Burkhard Bade, Graf Grannus did his 100-day Stallion Test in Adelheidsdorf, finishing third overall (130.51 points) and second in show jumping (138.04 points). He bred his first mares at the stallion station Schillerlage.
To date 308 mares by Graf Grannus have been registered as brood mares, 44 of them received the State Premium title. He has 19 licensed offspring of which Ginsberg, Goodman and Graf Top are the most known. In 1995 his son Golden Champ became the Hanoverian Licensing Champion.
Graf Grannus has been submitted to the Hanoverian Show Jumping Breeding Program and is consider to be a top producer for the Hanoverian breed. Last year his breeding value got rated 156 points and his value for the competition sport earned him 136 points. Graf Grannus' most renowned progeny are the licensed show jumper Gem of India (ridden by Michael Whitaker), Kasting Horses Gavi (ridden by Helen Weinberg) and Gardenio (ridden by Todd Minikus).
Related Links
Brentano II, Hanoverian Stallion of the Year 2003 
Warkant, Hanoverian Stallion of the Year 2002 
Drosselklang II, Hannoverian Stallion of the Year 2001
For Pleasure, Hanoverian Stallion of the Year 2000
Eiger I, Hanoverian Stallion of the Year 1999
Weltmeyer, Hanoverian Stallion of the Year 1998
World Cup I, Hanoverian Stallion of the Year 1997, Passed Away