2004 Swiss Young Dressage Horse Championships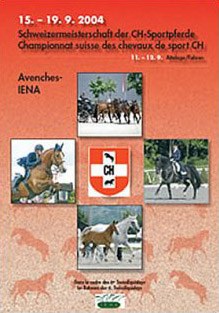 Fiesta de Lully, Weltgraf II and Wicento are the names of the winning FEI young horses at the 2004 Swiss Young Horse Dressage Championships in Avenches, Switzerland.
In the 4-year old division, Valerie Overney steered her mare Fiesta de Lully to the overall victory after gathering a 1335 point total after two tests. Her Fiesta de Lully is a Don Primero x Gauguin de Lully offspring bred by Hans Jakob Funfschilling and owned by Claire Lise Blum Buri. Overney beat Melanie Hofmann, who was working over time at the Swiss Championships riding six horses in total.
In the 5-year old division, Melanie Hofmann did achieved the highest scores aboard GB Konvally (by Konsequent x Feiner Stern), a horse bred by Zuchter Deutschland and owned by Hans Grunder. Hofmann and Konvally placed second in the first round and won the second round, but did not earn the 2004 Swiss Champion's title as GB Konvally is not a Swiss bred horse. The second placed Anna Mengia Aerne-Caliezi aboard Weltgraf II (by Weltfeuer x Loutano) received the champion's ribbon because this horse is born in Switzerland. He was bred by J. & S. Picek and is owned by Josefine Caliezi
In the smaller 6-year old category, 68.02% was the winning score in round one that put Wicento CH (by Weltfeuer x Gauguin de Lully) into the lead. He was able to cement that first place by winning the second round as well and taking the 2004 Swiss Champion's title. Wicento CH, ridden by Anne Mengia Aerne-Caliezi, is bred by Mr. Picek and owned by Josefine Caliezi.
The Super Promotion Dressage Class, a "sort of" young horse championship for young upcoming FEI horses competing at S-level, was won by Gilles Ngovan aboard Rubiroseanne, a Rubinstein x Weltmeyer get. The duo scored an impressive 71.76% and 70.27% in the two rounds, beating Jeanine Zuber on Donnersohn (by Donnerschlag x Rubinstein).
4-year olds
1. Valerie Overney - Fiesta de Lully (Don Primero x Gauguin de Lully) - 1335 pts
2. Melanie Hofmann - Cerano C (Campari M x Kolyma) - 1307
3. Vreni Scherer - Dur Scharrukin (Belsazar x Kostolany) - 1304
4. Martina Rothenbuhler - Remember's Dream (Rohdiamant x Zuidhoorn) - 1290
5. Melanie Hofmann - Calando VIII (Archipel x Mister X) - 1286
6. Franziska Walder - Ouffe (Brentano II x Quater) - 1285
7. Sanine Pelster - Divina Ballerina (De Niro x Donnerhall) - 1256
8. Romy Weber - Welfin (Weltfeuer x Monte Carlo) - 1218
9. Andrea Messmer - Luser (Veneur du Marais x D'Artagnan) - 1214
10. Veronique Steulet - Ariane (Apartos x Quater) - 1211
11. Veronique Volken - Don Premio (Don Primero x Manstein) - 1209
12. Trudi Kauer - Lena von der Rossi (Lifestar x Sir de Valette) - 1183
5-year olds
1. Melanie Hofmann - GB Konvally (Konsequent x Feiner Stern) - 1447
2. Anna M. Arne Caliezi - Weltgraf II (Weltfeuer x Loutano) - 1425
3. Sandra Meier - Luna Rossa KWG (Rohdiamant x Lysander) - 1423
4. Susanne Rothenfluh - Don Juan IX (Don Primer x Argentan) - 1387
5. Annemarie Jarmann - KK Royal Dream (Don Primero x Royal Angelo) - 1381
6. Claude Pilloud - Armagnac CH (Argentinus x Indigene de Corday) - 1334
7.Martin Janni - La Fontaine KZI (Lanthano x Pavarotti) - 1334
8. Eva Nydegger - Ragazzo Ben (Ragazzo x Andermatt) - 1307
9. Barbara von Grebel - Il Carino (Il Capriccio x Leonardo) - 1304
10. Melanie Hofmann - Galanda (Gagneur x Freischutz) - 1287
11. Karin Leisibach - Santano (Sacrato x Domino) - 1287
12. Urs Schelker - Patrich (Pik Holiday x Royal Farceur) - 1276
6-year olds
1. Anna M. Arne Caliezi - Wicento CH (Weltfeuer x Gauguin de Lully) - 1430
2. Gilles Ngovan - Duchesse de Fleur (Donnerschlag x Futur) - 1378
3. Gilles Ngovan - Reality VI (Rubinstein x Artz) - 1366
4. Doris Schwab - Carmo CH (Carino x Apartos) - 1336
5. Sabine Meier - Faledi CH (?) - 1289
6. Ines Vontobel - Lana II (Lagoheidor x Calando II) - 1210
Super Promotion Dressage (comparable to S - PSG class)
1. Gilles Ngovan - Rubiroseanne (Rubinstein x Weltmeyer) - 141.94%
2. Jeannine Zuber - Donnersohn (Donnerschlag x Rubinstein) - 139.42%
3. Barbara von Grebel - Der Lord Leopold (Der Leopold x Rossini) - 137.87%
4. Melanie Hoffmann - Cazzago (Campari M x Kolyma) - 136.87%
5. Corinne Simonet - Pik Harry CH (Pik Holiday x Wagner) - 136.50%
6. Barabra Gebert - Der Parkway Loriot (Der Leopold x Indigene) - 134.46%
7. Barbara von Grebel - Der Caesar (Il Capriccio x Washington) - 133.87%
8. Yolanda Kaiser - Champus von Aarhof (Camelot x Capitol I) - 132.58%
9. Celine Michaed - Sirmo (Sirocco x Diamant) - 131.66%
10. Walter Blattmann - Lee Roy (Lombard x Cor de la Bruyere) - 129.82%
11. Martina Rothenbuhler - Juneita (Lussach x Indigene) - 126.67%
12. Nicole Cartier - Kajo (Nominoe x Corporal) - 126.33%