German Dressage News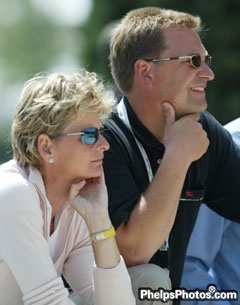 Show season is over so now there is time for other events. Especially in Germany wedding bells are ringing for two famous German dressage couples.
Friday 24th September Ann Kathrin Linsenhoff and her partner Klaus Martin Rath will be married in Kronberg/Taurus. Linsenhoff, 44, is daughter of Liselotte Linsenhoff, the first female rider to win Olympic individual gold in dressage (1972). Ann Kathrin is a veterinarian by profession but runs dressage stable "Schafthof" with Rath, 45. The pair will celebrate their wedding in Hotel Eden Roc. It's their second wedding, for the both of them. To add even more pleasure to their weekend, Rath and Linsenhoff will also be baptizing their daughter Liselott Marie, 3.
On September 21, stallion station owner Ingo Pape and his long time partner Susan Draper are also tying the knot. Pape and his British girlfriend Draper have been a couple for years, but they want to make their union official now.
A young semi-German duo that recently got married were American former young rider Natalie Hamilton and German Stephan Hinnemann. One year ago, Hamilton sold her horse Donnerwerth and packed her bags to go train with Johann Hinnemann in Germany. Probably the best what she got out of this trip was her husband Stephan Hinnemann. They became a couple during Hamilton's training camp in Germany, but both of them have now moved to the United States. Hamilton and Hinnemann got married in the U.S. and are now running dressage stable Brandywine Farm together in Sioux Falls, South Dakota.
Image copyrighted: Astrid Appels/Phelpsphotos.com
Related Links
Ann Kathrin Linsenhoff and Wahajama Unicef win Nurnberg Burgpokal 2002 
2002 World Equestrian Games: Linsenhoff's Apex Sooner than Expected
2004 World Y.H. Championships: Susan Draper and Baroncelli 
1999 World Y.H. Championships: Susan Draper and Del Piero