2004 Bundeschampionate - Qualifiers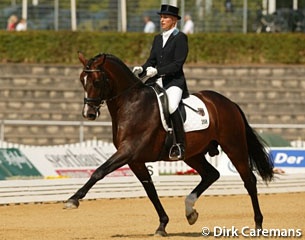 The show in Vlotho-Exter was the second to last Bundeschampionate qualifier for the Westfalian area so several riders were making their final bid for a ticket to Warendorf.
Winners of the show were PSI's Insa Hansen and the Dutch rider Susanne de Klein.
In the five-year old division, Hansen scored 8.8 aboard Fitou E, a Westfalian bred Fleurop x Ehrentusch offspring. The pair beat the Bundeschampionate historic 10-scorer Dresemann, ridden by Oliver Oelrich. In Vlotho, Oelrich scored 8.5, enough to qualify for Warendorf and good for a second place. They preceded Ingrid Klimke on Lafeyette Lord, a Rhinelander registered Lord Sinclair x Larome, who got 8.4. Worth noting was the fifth placed combination. Sebastian Heinze scored 8.2 on Hilltop Dirigo, a bay gelding recently sold by PSI to the American Hilltop Farm.
In the six year old division, three horses scored higher than 8.0. The winner of the class was the Rhinelander licensed stallion Charming (Champus x Lancer II) who was shown at the Bundeschampionate last year by Ingrid Klimke. Under the Dutch rider De Klein, Charming won with 8.4. They beat Marion Schleypen on For Joy, a Hanoverian by Fabriano x Pinkus.
5-year old Dressage Horses
1. Insa Hansen - Fitou E - 8.8 Q
2. Oliver Oelrich - Dresemann - 8.5 Q
3. Ingrid Klimke - Lafayette Lord - 8.4 Q
4. Bernd Gebhardt - Damenti - 8.3 Q
5. Sebastian Heinze - Hilltop Dirigo - 8.2 Q
6. Bernd Gebhardt - Actuar - 8.1 Q
7. Helen Langehanenberg - Responsible - 7.8
8. Lucie Svobodova - Dons Warco - 7.7
8. Carsten Willms - Summersby W - 7.7
10. Doris Barth - Fine Star of Bethlehem - 7.6
11. Stefanie Kerner - Landscape - 7.6
6-year old Dressage Horses
1. Susanne de Klein - Charming - 8.4 Q
2. Marion Schleypen - For Joy - 8.1 Q
3. Svenja Irina Meyer - Rising Sun M - 8.0 Q
4. Melanie Schroll - Filius Florestan - 7.7
5. Dominik Buhl - Rivando - 7.6
6. Petra Epping - Wellington - 7.5
7. Senta Kirchhoff - Free Floating - 7.5
8. Leonie Bramall - Florence - 7.4
Back to the 2004 Bundeschampionate Index