What's Happening in the Dressage World?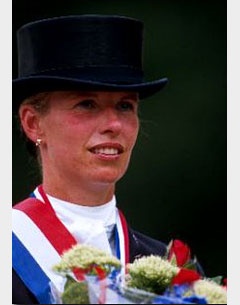 Actually there isn't that much dressage news, besides the little scoop that Anky van Grunsven had the good fortune of not getting stuck in what could have been a tragic road accident. Upon returning from the Olympic Selection Trial in Kootwijk, Van Grunsven was driving her truck loaded with Krack C, Ictenos and Salinero on the right lane of the highway. All of a sudden a car smacked into the left side of the truck. Van Grunsven was able to keep the truck on the road and come to a safe full stop. None of the horses were injured, the truck was only damaged on the outside. Fortunately, Van Grunsven had more fortune than Martin Schaudt, who recently got knocked off the road and crashed his truck. Two of his Grand Prix horses escaped and run on the highway. They had severe lacerations, but not leg injuries.
Hooray for Lisette Milner and Eminence. At the CDN in Haftenkamp, Germany, the pair won their first cooler. Milner and her KWPN stallion Eminence (by Burggraaf) finished fifth in the Grand Prix with 65.30%. "I can not believe I won a cooler," Milner rejoiced. "The competition is so hard out here. This was only Eminence' fourth Grand Prix; it was such a wonderful performance." In the Intermediaire II Milner finished eight with 800 points. American dressage rider Lisette Milner has been training with Ernst Hoyos in Meppen, Germany, for one year now and will stay under his tutelage until October 2004.
We also noticed Aleppo-S-OLD on the score sheets of the CDN Haftenkamp. The chestnut Oldenburg gelding by Argentinus x Figaro used to be ridden at Grand Prix level by Isabell Werth. In 1999, the pair competed, for instance, at the CDI Bad Honnef and won the Otto Lorke Preis. Aleppo then disappeared from the scene, but now back in the show ring under Stefanie Kerner.
We actually have more interesting breeding news, than dressage news. We'll first start with the bad news, unfortunately...
Rumour has it that the award winning stallion Grosso Z (Goliath Z x Furioso II) has broken his pelvis and will no longer be able to breed, ever. Grosso Z sired, for instance, show jumping star Goldfever and Grand Prix dressage horse Gina Royal OLD. The 21-year old Hanoverian sire is currently standing at Gestut Wiesenhof, but is no longer available for breeding due to his injury. Though contacted thrice, Gestut Wiesenhof was not available to comment on Grosso's health.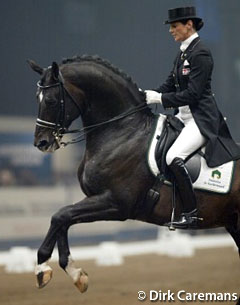 More health issues in the stallion world. Welt Hit II, the Oldenburg sire by Weltmeyer x Hill Hawk xx, was also scratched from the Flyinge breeding roster due to health problems. Owned by De havikerwaard, Welt Hit II has been leased to the Swedish State Stud Flyinge, but was in the middle of the breeding season "unavailable due to accute illness." Flyinge was not available for comment. They are also probably too busy breeding, instead of maintaining good communication with their clients.
Westfalian stallion Montmarte passed away. The dark bay Landbeschäler by Mon Cheri x Remus I passed away on June 1, 2004, after a heart attack. The 15-year old stallion was bred by Herrn Budde-Pentrup and up fur stud at the Westfalian State Stud in Munster-Handorf. Montmarte has two licensed sons.
Anglo Arabian stallion Askar AA has passed away at age 17 on May 23, 2004. Stationed at Gestuet Gorlo, Askar AA was by Kwartet AA out of Arsena (Dahoman IX x Saumur xx). Askar AA was born at the renowned Polish stud farm Janow Podlaski. He was licensed for the Trakehner, Oldenburg, Westfalian and Rhinelander Verband and gained international fame in the show ring by competing at the 1996 Olympic Games in Atlanta.
The Westfalian State stallion Feinsinn (Fidermark x Bolero) will be sponsored by the NRW Westfalian Promotion society, and will, from now on, carry the name Feinsinn NRW. The liver chestnut Fidermark son, who was bred by K-H. Fruhlen, is trained by Johan Hinnemann and competed by young rider Carolin van der Linde. Feinsinn achieved multiple top placings at S-level this show season and, therefore, gets the financial support of the NRW Forderverein.
American Young Rider Elizabeth Austin has been invited to compete at the CDI-PJYR Hagen. The event in Hagen, also called "Horses and Dreams" is organised at Hof Kasselmann and will also feature the German Professional Dressage Riders Championships. Austin gets the trip to Germany sponsored by Hilltop Farm and will ride on a borrowed horse, "donated" by Michael Klimke. " The wonderful people at Hilltop have generously offered to sponsor me fully on my trip to Hagen," Austin said. " They are providing me with a wonderful 8 year-old Donnerhall mare who is currently being ridden by Michael Klimke!  I feel extremely honored, but am not surprised at Hilltop's generosity.  Year after year they try to give back to the horse community with various donations, events, etc.  The fact that they are doing this for me as a Young Rider is I think is a step in the right direction for the Young Rider program, and will I hope lead to other prestigious breeding farms or individuals sponsoring Young Riders.  Thank you so much!"
Images copyrighted: Arnd Bronkhorst - Dirk Caremans