2004 Bundeschampionate - Qualifiers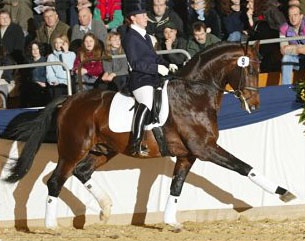 At the Hessian Bundeschampionate qualifier in Niederzeuzheim, Sascha Schulz and Emma Hindle were the winners of the 5- and 6-year old classes.
In the 5-year old division Sascha Schulz rode her Rhinelander mare Feodora (by Florestan x Glücksklee) to an 8.2 mark and became the winner of the class and sole combination to qualify for the Bundeschampionate at this show. Placing second was Emma Hindle on the Westfalian licensed stallion Four Seasons (by Ferragamo x Fruhlingsrausch). Hindle got a 7.8 score.
In the 6-year old division, Hindle finally hit the jackpot. Aboard the licensed Oldenburg stallion Furstenreich (by Florestan), the British Emma Hindle scored 8.3 and won the class. Hindle already tried qualifing Furstenreich at the Heftrich show, but needed a second try to produce an 8.0 mark.
The number of Florestans that are qualifying for this year's Bundeschampionate is taking on monstreous proportions! No doubt Florestan will be the top producing sire of the year.
Image copyrighted: Norbert Schamper
5-year old Dressage Horse BuCha Qualifier
1. Sascha Schulz - Feodora - 8.2 Q
2. Emma Hindle - Four Seasons - 7.8
3. Dorothee Schneider - Reaktion - 7.7
4. Martina Schmidt - Casssis - 7.4
5. Birgit Hild - Luciano - 7.2
6. Annebel Vofler - Dakapo - 7.0
7. Charlotte Heal - Dios von der Heide - 6.9
7. Sascha Schulz - Wetten Dass - 6.9
9. Carl Cuypers - Waterford - 6.8
9. Bernhard Fiegl - Weltino - 6.8
11. Gerhard Pietsch - Workman - 6.4
12. Wolfgang Tschope - Leggero - 6.4
13. Stefan Brunen - Let's Dance - 5.8
13. Verena Senchenberg - Feli Citta - 5.8
6-year old Dressage Horse BuCha Qualifier
1. Emma Hindle - Furstenreich - 8.3 Q
2. Anke Beck - Whitney - 7.4
3. Marcel Kanz - Farinelli - 7.2
4. Corinna Schumacher - Rich Man - 7.0
5. Barbara Cornelia Schroder - A Boy Toy - 6.6
6. Jens Kuhl - Wellington - 6.0
7. Marcel Kanz - Recamier - 5.5
Back to the 2004 Bundeschampionate Index