2004 Olympic Games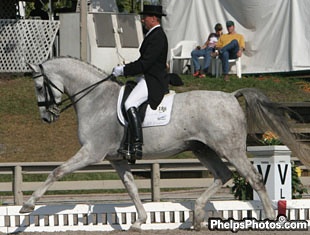 Danish Grand Prix rider Lars Petersen has withdrawn from the Danish Olympic Selection Trial process. His Danish warmblood Dansko's Success is injured to his leg and has been operated on last week.
Petersen is, therefore, no longer in the running for a Danish Olympic team place.
Residing in Wellington, Florida, Lars Petersen has been collecting Olympic qualifying scores in the 2004 Dressage in Florida show circuit this spring. Aboard his dapple grey gelding Dansko's Success, Petersen scored impressive marks in Florida, such as 70.625% in the Grand Prix and 71.720% in the Special at the WEF Dressage Classic CDI in March.
Initially Petersen was not trying for the Danish Olympic team as he considered the 9-year old Dansko's Success (by Silvermoon x World Cup I) too young and unready for a strenuous competition such as the Olympic Games.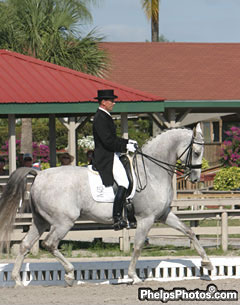 However, after achieving great results in Florida, Petersen changed his mind and told the Danish Equestrian Federation he wanted to be considered a candidate for the team.
As Dansko's Success is currently injured, Petersen has to bury his Olympic aspirations for this year. It is the second time that Petersen misses the Games because of health issues.
In 2000, he was selected for the Danish team on Blue Hors Cavan, but the horse coliced due to a testicular hernia prior to his departure to Sydney and had to stay home. Hopefully Petersen has more luck for the 2008 Bejing Olympics!
Images copyrighted: Astrid Appels for Phelpsphotos