2004 Olympic Games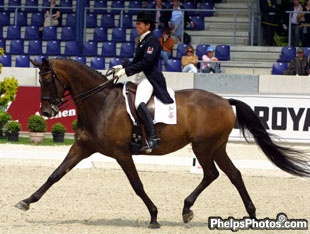 Disappointment for Dressage Canada at the Canadian Dressage Olympic Selection trials. German based Christilot Boylen and her German bred Lucky Lemon did not appear at the York Equestrian Center for the selection trials
. There were problems with the timing of completed permits to travel and available flights.
Kim Goodyear, Chair of Dressage Canada's High Performance Committee:"Getting transportation documents are the responsibility of the rider". Boylen did request special consideration, saying that she would compete in an event in Europe so the selection committee could see that she is not saving her horse.However the committee at this point has taken the position that there are no excuses for Boylen not making the trials. Boylen:" I was hoping that  I get some 
consideration, but I think I am going to miss Athens".
At the Selection Trial, the Grand Prix was won by Cindy Ishoy aboard Proton with 
69,29%. In second place were Belinda Trusell and Royan II with 68,70 % followed by
Ashley Holzer on Imperioso (66,62%). Evi Strasser and Quantum Tyme (64,54%) placed fourth.
Image copyrighted: Astrid Appels/Phelpsphotos