2004 Olympic Games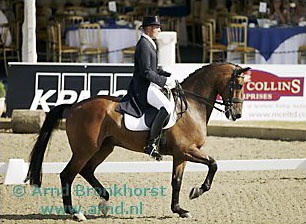 Arjen Teeuwissen and his partner Frank Garritsen have announced to withdraw Gestion Goliath from the Dutch Olympic Selection Trial process. The dark bay KWPN gelding Goliath injured himself
right after his big come back from another injury in March 2004. Teeuwissen and Goliath already missed two Dutch Olympic Qualifiers are not fit for the third important one at the 2004 Dutch Dressage Championships next weekend in Nijmegen, The Netherlands.
In agreement with trainer Sjef Janssen, Teeuwissen and Garritsen have decided to look realistically on the case and no longer pursue to qualify for the Olympics. This means that the pair will not compete at the Dutch Championships and probably not at the CDIO Aachen.
"Goliath is back in training now, but it would be very egoistic of me to try for another Olympics. I want to think in the best interest of my horse. I am hoping that we can come back this winter and have a bit more good fortune next year," Teeuwissen said.
Though Teeuwissen is sad about not being able to go to another Olympics, he is consoled by the previous achievements he got with Goliath: Dutch champion, individual bronze and team silver at the European championships, sixth in the Grand Prix at the Sydney Olympics, team Olympic silver, individual silver and team silver at the European Championships in Arnheim.
Image copyrighted: Arnd Bronkhorst