2004 Olympic Games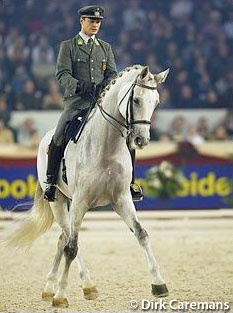 The four riders for the Austrian Olympic Dressage Team have been selected. Victoria Max Theurer and Nina Stadlinger already qualified early in the season, but now after the CDI Achleiten
, the final two Austrian Olympic riders are known. Peter Gmoser and Fritz Gaulhofer will be completing the Austrian team and are on the road to Athens.
Victoria Max Theurer has qualified three horses for the Olympics; Agrigento, Falcao and Weinrausch but has not yet decided which horse she will take with her. Nina Stadlinger will be competing aboard her only choice, the top Westfalian Egalité.
Peter Gmoser will be riding the dapple grey Don Debussy, a horse owned by Ewald Willibald. Fritz Gaulhofer will be sitting on Meggle's Werther's Wels, a licensed Hanoverian stallion.
Image copyrighted: Dirk Caremans