2004 Bundeschampionate - Qualifiers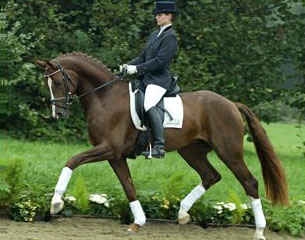 It was a Battle of the Bulge at the Isernhagen Bundeschampionate Qualifier. The big names, such as licensed stallions Belissimo M and Baroncelli won their division with more than decent scores.
Aiming to reclaim the Champion's title, Holga Finken and Belissimo M won the five year old class with 8.6. The Rhinelander bred Belissimo M (by Beltain x Romadour II) won the 2003 Bundeschampionate for 4-year old stallions and is now set to win again this year. Finken beat Insa Hansen on Lifestyle, who got an 8.1. Isernhagen was Lifestyle's third qualifier, as in Bremen he scored 7.8 under Sandra Freiling and in Haftenkamp, 7.4 under Insa. They finally had good fortune at Isernhagen and qualified for Warendorf. Dr Ulf Möller and Warm Welcome placed third with 8.0. Warm Welcome was supposed to be a 2003 P.S.I. Auction horse, but was pulled out of the collection. Fortunately, Dr Möller has reintroduced him to the public at Isernhagen. This Hanoverian gelding by Walt Disney x Amerigo Vespucci xx has a ten-score canter and is a very talented young horse. Esther Maruhn and her Hanoverian Wito Corleone (Wolkentanz I x Landfriese) tied with Möller.
In the six-year old division Susan Draper and Baroncelli took the lead. In November at the 2003 Oldenburg Althengst Parade, Baroncelli could not impress, but his 8.7 score in Isernhagen should indicate that the Hanoverian licensed stallion by Bergamon x Matcho AA is fit and fresh again for showing. Hans Jurgen Armbrust, a rider know for winning the Bundeschampionate with the drop dead gorgeous Trakehner stallion Latimer, qualified Redford with 8.2. Redford is a Westfalian by Ribbeck x Florestan. Dr Möller and Lady Royal (Longchamp x Grand Royal) placed third with 8.0.
5-year old Dressage Horse BuCha Qualifier
1. Holga Finken - Belissimo M - 8.6 Q
2. Insa Hansen - Lifestyle - 8.1 Q
3. Dr Ulf Möller - Warm Welcome - 8.0 Q
3. Esther Maruhn - Wito Corleone - 8.0 Q
5. Dr Ulf Möller - Landscape - 7.8
6. Saskia Lieben Seutter - Wyclef Jones - 7.7
7. Susan Draper - Applause - 7.6
8. Heike Kemmer - Rhonda - 7.5
9. Esther Maruhn - Django Edwards - 7.3
10. Hendrik Gabel - Long Island - 7.0
11. Julia Katharina von Platen - Contenance - 6.9
12. Matthias Bauch - Honeymoon - 6.7
13. Karin Teitz - Laurin - 6.6
14. Leonie Bramall - Altefeld's Ravenna - 6.5
15. Detlef Neseman - Le Mont d'Or - 6.3
16. Daja Bultmann - Don Atello - 6.2
17. Kerstin Ehlers - Berlinale T - 6.1
18. Casey Dornan - Le Charmeur - 6.0
6-year old Dressage Horse BuCha Qualifier
1. Susan Draper - Baroncelli - 8.7 Q
2. Hans Jurgen Armbrust - Redford - 8.2 Q
3. Dr Ulf Möller - Lady Royal - 8.0 Q
4. Hannes Baumgart - Romancero H - 7.8
5. Insa Hansen - Welpe's Countess - 7.4
6. Stefanie Munstermann Zurhorst - Eastman - 7.2
7. Insa Hansen - Pik Perfekt - 6.9
8. Kathrin Beneke Backhaus - Armani B - 6.5
9. Sascha Bohnke - HLO Derby Favoritin - 6.0
10. Sandra Margaux Brauleke - Wendenstern - 5.8
10. Juliana Franca Hampel - Firlefranzi S - 5.8
12. Frank Gunther - Wig Wam - 5.5
13. Julia Kleine - Weissgold - 5.3
14. Antja Freihoff - Fantastico - 4.0
Back to the 2004 Bundeschampionate Index