2004 Bundeschampionate - Qualifiers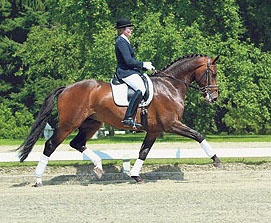 The Hamburg based Christina Lebens won the Bundeschampionate in Granderheide in the weekend of May 15-16, 2004. Riding on her recently acquired P.S.I. auction horse Lindgren
, Lebens scored 8.2 in the qualifier for the Championships. Lebens already won the preliminary test in Granderheide with an 8.0 score, but in the actual BuCha Qualifier test -- where it actually matters to score 8.0 or higher if one wants to qualify for Warendorf -- Lebens was able to push an 8.2 ride out of her bay Oldenburg stalion by Levantos I x Carprilli, which she purchased at the 2003 P.S.I. auction in Ankum for 140,000 euro.
Agne Frank finished second in Granderheide, where only 5-year olds were able to qualify for the BuCha. Frank rode the Floggensee stud owned Royal Dream (by Royal Diamond x Sandro). Royal Dream was purchased at the 2003 Vechta Spring Elite Auction by the Floggensee team for 100,000 euro. In Granderheide, rider Agne Frank scored 8.0 aboard the dapple grey licensed stallion.
Frank and Lebens were the only two riders to qualify for the Finals in Warendorf in September.
5-year old Dressage Horse BuCha Qualifier
1. Christina Lebens - Lindgren (Levantos x Carprilli) - 8.2
2. Agne Frank - Floggensee's Royal Dream (Royal Diamond x Sandro) - 8.0
3. Eva Oetjens - Dream of Burg (Donnerhall x Darss) - 7.8
4. Ramon Dreyer - Wedobeck's Diver (Wousselt x Filigrant) - 7.5
5. Helder Filipe da Silva Carvalho - Wonderbra (Wolkenstein) - 7.2
5. Helder Filipe da Silva Carvalho - Hennigs Riskant (Rohdiamant) - 7.2
7. Esther Voss - Destino (Donnerhall x Wendekreis) - 7.0
8. Nancy Kruse - Grand Augustinus (Grand Cru x Augustinus) - 6.9
9. Mathias Bauch - Dux (De Niro x Glorieux) - 6.8
9. Mathias Bauch - Honeymoon (Hohenstein x Argentan) - 6.8
9. Roland Metzler - Chicago Jazz (Caletto x Sandro) - 6.8
12. Anette Weiss - Prince (Prince Tatch x Lysander) - 6.7
13. Steohanie Leue - Del Solento SL (Del Mondo x Adlergrund) - 6.5
14. Roland Metzler - Ferrucci (Florenstan x Paradox) - 5.8
15. Christoph Koschel - Wild Dancer (White Magic x Furioso II) - RET/ELI
Back to the 2004 Bundeschampionate Index