2004 World Championships for Young Dressage Horses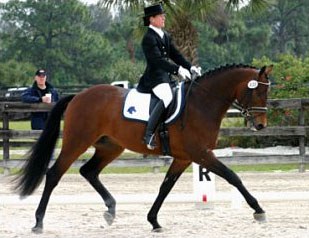 The combinations that will represent the United States at the 2004 World Championships for Young Dressage Horses in Verden, Germany, July 9-11, 2004, have been named.
Sir Sinclair and Royal Prince are the two five-year old dressage horses, Bugatti Hilltop and Contester are the two 6-year olds that are eligible to travel to Verden.
The KWPN licensed stallion Sir Sinclair (by Lord Sinclair x Flemmingh x Le Mexico) finished second with an 8.98 score at the East Coast Finals' FEI Young Horse Competition in Allentown, New Jersey, last weekend. Including his large list of victories and top achievements in the FEI Young Horse classes at the 2004 Dressage in Florida show circuit this winter, Sir Sinclair was considered to be the American hopeful for Verden.
Sir Sinclair's steady rider Dorie Addy Crow  will compete the bay stallion in Verden. "Sir Sinclair & Dorie will fly to Europe around June 23rd," Iron Spring Farm manager Meghan de Garay told Eurodressage. Sir Sinclair's owner, Mary Alica Malone of Iron Spring Farm was a bit reluctant to send her horse to Europe, as he's in the middle of his breeding season and ISF did not want to disappoint its clients.
However, Iron Spring Farm has thought about its customers and decided to prolong to extend Sir Sinclair's breeding duties. "Right now it looks like  Sir Sinclair will not be available for breeding from June 23rd until he returns to the US around July 15th and he will be available for breeding again on July 19 th 2004. We will extend Sir Sinclair's breeding season from July 30 th  to August 13 th, 2004."
Second 5-year old to represent the U.S. at the World Championships is Hilltop Farm's Royal Prince. This bay licensed Hanoverian stallion (by Rohdiamant x Prince Tatch xx) was purchased by Hilltop Farm from Bernhard Schaerffer in the autumn of 2003. Under Susanne Owen Hassler, Royal Prince competed in two FEI Young Horse classes. At Morven Park Spring Dressage Classic the first weekend of May, Hassler and Royal Prince won the 5-year old test with an 8.5 mark. At the East Coast Finals in Allentown, the pair reigned supreme and got an unbelievable 9.82 of judges Zang, Poulin and Ayers.
The two five year olds and their riders Hassler and Crow will travel to Europe and train with Michael Klimke and Dr. Ulf Möller in preparation of the show.
The 6-year old American qualificants are Bugatti Hilltop and Contester. The black Hanoverian stallion Bugatti (Bergamon x Rubinstein x Donnerhall) is owned by Hilltop Farm and competed by Michael Klimke in Europe. Klimke qualified the black at the very first Bundeschampionate qualification show in Bremen, where the pair scored an 8.8 and 8.3, averaging an 8.55 mark, the highest for an American owned 6-year old.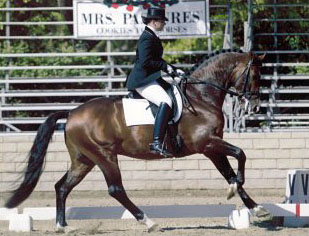 The bay Holsteiner stallion Contester in the second nominated American 6-year old for Verden. Contester is bred by Charlottenhof in Germany, owned by ADARA partners and standing at stud at Willy Arts' DG Bar Ranch in California.
1998 silver medal winning young rider Nicole Perry has steered the impressive bay stallion to an average 7.62 score at the West Coast Young Horse Selection Trials. Contester is by Contender x Lancetto and was Reserve Champion at the 2003 Dressage at Devon Breed Show in Devon, PA.
Overall, the United States seems to be flying in four very strong candidates for the World Championships. Remarkable is the presence/dominance of Hilltop Farm in the competition. They are representing horses ridden by an American (Royal Prince - Susanne Hassler), a German (Bugatti Hilltop - Michael Klimke) and a Dutch rider (Hilltop Rousseau - Nicolet van Lierop).
Images copyrighted: Bill Wertman - Photec