2004 Bundeschampionate - Qualifiers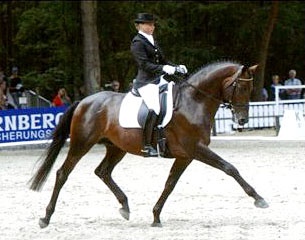 The first Bundeschampionate qualifier in the Hessian area took place in Heftrich. Winning the five-year old division was Dorothee Schneider aboard the Hessian bred Rodrigo (by Rubinstern Noir x Anjou).
Schneider scored 8.2 and was the only rider in her division to secure a ticket to Warendorf. Placing second in the class was the British native Charlotte Heal aboard the Trakehner bred Dios von der Heide, a Biotop offspring. The pair got 7.7.
In the 6-year old division Schneider reigned once again, this time aboard the Trakehner Kaiserkult, a horse she had already qualified for the Bundeschampionate at the Frankental qualifier. In Heftrich, Schneider scored 8.3 with her dark bay Van Deyk x Gajus offspring. Lena Gronnemose and her Daylight finished in second place with 8.1. Daylight is a Rhinelander bred Domburg son. Arjan van Loon and the Oldenburg mare Donna Annastasia (by Don Schufro x Apollo) tied in third position with Sascha Schulz on the Hanoverian Weltglanz (by Weltmeyer x Don Juan). Both combinations received an 8.0 score. It is interesting to note that professional dressage rider and British Olympic team member Emma Hindle placed fifth aboard the Westfalian licensed stallion Furstenreich (by Florestan). The pair will have to go to another selection trial if they want to qualify for Warendorf. Their 7.8 was not enough.
5-year old Dressage Horse BuCha Qualifier
1. Dorothee Schneider - Rodrigo - 8.2 Q
2. Charlotte Heal - Dios von der Heide - 7.7
3. Willi Feltes - Florentianer - 7.5
3. Annabel Vogel - Dakapo - 7.5
5. Carl Cuypers - Waterford - 7.4
6. Simone Becker - Freixenet Noir - 7.3
7. Katja Willers - Workman - 7.2
8. Sascha Schulz - Feodora - 6.9
9. Marcus Herrmann - Alstertraum - 6.8
10. Martina Schmid - Cassis - 6.7
11. Volker Brodhecker - Der Classiker - 6.5
11. Stefan Brunen - Let's Dance - 6.5
13. Birgit Hild - Luciano - 6.2
14. Paul Schmid - Primus - 6.0
15. Bernhard Fiegl - Weltino - 5.9
6-year old Dressage Horse BuCha Qualifier
1. Dorothee Schneider - Kaiserkult - 8.3 Q
2. Lena Gronnemose - Daylight - 8.1 Q
3. Arjan van Loon - Donna Annastasia - 8.0 Q
3. Sascha Schulz - Weltglanz - 8.0 Q
5. Emma Hindle - Furstenreich - 7.8
6. Corinna Schumacher - Rich Man - 7.6
7. Volker Brodhecker - Ritter Remus - 7.4
7. Dieter Merten - Companero - 7.4
9. Marcel Kanz - Recamier - 7.3
10. Marion Schleypen - For Joy - 7.2
11. Thomas Diehl - Ruth Roxanne F - 7.1
11. Marcel Kanz - Farinelli - 7.1
11. Gerhard Pietsch - Quinto - 7.1
14. Susanne Ruben - Dupre - 7.0
15. Anke Beck - Whitney - 6.9
16. Bernhard Winkel - Royal of Night - 6.8
17. Tanka Traupe - Ralph Lauren - 6.7
18. Alexandra Freimuth - Saint Cyr - 6.5
19. Marie Anne Nieder - Romidus - 5.5
Back to the 2004 Bundeschampionate Index