2004 Olympic Games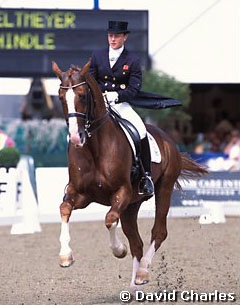 The British Olympic Association, British Dressage selectors (David Trott, Judy Harvey and Rosemary Herbert) and the World Class Performance Manager (Ferdi Eilberg) have announced the riders who will represent Great Britain
at the Athens Olympic Games, 15-27 August 2004. They are:
Richard Davison (Staffordshire), riding Mrs G Meyer's 16.3hh bay mare Ballaseyr Royale
Carl Hester (Gloucestershire), riding Mrs R Luard's 16.3hh brown gelding Escapado
Emma Hindle (Cheshire), riding Brookhouse Stud's 16.2hh chestnut stallion, Wie Weltmeyer
Nicola McGivern (Buckinghamshire), riding Active Equestrian's 17.1hh bay gelding, Active Walero
Reserves:
Fiona Bigwood ( Kent ) riding Mrs P Bigwood's 16.3hh chestnut mare Habana 3
Wayne Channon ( East Sussex ) riding his own 16.3hh black stallion Lorenzo CH
Emile Faurie (Oxfordshire), riding Mrs L Porter's and Mrs H Sawyer's 16hh bay gelding Rascher Hopes
Peter Storr (Oxfordshire) riding Mrs M Heintz's 16.3hh chestnut gelding Gambrinus
Chef d'Equipe: David Trott (BD Director of International and Chairman of Selectors).
Three of the four named riders were part of the bronze medal winning European Championship team from 2003, and all are members of the World Class Performance Plan. Talking about the selection David Trott, the British Dressage Chairman of Selectors, said: "Many of the horses and riders we considered have shown real improvement in their performances over the last six months. We were pleased to see not only four strong riders for Athens , but also talented horses and riders for the future. With over two months to go, the team will now be continuing their competition campaign, and we are confident that each of them can produce excellent performances in Athens ."
For Athens 2004 Carl Hester and Escapado have taken a place on the team, with Emile Faurie and Rascher Hopes currently listed as one of four reserves. Whilst it will be the first major championship for the 11 year old gelding Escapado, the four team members between them lay claim to four Olympic, three World Championship and nine European Championship appearances.
Richard Davison and Ballaseyr Royale are current National Champions and were placed 10 th individually at the European Championships in 2003. Richard was also a member of the silver medal winning team at the European Championships in 1993 and has featured on many of the championship teams since then.
Carl Hester took part in the 1992 Barcelona Olympic Games at the age of 25 and has had over 10 years of national and international success since then. The holder of over 30 national titles, Carl has trained Escapado from a five-year-old novice and this year won five grand prix classes at the Sunshine Tour in Spain with scores up to 71.5%.
Nicola McGivern and Active Walero were shortlisted for the World Equestrian Games team in 2002 and subsequently earned a place on the Hickstead team in 2003, where they finished 14 th individually. Competing in 2004 Nicola and Active Walero finished in second place at Norten-Hardenburg CDI with a personal best score of over 73%.
After finishing as the top British rider at the European Championships in 2003, Emma Hindle and Wie Weltmeyer had a successful winter season competing in the 2003/4 World Cup. Emma's Grand Prix scores regularly neared 73% and she topped 78% in the Grand Prix Kür at Kaposvar in October.
The Olympic Dressage Competition
The Grand Prix will be split into two sections, the first running on Friday 20 th August and the second on Saturday 21 st . The three highest scores from each country will decide the team medals.
The top 25 individuals will go forward to ride in the Grand Prix Special to be held on Monday 23 rd August.
To decide the individual medals the scores from the Grand Prix and the Grand Prix Special are combined and the top 15 compete in the Grand Prix Kür on Wednesday 25 th August. The combined score from all three classes will decide the individual medal winners.
The British Dressage Team would like to thank the team sponsors, Natural Animal Feeds and Spillers Speciality Feeds, and other suppliers, supporters and owners. They would also like to thank UK Sport for the support provided through the lottery funded World Class Performance Plan.
Image copyrighted: David Charles