2004 Bundeschampionate - Qualifiers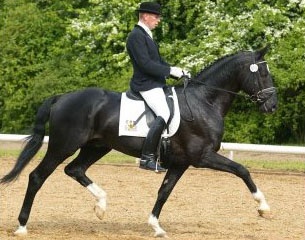 The FBW sponsored Disco Boy, a gorgeous black Disco Tänzer x Akonit offspring, has won the Baden-Wurttemberger Bundeschampionate Qualifier in Ludwigsburg, Germany.
FBW Disco Boy scored 8.2 under Pieter van der Raadt in the 6-year old division.
The black is bred by bred by ZG Wörner from Osterburken and owned by the family Seith from Dettenheim. Finishing second in that class was Hans Peter Bauer aboard Wambo. This duo got an 8.0 mark.
In the five-year old division, Gestut Birkhof's breeding revellation Denaro (De Niro x Volturno) was the only horse able to qualify for Warendorf. Although Denaro is not a flashy modern stallion, he has three solid gaits and seems to be producing top quality foals that all carry outstanding movements and are elegant typewise. In the dressage ring in Ludwigsburg, Denaro did very well by scoring 8.2 under Birkhof's leading rider Nicole Casper.
Image copyrighted: Olav Krenz
5-year old Dressage Horse BuCha Qualifier
1. Nicole Casper - Denaro - 8,2
6-year old Dressage Horse BuCha Qualifier
1. Pieter van der Raadt - FBW Disco Boy - 8,2
2. Hans-Peter Bauer - Wambo - 8,0
Back to the 2004 Bundeschampionate Index