2004 Olympic Games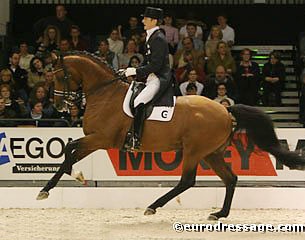 In the absence of Anky van Grunsven, Ellen Bontje and Arjen Teeuwissen, Edward Gal won the first Dutch Olympic selection trial in Ermelo with two extraterrestrial rides.
Aboard the bay stallion Lingh (by Flemmingh), Gal won Friday and Saturday's Grand Prix classes with 75.58% and 77.88%. During this two-day selection trial, the five top riders were all able to score above 70%.
Chef d'Equipe Bert Rutten was ecstatic about Gal's performance. "Gal's ride was one of a top level rarely achieved, almost extraterrestrial," said Rutten. "In fact, the entire top group performed very well and I think we are facing a bright future with these riders."
Edward Gal was very pleased with Theo Sadelhoff's 11-year old Lingh. "Everything fitted perfectly. On Friday I rode quite conservatively, but on Saturday I was able to really go for it."
Last year's Dutch shooting star Antoinette Falandt has more difficulties this year maintaining a position in the Dutch team. However, in Ermelo she finished second twice riding her dark bay gelding Jarwo (by Ferro). "The piaffe and passage went very well, and the pirouettes have improved also," Falandt commented.
Marlies van Baalen, who is only 23, finished third aboard Christine McCarthy's Blom's Idocus (by Equador). "It was my first outdoor competition on the season, so I was a bit more careful on Friday. Today, I was able to ride with more gusto and it worked. I'm super happy," Marlies said.
The surprise performance of the weekend came from Alex van Silfhout aboard his Grand Prix debutante Luxform's Nimbly (by Havel). The combination put down solid rides with even a 70,13% in Friday's Grand prix. As Van Silfhout broke through the 70% marker, he has now been promoted into the Dutch A-team.
Bert Rutten has planned the road to Athens as following: "On June 6, there will be a second selection trial in Kootwijk, followed by the Dutch Dressage Championships June 25-27. It is my goal to take the strongest team to the CHIO Aachen in July."
Grand Prix, Saturday
1. Edward Gal - Gestion Lingh - 77,88% 
2. Antoinette Falandt - Jarwo - 75,04% 
3. Marlies van Baalen - Blom's Idocus - 72,88% 
4. Alex van Silfhout - Luxform Nimbly - 70,13% 
5. Sven Rothenberger - Barclay II - 70,08%
Grand Prix, Friday 
1. Edward Gal - Gestion Lingh - 75,58% 
2. Antoinette Falandt - Jarwo - 73,17% 
3. Marlies van Baalen - Blom's Idocus - 71,17% 
4. Alex van Silfhout - Luxform Nimbly - 69,92% 
5. Tineke Bartels - Broere Jazz - 69,79%
Image copyrighted: Astrid Appels/Eurodressage.com - no reproduction allowed