Belgian Dressage News
Belgian Young Rider Julie de Deken has changed trainers. Her long time partnership with multiple Belgian Grand Prix champion and trainer, Arlette Holsters, has come to an end.
De Deken has moved her horses to Hooge Mierde, The Netherlands, where from now on she will be trained by Tineke Bartels.
De Deken is one of the few Belgian young riders to have three horses at her disposal. Her number one horse is the breathtaking chestnut Hanoverian gelding Widor (Wanderbusch II x Pikör). Purchased at Jan Bemelmans' in Germany in 2003, Widor didn't need much time to develop into a real stunner. The pair became the 2003 Belgian Junior Rider Champions in October, only a few months after the purchase. De Deken's reserve horse is Romero, a bay gelding by Ramiro Z with whom she booked many successes in the 2003 Sunshine Tour in Spain and various CDI's throughout Europe.
"Julie will only be riding Widor this show season," mother Brigitte De Deken explained. "She's very busy this year at school and wants to concentrate fully on one horse." Julie de Deken is in the running for the a team place in the Belgian Young Riders' team that will be sent to the 2004 European Young Riders Championships in Aarhus, Denmark.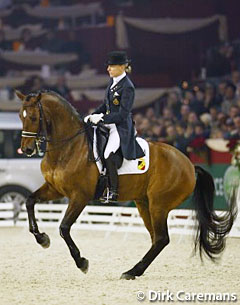 Not only is Julie de Deken taking her two young riders horses with her to Tineke Bartels, but she is also moving her KWPN gelding Melvin. The bay Flemmingh x Amor offspring gained international acclaim under Arlette Holsters by becoming a leading small tour pair during the 2003 show season.
Melvin's first international debut was at the 2000 World Championships for Young Dressage horses in Arnheim, The Netherlands, where he competed with Wim Verwimp under the name of Practie Comfort Melvin. But it was under Arlette Holsters that Melvin developed himself into a CDI star. Holsters and Melvin were virtually undefeatable in the Prix St Georges and Intermediaire I, constantly scoring 70% marks. Melvin's extraordinary performances in the ring attracted much interest from foreign buyers, but the De Deken's wouldn't let him go. "We have not yet decided who will be riding Melvin in the future. It will either be Tineke or Imke Bartels," Brigitte de Deken said.
Image Melvin copyrighted: Dirk Caremans
Related Link
Young Riders' Dreams Shattered due to F.E.I.- Federation Communication Break Down