2004 Olympic Games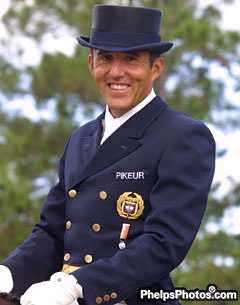 Dr. Cesar Parra has qualified for the 2004 Olympic Games in Athens with two horses. He survived a rigorous qualification process to earn a coveted spot as an individual dressage rider.
Dr. Parra rode Galant du Serein to a score of 68.333% and Leonberg to a 67.9%. Both stallions are owned by Horses Unlimited, a premiere American breeding establishment.
"I cannot describe my excitement," Dr. Parra said. "This is truly a dream come true." Parra has competed internationally before, but this will be his first Olympics. He was the 1999 Pan American Team Silver Medalist as well as fourth place individually at the 2003 Pan American Games.
In 2002, Parra rode in his first World Championships in Jerez, Spain. Parra is a United States Dressage Federation Gold Medalist. "A rider works all his life for the opportunity to compete at the Olympics," Dr. Parra said. "I'm so grateful for every one who has made this possible. Getting to the Olympics requires a lot of support, patience and faith from a lot of people, especially the stallions' owner, Anne Whitten."
Dr. Parra earned one of only a few individual spots. Only 50 horses will compete in dressage in Athens; 40 of which are team horses, leaving only ten spots available for individuals. Dr. Parra was evaluated by FEI judge and President of the FEI Dressage, Mariette Withages, as per the International Olympic Committee specifications.
To prepare for the tough competition he will face in Athens, Dr. Parra will work extensively with both horses in the coming months, including a trip to Europe. Dr. Parra has received an invitation to compete at the prestigious Aachen horse show in Germany and may use that show as a precursor to the Olympics. "The last few years have been amazing," Dr. Parra said. "And it just keeps getting better. On to Athens."
Image copyrighted: Mary Phelps