KWPN Breeding News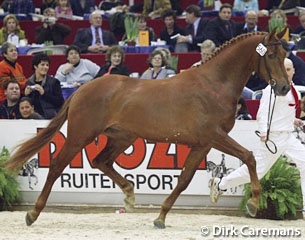 The chestnut dressage colt UB40 has become the price highlight of the fourth KWPN Select Sale, an auction of licensed and non-licensed stallions immediately following the KWPN stallion licensing.
Wim Zegwaard purchased UB40 (by Olivi x Michelangelo) for 145,000 €. The colt impressed many spectators with his large movements, muscled hindquarters and beautiful appearence. UB 40 is bred by Mr. Van Os and presented him at the licensing. UB 40 finished third in the Dressage Colts' ring.
Second most expensive colt was another horse named after a rockband: U2. This Sunny Boy x Aktion offspring sold for 85,000 €. U2 is out of Fastrona, who also produced the licensed stallion Nexxus. U2 was presented at the licensing by the duo ter Harmsel - Zanderink.
Third best knock down price was paid for a show jumping prospect named Up to Date. Bred out of the German lines Stakkato x Polydor, this youngster switched owners for 75,000 €.
The 2004 KWPN Select Sale Results are:
1. Ultrafee (Hors la Loi II x Erdball xx) - € 12.000,-
2. Umberto (Voltaire x Nimmerdor) - € 16.000,-
3. Usefull (Polansky x Ferro)- € 15.000,-
5. US Hero (Baloubet du Rouet x Fantastique)- € 20.000,-
6. Uniek L (Diamond Hit x Orianta) - € 20.000,-
7. Undercover (Elmshorn x Voltaire)- € 14.000,-
8. Unistar (Voltaire x Notaris) - € 70.000,-
9. UB40 (Olivi x Michelangelo) - € 145.000,-
10. Utah (Guidam x Amethist) - € 15.000,-
11. Utros-Euphony (Jazz x Juventus) - € 30.000,-
12. Uramé (Oramé x Notaris) - € 9.500,-
14. U2 (Sunny Boy x Aktion) - € 85.000,-
15. Udermus (Heartbreaker x Ladalco) - € 44.000,-
16. Upendor-Rijk (Lancet x Ulft) - € 18.000,-
17. U2 (New York x Burggraaf) - € 24.000,-
18. Uitblinker (Olivi x Damiro) - € 48.000,-
19. Uruquay (Karandasj x Caretino) - € 24.000,-
20. Up to Date (Stakkato x Polydor)- € 75.000,-
21. Ulft (Welt Hit II x Wolfgang)- € 34.000,-
22. Un Homme d'Honneur (Quite Easy x Burggraaf) - € 60.000,-
23. Universe (Baloubet du Rouet x Paradox) - € 40.000,-
24. U-Times (Gribaldi x Goodtimes) - € 30.000,-
25. Ungaro (Ronaldo x Pion) - € 18.000,-
Related Links
List of 2004 KWPN Select Sale Colts
2004 KWPN Select Sale Colts Selected