2003 Pavo Cup Finals
The winners of the Pavo Cup Semi Finals, 4-year old Special D and 5-year old Robin Hood, were able to maintain their lead and win the 2003 Pavo Cup Finals.
Especially the five year old Champion made a huge impression in Ermelo at the KWPN Paardendagen as he beat 2003 Reserve world champion Hilltop Rousseau in a tight competition.
Guest rider judges Ellen Bontje and Tineke Bartels had to make a tough decision in picking Robin Hood or Rousseau as winner. Both riders gave the horses a 9.5 rideability scores, but Robin Hood won the 2003 Pavo Cup Finals as he also won the semi finals. "On Robin Hood, all the buttons are there. He's more elastic and energetic as Hilltop Rousseau, but Rousseau is more advanced in his overall training, so I can't make a difference," Tineke Bartels said to KWPN reported Claartje van Andel.
Ellen Bontje commented that "Rousseau is an all round, professionally trained dressage horse, but Robin Hood is fantastic as he extends and collects with such great ease."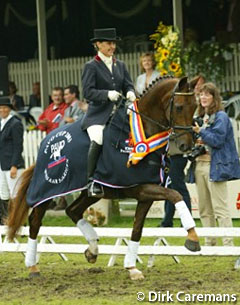 Winner of the 4-year old division was licensed stallion Special D. Tineke Bartels was the one who made Special D win as she granted the stallion a 9.5 score for rideability, while Bontje scored him 9.0. Special D showed himself as an extremely supple horse and, therefore, scored high in the semi finals and finals.
Ellen Bontje preferred the chestnut stallion Scandic to Special D. Scandic got 9.5 from Ellen, but Tineke "only" gave him 8.5.
Images copyrighted: Dirk Caremans
Pavo Cup Finals 4-year old
Placing - name horse - semi finals / finals ----- score Ellen ----- Score Tineke ----- overall
1. Special D - 84,5 / 84 ----- 90 ----- 95 ------ 353,5
2. Scandic - 80,5 / 86 ----- 95 ----- 85 ----- 346,5
3. Stradivarius - 79 / 81 ----- 90 ----- 90 ----- 340
Pavo Cup Finals 5-year olds
1. Robin Hood - 81 / 82 ----- 95 ----- 95 ----- 353
2. Hilltop Rousseau - 80 / 81 ----- 95 ----- 95 ----- 351
3. Decor Just Royal Dancer - 73,5 / 80 ----- 90 ----- 90 ----- 333,5
Complete results at the KWPN website (click KWPN Paardendagen in menu)
Related Links
Special D and Robin Hood, Suprising Leaders of Semi Finals at 2003 Pavo Cup 
Rubels and Paster, 2001 Pavo Cup Champions
Natcho and Osmium Wins 2000 Pavo Cup Finals
Broere Stallions Dominate 1999 Pavo Cup Finals
Lucky Times and Mariena Win 1998 Pavo Cup Finals