2003 Pavo Cup Finals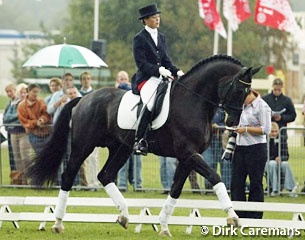 4-year old Special D and 5-year old Robin Hood are the suprising leaders in the Semi Finals of the 2003 Pavo Cup Finals, held during the KWPN Paardendagen in Ermelo, The Netherlands.
After the Pavo Cup Selection Trials, held throughout the 2003 show season in The Netherlands, 159 combinations have qualified for the semi finals of the 2003 Pavo Cup Finals.
94 four-year olds were presented at the semi finals, which were won by the black stallion Special D, ridden by Sarah van Fessem. Receiving a score of 84.5 points, Special D (Metall x Zandigo) took an impressive lead to second placed combination. Emmelie Scholtens and her Shamrock, a Cabochon x Zeoliet, finished in that second position with 81.5 points. In third position was a Scandinavian bred horse, though KWPN registered. Scandic (by Solos Carex x Amiral) and Remy Bastings earned 80.5 points.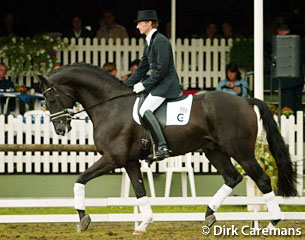 The best 4-year old ridden by a professional rider tied for third place, and that was the German bred, yet KWPN registered, San Remo, a black stallion by Wolkentanz I out of Volturno. Edward Gal rode San Remo to a 80.5 point score.
Remarkable was the appearance of German rider Julia Katharina von Platen in the semi finals. Von Platen, who just won the bronze medal at the 2003 World Championships for Young Dressage horses aboard Rose Noir, finished 12th with the Dutch bred Kaiser Franz, a Krack X x Rousseau offspring. The top 25 will compete in the Finals tomorrow.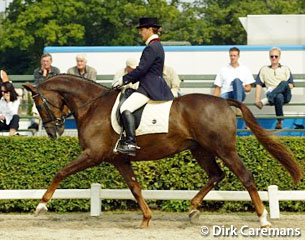 In the five-year old division, Judith Ribbels and Robin Hood, a chestnut gelding by Jazz x Zep, blasted away all competition with an 81 point score. Beating World Reserve Champion Hilltop Rousseau and World Championship Finalists Rhodium and XXL, new comer Robin Hood is ready to show who is the new king in KWPN country. Robin Hood and Ribbels defeated mare Roselma (Jazz x Fruhling), who scored 80 under Anna Ostergaard. Hilltop Rousseau and Nicolette van Lierop tied for second place with 80 points as well. Hans Peter Minderhoud and Rambo, a dark bay stallion by Gribaldi x Amor, finished fourth with 79.5.
The top 25 of each age class moved on to the Finals, in which a top five will be judged by riders Tineke Bartels and Ellen Bontje. Last year's guest judge riders were Lisa Wilcox and Belgian Stefan van Ingelgem.
Pavo Cup Semi Finals 4-year old
1. Special D (Metall x Zandigo) - Sarah van Fessem - 84.5
2. Shamrock (Cabochon x Zeoliet) - Emmelie Scholtens - 81.5
3. Scandic (Solos Carex x Amiral) - Remy Bastings - 80.5
3. San Remo (Wolkentanz x Volturno) - Edward Gal - 80.5
5. Stradivarius (Krack C x Contango) - Edward Gal - 79
6. Spargo (Krack C x Boreas) - Theo Hanzon - 78.5
7. Florencio (Florestan x Weltmeyer) - Simon Drop - 76.5
8. Garshof's Sajouti (Clavecimber x Flamingo) - Angela Coppens - 76
9. Sir Sinclair (Lord Sinclair x Flemmingh) - Merieke Voorneveld - 76
10. Lincoms Sympathie (Balzflug x Havidoff) - Nicolette van Lierop - 75
11. Symphony (Gribaldi x Clavecimbel ) - Jordy Duindam - 75
12. Saphierfee (Cabochon x Appolonius xx) - Christa Laarakkers - 74.5
12. Kaiser Franz (Krack C x Rousseau) - Julia Katharina von Platen - 74.5
14. Salo (Ferro x Havel) - Lynne Maas - 74
14. Danoontje (Koriander x Voltaire) - Merieke Voorneveld - 74
16. Sam (Ferro x Porter) - Engie Kwakkel - 73.5
17. Shajenn G (Jimtown x Aktion) - J. Van de Groes - 72
17. Skik (Lancet x Recruut) - Marlieke ten Bosch - 72
17. Sunrise (Mondriaan x Eklatant) - Marije Tromp - 72
17. Sammy Jr. (Krack C x Ulft) - Emmelie Scholtens - 72
Semi Finals 5-year olds
1. Robin Hood (Jazz x Zep) - Judith Ribbels - 81
2. Roselma (Jazz x Fruhling) - Anna Ostergaard - 80
2. Hilltop Rousseau (Ferro x Roemer) - Nicolette van Lierop - 80
4. Rambo (Gribaldi x Amor) - Hans Peter Minderhoud - 79.5
5. Rabun (Gribaldi x Sultan) - Vera Kersten - 78
5. XXL (Krack C x Balzflug) - Edward Gal - 78
7. Rebell (Jazz x Edison) - Barbara den Braber - 77
8. Rhodium (Ferro x Ramiro) - Hans Peter Minderhoud - 76
9. Rozarijke (Gribaldi x Zeppelin) - Judith Ribbels - 75.5
10. Rifradin (Gribaldi x Formateur) - John Tijssen - 75
11. Decor Just Royal Dancer (Jazz x Fruhling) - Mireille Witlox - 73.5
12. Bach Gravin (Bachelor x Topas) - Christa Laarakkers - 73
12. Radbraker (Ferro x Zuidpool) - Karen Galema - 73
12. Raphsody (Lancet x Rubinstein) - Petra van Esch - 73
15. Rimond (Jetset D x Ulft) - Annemarie van Essen - 72.5
16. Riondine (Welt Hitt II x Ferro) - Christa Laarakkers - 71.5
16. TC Rocco (Caritas x Zirkoon) - Adrianne Wigmans - 71.5
16. Magic Rodrigo (Indorado x Stuyvesant xx) - Edward Gal - 71.5
19. Roalty (Lancet x Pretendent) - Christa Laarakkers - 71
19. Royal (Jazz x Ferro) - Laurens van Lieren - 71