2003 Pan American Games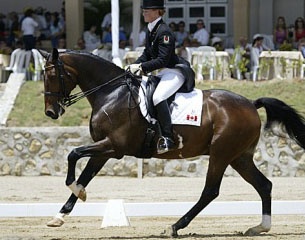 Canada's Leslie Reid captured the individual gold medal in the equestrian sport of dressage on Sunday at the 2003 Pan American Games in Santo Domingo, Dominican Republic.
Mexico's Bernadette Pujals took the silver while Santo Domingo's own Yvonne Losos de Muñiz earned the individual bronze in her first-ever Pan American Games competition.
Having celebrated a team silver medal win for Canada on Thursday, Reid of Langley, BC, won all three phases of the individual competition to claim the gold medal, including the final leg, the Intermediaire Freestyle to Music, where she earned a score of 76.25%. Reid's incredibly high marks gave her a total of 222.10 points and allowed her to defeat her nearest competition, Pujals, who finished with a score of 213.40, by almost nine full points. A three-time veteran of Pan American Games competition, Reid had previously won a team gold medal at the 1991 Pan Am Games in Havana, Cuba.
"They say you are lucky if once in your lifetime you have a horse like this to ride," said Reid, who was riding Mark, a nine-year-old Dutch Warmblood gelding owned by Marie Andrews, also of Langley, BC. "I am absolutely ecstatic!"
With an outstanding Freestyle performance, Pujals moved from third to second overall. Riding Vincent, her Hannoverian stallion, the resident of Mexico City earned the individual silver medal after leading the Mexican team to a bronze medal earlier in the week's competition.
"I was very nervous today, but I decided to just go for it!" commented Pujals.
Making her Pan American Games debut in front of a hometown crowd, Yvonne Losos de Muñiz won the individual bronze medal. With Inatana Las Marismas, her 13-year-old Dutch Warmblood mare, Losos de Muñiz proudly represented the Dominican Republic and finished the three phases of competition with a final score of 212 points. The 2003 Pan American Games mark the first time the Dominican Republic has fielded a dressage team, and Losos de Muñiz's individual bronze is the first the Dominican Republic has ever won in equestrian competition.
"For me, this bronze medal feels like ten medals!" exclaimed Losos de Muñiz. "When we set out on the Pan Am path three years ago, I had a goal of finishing in the top 12. In the future, we're going to try to improve the quality of dressage in this country and improve our results."
Losos de Muñiz's teammate, George Fernandez, 23, also enjoyed a strong performance, finishing tenth overall riding Joris Las Marismas.
The top five individual placings were captured by five different nations. Dr. Cesar Parra, representing Colombia, finished fourth overall riding his Hannoverian stallion Pik L while United States competitor Jan Ebeling of Moorpark, CA, was fifth overall riding Feleciano, an eight-year-old Westfalian stallion. Of the original 43 horse starting field, only the top 15 qualified for Sunday's Individual Final.
Related Links 
Scores: 2003 Pan American Games
Yvonne Losos de Muniz Buys Joris as Pan Am Hopeful
Scores: 1999 Pan American Games